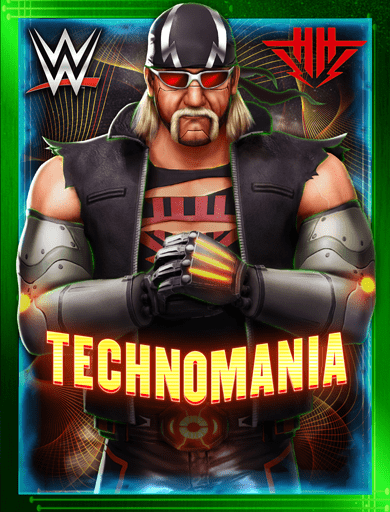 Gender

Male

Nickname / Version

Technomania

Alternative Versions

Hulk HoganHulk Hogan '05 Hulk Hogan '21 (Zombie)Hulk Hogan '22Hulk Hogan '85 Hulk Hogan '96

Era

Modern Era

Superstar Class

Technician

Ability Style

Aggressive
With a 32" neck, a 64" chest, and the largest metal arms in the world, Hulk Hogan's new mutated and cybernetically-enhanced body is exploding with power! He's no longer just the Hulk, and he has one question for you: Whatchya' gonna' do, brother, when Technomania destroys you?!
SPECIALS: Mutated Scoop Slam, Mutated Steel Pythons Combo, Mutated Atomic Drop, Mutated Ground n' Pound, Mutating Up, Mutated Axe Bomber
FINISHER: Mutated Running Leg Drop
TAG LINKS: Modern Era, WWE Mutants