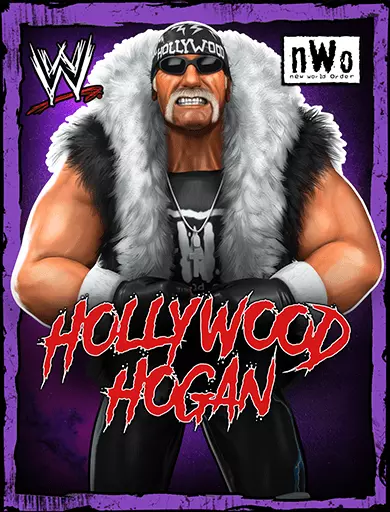 Hulk Hogan is featured as a playable character in the WWE Champions Roster in the Attitude Era.
Hulk Hogan is classed as a Focused Trickster in the game.
PROFILE INFO
Gender

Male

Nickname / Version

Hollywood Hogan

Era

Attitude Era

Superstar Class

Trickster

Ability Style

Focused

Alternate Attire

White and Black

Alternative Versions

Hulk Hogan '05-'20Hulk Hogan '21Hulk Hogan '21 (Zombie)Hulk Hogan '22Hulk Hogan '85Hulk Hogan '96

Real Life Profile

Hulk Hogan
When the Hulkster left WWF for WCW in the mid-90s, he turned villain when he sensed audiences growing tired of his heroism. As the ringleader of the New World Order, "Hollywood" Hulk Hogan redefined himself as a cowardly bad guy and took WCW to the top of the sports-entertainment heap.
SPECIALS: Running Leg Drop, Big Boot, Scoop Slam, Eye Rake, Low Blow, Reversal
FINISHER: Finger Poke of Doom
TAG LINKS: Attitude Era, New World Order, WrestleMania VI