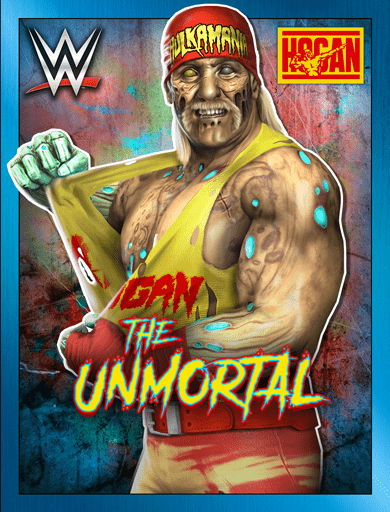 Hulk Hogan '21 (Zombie) is featured as a playable character in the WWE Champions Roster in the Modern Era.
Hulk Hogan '21 (Zombie) is classed as a Aggressive Acrobat in the game.
PROFILE INFO
Gender

Male

Nickname / Version

The Unmortal

Era

Modern Era

Superstar Class

Acrobat

Ability Style

Aggressive

Alternative Versions

Hulk HoganHulk Hogan '05-'20 Hulk Hogan '21Hulk Hogan '22Hulk Hogan '85Hulk Hogan '96

Real Life Profile

Hulk Hogan
Somehow becoming undead never really changes the true person of this once worldwide entertainment leader, besides his new craving for brains. Hulk Hogan's massive presence has a way of making things feel significant. The now Unmortal brings an untold amount of fear to everywhere he treads in his search for the living.
SPECIALS: Big Boot, Hulking Up, Axe Bomber, Scoop Slam, Atomic Drop
FINISHERS: Bite, Running Leg Drop
TAG LINKS: Modern Era, Zombies, Zombies 2021