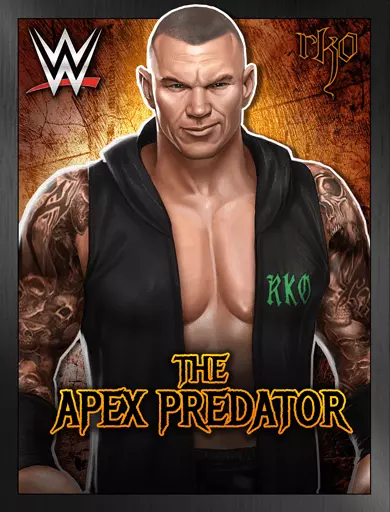 Randy Orton '20 is featured as a playable character in the WWE Champions Roster, as part of the WWE Superstar roster in the Modern Era.
Randy Orton '20 is classed as a Aggressive Striker in the game.
PROFILE INFO
Gender

Male

Roster

WWE Superstar

Nickname / Version

The Apex Predator

Era

Modern Era

Superstar Class

Striker

Ability Style

Aggressive

Alternate Attire

The Joyeux Predator

Alternative Versions

Randy OrtonRandy Orton '03Randy Orton '09Randy Orton '15Randy Orton '22

Real Life Profile

Randy Orton
You don't get a name like The Apex Predator for being friendly, and Randy Orton certainly does not play well with others. Friend and foe alike have felt the sting of his RKO or the boom of his dreaded punt. That's what you get with Orton: Safety is never guaranteed, alliances are made to be broken, and destruction can come from out of nowhere.
SPECIALS: European Uppercut, Superplex, Standing Dropkick, Scoop Powerslam, Exploder Suplex, Neckbreaker
FINISHER: RKO
TAG LINKS: Modern Era, RAW, WrestleMania 22, WrestleMania 35, WrestleMania 36, R.K.Bro