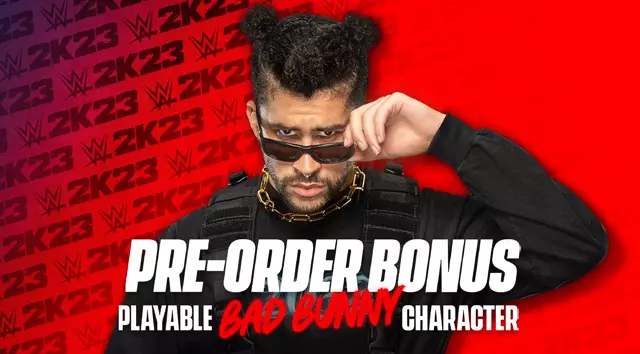 Bad Bunny is featured as a playable character in the WWE 2K23 Roster, as part of the Extra roster.
He is a DLC Character, included in the Pre-Order Bonus.
This marks the debut of Bad Bunny in the main WWE Games series.
PROFILE INFO
Players who pre-ordered the Standard and the Cross-Gen Editions of WWE 2K23 will receive the Bad Bunny Bonus Pack. This pack is also included in the Deluxe Edition and the Icon Edition.
The Bad Bunny Bonus Pack includes Bad Bunny as a playable character, as well as a Ruby tier Bad Bunny MyFACTION card.
For digital pre-orders, items will be automatically entitled. For physical pre-orders, items will be redeemed in-game via a code provided in the box.
SCREENSHOTS
MYFACTION CARDS
VIDEO
PROMOTIONAL ARTWORK
VIDEO