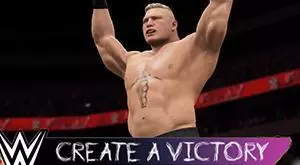 The new Create A Victory mode in WWE 2K17 allows you to choose individual victory scenes for in-game Superstars, Custom Superstars (CAS), Tag Teams and Trios.
You can assign two different victory motions for each Superstar/Team, choosing between the two options of Face and Heel, which will be used based on the respective "My WWE" crowd reaction that is currently set. In addition, you can also pick two Title Victory Motions for both types of alignment.
Here below you find the full list of all the in-game and preset Victory Scenes / Motions available in WWE 2K17, including Superstars, Teams and Title Victory, with the indication of whether they're Face Motions or Heel Motions.
Superstar Victory Scenes
Aiden English - HEEL
AJ Styles - FACE
Alberto Del Rio - HEEL
Alexa Bliss - HEEL
Alicia Fox - HEEL
Alundra Blayze - FACE
Andre The Giant - FACE
Arn Anderson - HEEL
Asuka - FACE
Bam Bam Bigelow - FACE
Baron Corbin - FACE
Bayley - FACE
Becky Lynch - FACE
Belfast Brawler - FACE (Fit Finlay)
Big Boss Man - HEEL
Big Cass - FACE
Big E - FACE
Big E New Day - FACE
Big Show - FACE
Big Show '00 - HEEL
Billy Gunn 1 - FACE
Billy Gunn 2 - FACE
Blake - HEEL
Bo Dallas - HEEL
Booker T 1 - FACE
Booker T 2 - FACE
Braun Strowman - HEEL
Bray Wyatt - HEEL
Bret Hart - FACE
Brie Bella - HEEL
British Bulldog - HEEL
Brock Lesnar - HEEL
Bubba Ray Dudley - FACE
Butch - HEEL
Cactus Jack - FACE
Carmella - FACE
Cesaro - HEEL
Chad Gable - FACE
Charlotte - HEEL
Chris Jericho - FACE
Chris Jericho '01 - HEEL
Christian - FACE
D-Von Dudley - FACE
D-X Kid - FACE (X-Pac)
Dana Brooke - HEEL
Daniel Bryan - FACE
Dash Wilder - HEEL
Dean Ambrose - FACE
Diamond Dallas Page - FACE
Diego - HEEL
Diesel - HEEL
Dolph Ziggler - FACE
Dude Love - FACE
Dusty Rhodes - FACE
Earthquake - HEEL
ECW Legend - FACE (Mikey Whipwreck)
Edge - FACE
Emma 1 - HEEL
Emma 2 - FACE
Enzo Amore - FACE
Erick Rowan - FACE
Eva Marie - HEEL
The Face of Terror - HEEL (Haku)
Fandango - HEEL
Finn Balor - FACE
Finn Balor Demon - FACE
Generic Victory 1 - FACE
Generic Victory 2 - HEEL
Generic Victory 3 - FACE
Generic Victory 4 - FACE
Generic Victory 5 - FACE
Generic Victory 6 - HEEL
Generic Victory 7 - FACE
Generic Victory 8 - HEEL
Generic Victory 9 - FACE
Generic Victory 10 - HEEL
Generic Victory 11 - FACE
Generic Victory 12 - FACE
Goldberg - FACE
Goldust - FACE
Heath Slater - HEEL
Hideo Itami - FACE
HOF Celebrity Wing - HEEL (Terminator?)
Hunter Hearst Helmsley - HEEL
Jack Swagger - HEEL
Jake Roberts - FACE
JBL - HEEL
Jim Neidhart - HEEL
Jimmy Uso - FACE
John Cena - FACE
Kalisto - FACE
Kane - HEEL
Kevin Nash - FACE
Kevin Owens - HEEL
Kofi Kingston New Day 1 - FACE
Kofi Kingston New Day 2 - FACE
Konnor - HEEL
Larry Zbyszko - FACE
Lay Out - HEEL (Layla)
Leviathan - FACE (Batista)
Lex Luger - FACE
Lita - FACE
The Low Down - HEEL (D'Lo Brown)
Luke Harper - HEEL
Mankind - FACE
Mark Henry - HEEL
The Miz - HEEL
Mr. McMahon '01 - HEEL
Mr. Perfect - HEEL
Naomi - FACE
Natalya - FACE
Neville - FACE
The Nexus Corre - HEEL (Wade Barrett)
Nia Jax - HEEL
Nikki Bella - HEEL
Paige - FACE
Party Express - FACE (Adam Rose)
Punjabi Giant - HEEL (The Great Khali)
R-Truth - FACE
Randy Orton - HEEL
Randy Savage 1 - HEEL
Randy Savage 2 - HEEL
Razor Ramon - HEEL
Respect The Nation - HEEL (Faarooq)
Ric Flair - HEEL
Rick Rude - HEEL
Ricky Steamboat 1 - FACE
Ricky Steamboat 2 - FACE
Rikishi - FACE
Road Dogg Jesse James - FACE
The Rock - FACE
The Rock '01 - FACE
Roman Reigns - FACE
Rusev - HEEL
Sami Zayn - FACE
Samoa Joe - FACE
Sasha Banks - HEEL
Scott Dawson - HEEL
Scott Hall - HEEL
Seth Rollins - HEEL
Shake, Rattle & Roll - HEEL (Honky Tonk Man)
Shane McMahon - HEEL
Shawn Michaels - FACE
Sheamus - FACE
Shinsuke Nakamura - FACE
Silverback - FACE (Ryback)
Simon Gotch - HEEL
Sin Cara 1 - FACE
Sin Cara 2 - FACE
Stand At Attention - HEEL (Sgt. Slaughter)
Stardust - HEEL
Stephanie McMahon - HEEL
Steve Austin - FACE
Sting - FACE
Sting '91 - FACE
Summer Rae - HEEL
Tamina - HEEL
Tatsumi Fujinami - FACE
Ted DiBiase - HEEL
Titus O'Neil - HEEL
Triple H - HEEL
Triple H '01 - HEEL
Trish Stratus - FACE
Tyler Breeze - HEEL
Typhoon - HEEL
Ultimate Warrior - FACE
Undertaker - FACE
Undertaker '00 - FACE
Vader - HEEL
Viktor - HEEL
Xavier Woods - FACE
Zack Ryder - FACE
Superstar Title Victory Scenes
Alberto Del Rio - HEEL
Asuka - FACE
Bret Hart - FACE
Brock Lesnar - HEEL
Daniel Bryan - FACE
Edge - HEEL
Finn Balor - FACE
Generic Champion 1 - HEEL
Generic Champion 2 - FACE
Generic Champion 3 - FACE
Generic Champion 4 - HEEL
Generic Champion 5 - FACE
Generic Champion 6 - FACE
Generic Champion 7 - FACE
Generic Champion 8 - FACE
Goldberg - FACE
John Cena - FACE
Kevin Owens - HEEL
Mark Henry - HEEL
Paige - FACE
Randy Orton - HEEL
The Rock - FACE
Shawn Michaels - FACE
Steve Austin - FACE
Ultimate Warrior - FACE
Undertaker - FACE
Tag Team Victory Scenes
American Alpha - FACE
The Ascension - HEEL
Blake & Murphy - HEEL
Braun Strowman & Erick Rowan - HEEL
Braun Strowman & Luke Harper - HEEL
Brock Lesnar with Paul Heyman - FACE
The Brotherhood - FACE
Brothers of Destruction 1 - FACE
Brothers of Destruction 2 - FACE
The Bushwhackers - FACE
D-Generation X - FACE
The Dudley Boyz - FACE
Enzo Amore & Big Cass - FACE
Generic Tag Victory 1 - FACE
Generic Tag Victory 2 - FACE
Generic Tag Victory 3 - FACE
The Hollywood Blonds - HEEL
Los Matadores - HEEL
The Lucha Dragons - FACE
Luke Harper & Erick Rowan - HEEL
The Natural Disaster - HEEL
The New Age Outlaws - HEEL
The New Day (Big E & Kofi) - FACE
The New Day (Big E & Woods) - FACE
The New Day (Kofi & Woods) - FACE
The Outsiders - HEEL
The Prime Time Players - HEEL
The Revival - HEEL
Rusev with Lana - FACE
The Usos - FACE
The Vaudevillains - HEEL
The Wyatt Family - HEEL
Tag Team Title Victory Scenes
The Ascension - HEEL
Brothers of Destruction 1 - FACE
Brothers of Destruction 2 - FACE
The Dudley Boyz - HEEL
Generic Tag Champion 1 - FACE
Generic Tag Champion 2 - FACE
Generic Tag Champion 3 - HEEL
Generic Tag Champion 4 - HEEL
Generic Tag Champion 5 - FACE
The New Age Outlaws - FACE
The New Day (Big E & Kofi) - HEEL
The New Day (Kofi & Woods) - HEEL
The Usos - FACE
Trio Victory Scenes
Generic Trio Victory 1 - HEEL
Generic Trio Victory 2 - FACE
Generic Trio Victory 3 - FACE
Generic Trio Victory 4 - FACE
The New Day 1 - FACE
The New Day 2 - FACE
The Shield - HEEL
The Wyatt Family 1 - HEEL
The Wyatt Family 2 - HEEL
The Wyatt Family 3 - HEEL