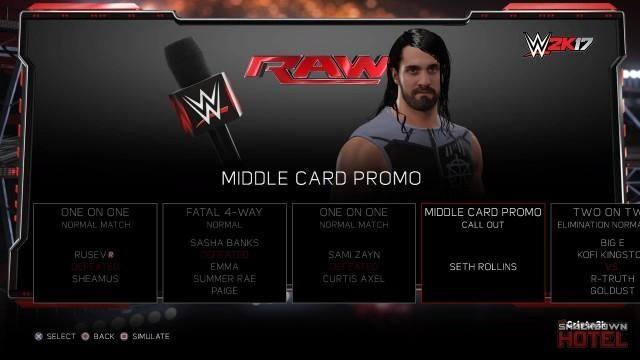 Anyone who has watched even 10 minutes of WWE programming knows that talking and charisma are just as important as in-ring skills. With the debut of the brand new Promo Engine in WWE 2K17, players are now able to experience this vital aspect of sports entertainment.
The WWE 2K17 Promo Engine lets the WWE Superstars express their thoughts and emotions, and also call out or respond to a rival during shows both in WWE Universe and MyCareer Modes. Beating your rival on the mic will provide boosts to VC and popularity.
Below, you find everything you need to know about the WWE 2K17 Promo Engine, how it works and a tutorial on how to get the best out of it every time you cut a Promo.
Promo Types
Promos in WWE 2K17 come in 6 different types:
Self-Promotion: A monologue promo with the goal of increasing popularity. You might get interrupted by another Superstar, engaging in a "promo battle".
Call Out: You call out a Superstar for a "promo battle". This is a way to start a rivalry with someone. There is a chance the Superstar may decide to not come out.
Turn Face: You can only do this type of promo when your Heel meter is very low.
Turn Heel: You can only do this type of promo when your Face meter is very low.
Form Tag-Team: You call out a Superstar to form a Tag Team.
Break-up Tag-Team: You call out a Tag partner to break-up your team.
NB: Obviously all the promos are not voiced over but they are text-based, in order to have as much dialogue variety as possible regardless of who are the Superstars involved.
Choices & Time Meter
During a Promo, you have four dialogue options to choose from for each time you speak, and the crowd will react differently based on what you pick. If your promo involves a rival, they do the same, and so on until one of you delivers the last word.
You have a limited amount of time, represented by a time meter, to decide what you want to say in each "node". Make sure to act quickly, not selecting a statement before the timer runs out will cause you to trip on your words and embarrass yourself.
Be Consistent - Cut a Cohesive Promo
You gain bonus points for putting together a cohesive promo. This means not switching back and forth between getting the crowd behind you and getting them to boo you. However, sometimes it's hard to tell which choice triggers a Face or a Heel reaction, the game unfortunately doesn't help you distinguishing them with Face/Heel colors. You gain large bonus points for picking a direction and trying to stick with it.
Promo Performance HUD
As you make choices throughout your promo, a performance meter will show how effective your words are with the audience. The top bar will turn blue when the crowd approves of your promo, or it will turn red when they disapprove. The goal is to get a strong reaction by filling the bar as much as possible in either color. It also shows how your promo is changing your face or heel rating.
Crowd Types
There are four different crowd types: Family-friendly, Hardcore, Respectful and Disrespectful. On any given night, the crowd can be any of these four crowd types, but the game doesn't always reveal to you which is it, so it has to be a guesswork sometimes.
Different crowds like different types of promos. To score big, you have to match your choices with the crowd type. You can also win by doing the opposite and trying to get a strong negative reaction from the crowd.
Mic Performance Attribute
The new Mic Performance Attribute dictates a number of things during a promo: it allows you get higher scores, talk longer and slows the timer during any given promo.
Mic Skill Abilities
You can hold R2 to access your Mic Abilities. Depending on whether they are assigned to your character or not, the abilities available are:
Brawl: Attack the opponent during a Promo and transition into a Brawl.
Taunt: Gain some time to think about what choice to make next during a Promo.
Stare Down: Temporarily reduce the amount of points the opponent can earn during the next node of Promo.
Last Word
The "last word" display lets you know when a promo is about to end. Use this to your advantage and try to get the highest score possible.
Promo Results Screen
Once finished, the Promo Results Screen gives you information on how you did on your promo. The promo meter shows you exactly how excited the WWE Universe was during your promo.
You can either get a positive or negative reaction from the crowd, and you win a promo by getting a stronger reaction than your opponent. Whether the reaction is positive or negative does not matter, just as long as your meter is higher than your opponent you will win. Your goal is to get the strongest reaction from the WWE Universe.