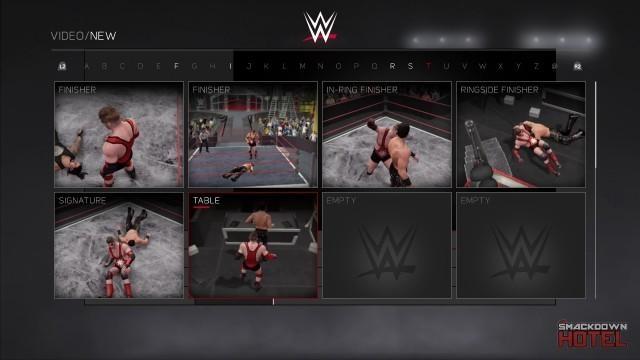 The new Create A Video mode in WWE 2K17 allows you to create and use your own created video as Titantron movie for your Entrance, or even as a Show Opening Intro for your Created Shows. Here is a breakdown with everything you need to know about the mode, which brings back the Highlight Reel and customizable Cutscenes.
As part of your Custom Video creation in WWE 2K17, you can include:
Highlight Reel: Recorded in-game clips from the returning Highlight Reel Replay (although unfortunately there is no free camera option this year, you can choose from 9 preset camera angles)
Video: A wide selection of preset movies and background loops
Cutscene: Custom cutscenes by choosing animation, characters (cast) and the arenas where they take place. The cutscene feature is similar to what you could do with the Story Designer mode, although without being able to create an actual story obviously, just individually using the scenes and animations, including Entrances and cutscenes from WWE Universe and MyCareer.
Logo Animation: Add and animate any Logo from all the in-game designs, flags and your Custom Logos, or even include Text.
Transitions and Filters
Despite some limitations, Create A Video is definitely a welcomed step in the right direction and already a huge feature for video creators around the world, that beyond in-game usage love to put together montages, highlights, promos and even whole shows, but couldn't quite do it well in the past few years due to the missing Highlight Reel and Story Designer. No more.
Let's take a look at the Full List of Cutscenes (464 in total) at your disposal in WWE 2K17 Create A Video mode, as well as the full detailed list of preset movies and background loops available.
WWE 2K17 Create A Video Cutscenes - Full List:
Entrance
Select any entrance motion from every Superstar in the game, including all parts (Stage, Ramp, Ring-In, Ring).
Promo Cutscenes:
Authority (30 cutscenes)
Brawl (10 cutscenes)
Entrance Promo (30 cutscenes)
Failure (9 cutscenes)
Lead In Promo (11 cutscenes)
Reaction VS (18 cutscenes)
Ring In Promo (17 cutscenes)
Staredown VS (24 cutscenes)
Talking (25 cutscenes)
Taunt (12 cutscenes)
VS Fail (5 cutscenes)
VS Reactions (16 cutscenes)
VS Talking (14 cutscenes)
Wrap Up (17 cutscenes)
Wrap Up 2 (32 cutscenes)
WWE Universe / MyCareer Cutscenes:
Backstage (11 cutscenes)
Entrance (53 cutscenes)
In Game (17 cutscenes)
Pre-Match (17 cutscenes)
Victory (96 cutscenes)
WWE 2K17 Create a Video Movies - Full List
Action (Bowling)
Animal 1 (Pigeon)
Animal 2 (Pigeon)
Art 1
Art 2
Art 3 (Director Cut)
Art 4
Art 5
Art 6 (Money Drop)
Art 7 (Game Over)
Art 8
Art 9 (Vintage Countdown)
Background Loop 1
Background Loop 2
Background Loop 3
Background Loop 4
Background Loop 5
Background Loop 6
Background Loop 7
Background Loop 8
Background Loop 9
Background Loop 10
Background Loop 11
Background Loop 12 (Glass Shattering)
Background Loop 13 (Heart Rate)
Background Loop 14
Background Loop 15 (Lights)
Background Loop 16
Background Loop 17
Background Loop 18
Background Loop 19
Background Loop 20 (Hearts)
Background Loop 21
Candies 1
Candies 2
Classical 1
Classical 2
Clockworks 1
Clockworks 2
Dance 1 (People Dancing)
Dance 2
Dance 3
Dance 4 (Disco Ball)
Dance 5
Fabulous 1
Fabulous 2
Face 1 (Mouths)
Face 2 (Mouths)
Face 3 (Mouths)
Face 4 (Mouths)
Fighting Spirit 1
Fighting Spirit 2
Film 1
Film 2
Film 3
Film 4 (Fire)
Film 5
Film 6
Film 7
Film 8 (Flames)
Film 9
Futuristic 1
Futuristic 2
Goth 1 (Graveyard)
Goth 2 (Graveyard)
Hardcore 1
Hardcore 2
Horror 1
Horror 2
Horror 3
Horror 4
Horror 5
Horror 6
Horror 7 (Spiders)
Horror 8 (Corridor)
Horror 9
Horror 10
Legend 1
Legend 2
Modern 1
Modern 2
Nature 1 (Lightning)
Nature 2
Nature 3
Nature 4
Nature 5
Nature 6 (Shark)
Nature 7
Nature 8
Nature 9
Nature 10
Nature 11 (Snake)
Nature 12
Nature 13
Nature 14 (Wave)
Nature 15
Neon 1 (Stars)
Neon 2
Sky 1
Sky 2
Sky 3
Sky 4
Sky 5
Sky 6
Sky 7
Sky 8
Sky 9 (Thunderstorm)
Sky 10 (Sunset)
Sky 11 (Tornado)
Space 1
Space 2
Space 3
Space 4
Space 5
Space 6
Spark 1
Spark 2
Sparkle 1
Sparkle 2
Sparkle 3
Sparkle 4
Sparkle 5
Sparkle 6
Sparkle 7
Sparkle 8
Sparkle 9
Sparkle 10
Sparkle 11
Sparkle 12
Sparkle 13 (Fireworks)
Sparkle 14
Sparkle 15
Sparkle 16
Sparkle 17
Sparkle 18
Sparkle 19
Sparkle 20
Sparkle 21
Sparkle 22
Sparkle 23
Sparkle 24
Sparkle 25 (Flashing Lights)
Speed 1 (Speed Meter)
Speed 2 (Traffic Timelapse)
Speed 3
Speed 4
Speed 5
Speed 6
Speed 7
Speed 8 (Traffic Timelapse)
Speed 9 (Traffic)
Speed 10 (Space)
Speed 11
Speed 12
Speed 13
Speed 14
Sports 1
Sports 2
Stars 1
Stars 2
Steel 1
Steel 2
Tech 1
Tech 2
Tech 3
Tech 4
Tech 5
Tech 6
Tech 7 (Volume)
Tech 8
Tech 9 (Sound Wave)
Tech 10
Traditional 1
Traditional 2
Underground 1
Underground 2
USA 1
USA 2
Vehicle 1 (Plane)
Vehicle 2 (Shuttle)
Voyage 1
Voyage 2
Water 1
Water 2
Water 3
Water 4
Water 5
Western 1
Western 2 (Gun)
80s 1
80s 2
90s 1
90s 2