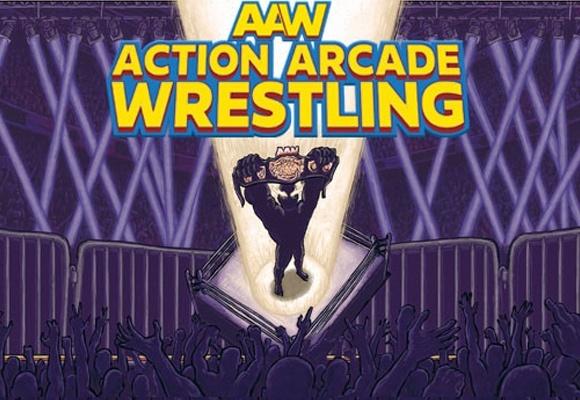 Game Series

Independent Games

Release Date

October 15, 2019

Additional Releases

August 10th 2021 (PS4 & Xbox One); February 9th 2022 (Switch)
Developed by VICO Game Studio, and published by Reverb Triple XP.
Originally, the game was going to be called CHIKARA: Action Arcade Wrestling.
Perform a BODY SLAM, knock'em down with a CLOTHESLINE, pull off the classic PILEDRIVER AND shoot LIGHTNING BOLTS into your opponent's face?! Whatever you do don't find yourself looking up at the lights!
Action Arcade Wrestling brings everything you love from 90's wrestling games with its own twist of chaos and fun. Join the action and step through the ropes in this fast-paced, arcade wrestling extravaganza to superkick the overly simulated wrestling games out of the ring! Choose from a roster of 20+ outrageous wrestlers executing their powerful attacks and superhero-like abilities in the most over-the-top wrestling game ever conceived.
Follow the team here: https://twitter.com/AAWGame
Matches
1 vs 1
2 vs 2 Tornado Tag
3 vs 3 Tornado Tag
Battle Royal
Battle Rumble
3-Way Dance
4-Way Dance
4-Person Elimination
1 vs 2
Tag Team
3 vs 3 Tag Team
4 vs 4 Tag Team
5 vs 5 Tag Team
3 vs 3 Elimination Tag
4 vs 4 Elimination Tag
5 vs 5 Elimination Tag
Arenas
Default Arena
Retro Arena
Traditional Arena
Roster
Ben Eiteef
Biohazard
Blue Serpent
Catastrophe
Charlynn
Codename: "Scales" Subject SDH-93010
Dexter Parker
K-FaY13E
Flash Tiger
Forsaken
Jacques Hammer
"HOT" J. Tubbs
Krimson Klaw
Livewire
Major Malice
Rockin' Ronnie
Shannon "THE ANGEL" Faith
Slammer Stanislavoich
Steve Jordan
"Titanium" Terry Idol
The Haunted
The Manhandler Green and Black