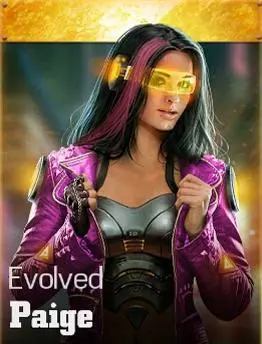 Paige (Evolved) is featured as a playable character in the WWE Immortals Roster.
PROFILE INFO
Evolved Paige (Gold)
Release Date
Base Stats
May 1, 2015
Damage: 1,100 - Health: 800
Availability
Signature Moves
Challenge Reward
1. Banshee Rage
2. Cyber-Strength Clothesline
3. Paige Turner
Price
-
Special
Magical Synergy: When Paige uses her SIG1, she gains a buff that increases the DMG of her next SIG2 by 33%. When she uses her SIG2, she gains 50% life drain from her next SIG1.