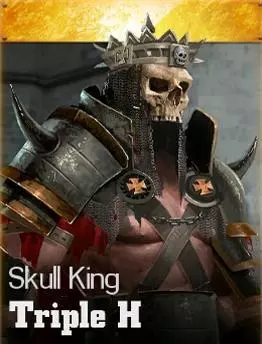 Triple H (Skull King) is featured as a playable character in the WWE Immortals Roster.
PROFILE INFO
Skull King Triple H (Gold)
Release Date
Base Stats
Mar. 26, 2015 (Update 1.2)
Damage: 1,100 - Health: 925
Availability
Signature Moves
Challenge Reward
1. Face Buster
2. Burning Blast
3. Sledgehammer Pedigree
Price
-
Special
Flames of Fear: Triple H deals DAMAGE OVER TIME to new opponents that tag in to fight him. This is NOT modified by Basic Damage gear.