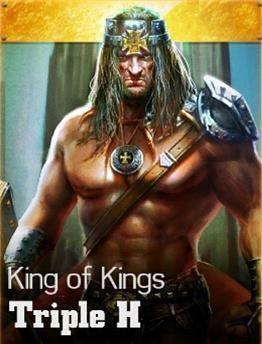 Triple H (King of Kings) is featured as a playable character in the WWE Immortals Roster.
PROFILE INFO
Gender

Male

Superstar Tier

Gold

Alternative Versions

Triple H (Skull King)Triple H (The Authority)

Real Life Profile

Triple H
King of Kings Triple H (Gold)
Release Date
Base Stats
Jan. 15, 2015 (Day 1)
Damage: 1,050 - Health: 850
Availability
Signature Moves
Store
1. Face Buster
2. Spine Buster
3. Sledgehammer Pedigree
Price
201,000
Special
Cerebral Assassin - Each time Triple H KOs an opponent, all remaining opponents lose Adrenaline.