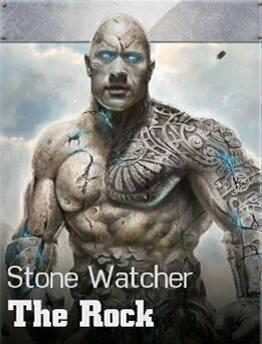 The Rock (Stone Watcher) is featured as a playable character in the WWE Immortals Roster.
PROFILE INFO
Gender

Male

Superstar Tier

Silver

Alternative Versions

The Rock (Raging Minotaur)

Real Life Profile

The Rock / Dwayne Johnson
Stone Watcher The Rock (Silver)
Release Date
Base Stats
Jan. 15, 2015 (Day 1)
Damage: 460 - Health: 380
Availability
Signature Moves
Store
1. Electrifying Suplex
2. The People's Eyebrow
3. Rock Bottom
Price
46,000
Special
Electrifying Tactics - When The Rock hits with a signature attack, he deals 25% more DAMAGE with basic combos.