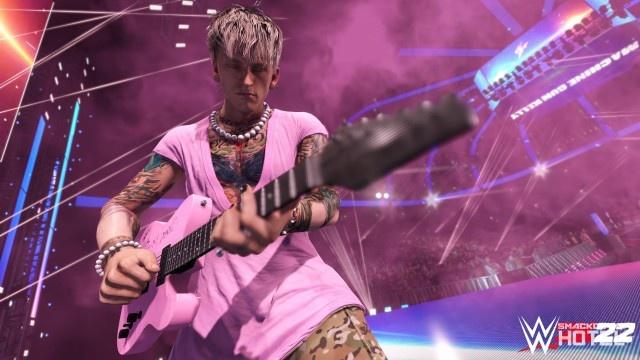 With the recent release of WWE 2K22's final DLC, the Whole Dam Pack, eyes have been drawn to two members of the collection, recent WWE signee Logan Paul, and musician Machine Gun Kelly.
Celebrities in wrestling have always maintained a special place in WWE history, crossing over mainstream culture to the wrestling world, and have made for some interesting inclusions over the years, not just in real life, but in the video game world too.
While these celebrity picks aren't always the most requested, they offer promotion towards casual players, a trend that won't be stopping anytime soon. Not counting those with established wrestling careers such as the Rock or John Cena, how have these big money appearances fared over the years?
Celebrities in wrestling games: The WWE series
As far back to Smackdown! Just Bring It in 2001, Limp Bizkit frontman Fred Durst burst onto the scene as a shock addition to the game, as part of an agreement to license Undertaker's theme Rollin'.
With arguably one of the best entrances in-game, it would be a long while until the next celebrity cameo, that being Mike Tyson in WWE '13. Instrumental to the rise of Steve Austin, Tyson's model and mocap were taken primarily from fellow boxer Floyd Mayweather, after the latter couldn't reach an agreement in time to appear in Smackdown vs. Raw 2009.
With the beginning of the 2K series, Arnold Schwarzenegger would take appear in WWE 2K16, based on his appearance in the first two Terminator films. While this was another seemingly random inclusion, Arnold's reveal trailer recreating the bar scene from Judgment Day was iconic, and he remains a loveable figure in pop culture today.
By historical comparison, WWE 2K22 has gone all out, including Logan Paul, Mr. T, and Machine Gun Kelly as DLC.
Mr. T has been very well received for his role in building Wrestlemania I and II, though has been criticized for having a lackluster entrance and moveset in-game.
Logan Paul's inclusion has been noted for its very convenient timing, given that he has just signed a contract for WWE and MGK for his controversial lifestyle. Their entrances have been praised, particularly MGK's, which has one of the best in-game, with creative movesets to match.
All the while, celebrities in wrestling games seem to be an upcoming mainstay for 2K, with possible future additions including "Jackass" star Johnny Knoxville, or perhaps 80s pop icon, Cyndi Lauper.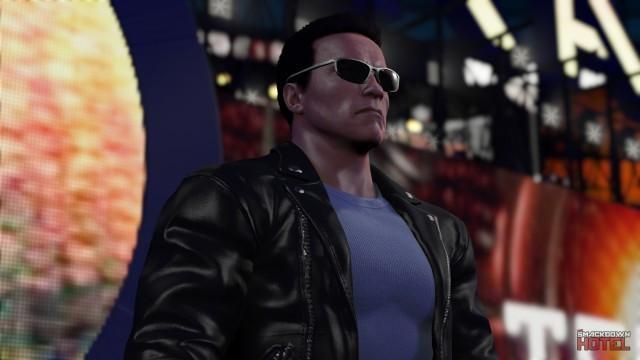 Indie games featuring celebrities
Off-brand from WWE, indie games on the odd occasion have included famous figures in their game, most notably in Def Jam Vendetta, featuring a cast of famous rap artists such as DMX, Ludacris, and Method Man.
The original three Def Jam games have been very well received in wrestling circles, with the series only falling off after Icon in 2007.
Another infamous series, Backyard Wrestling 1 and its sequel remain controversial for its awful gameplay almost 20 years later, but all the while includes a fun cast of genuine hardcore legends, mud show outlaws, and miscellaneous celebrities, most notably the Insane Clown Posse duo, Violent J and Shaggy 2 Dope, and party rock icon Andrew W.K.
Longtime wrestling fan and comedian Andy Kaufman has himself appeared in a wrestling video game before, two in fact! The games being the latter two games in the Legends of Wrestling series, II, and Showdown, are notable as well for having mediocre gameplay, but an extremely impressive cast of Golden Era alumni.
Out of all indie games featuring celebrities, an entire game has been made out of the concept, that being the infamous Celebrity Deathmatch game, which hasn't aged well in the slightest, but works fine as a novel concept. While it's preferable to live out celebrity deathmatches in 2K22, the creativity behind niche games such as these can leave one to wonder what it might look like in the best possible form.
Final Word
Depending on the motivation behind developers to include celebrities in wrestling games, historically it has been more of a miss on the indie side, while more successful for the WWE mainline franchise.
While this can go down ultimately on budget, fighting as fictional characters and celebrities has proven to be a niche with interest, seeing as some of the top downloaded creations on 2K22 have included figures like Spiderman, Kanye West, and Goku.
With a resurgence in interest for wrestling games, and impressive sales numbers on 2K22, time will only tell if more celebrities will make more featured roles in these games.