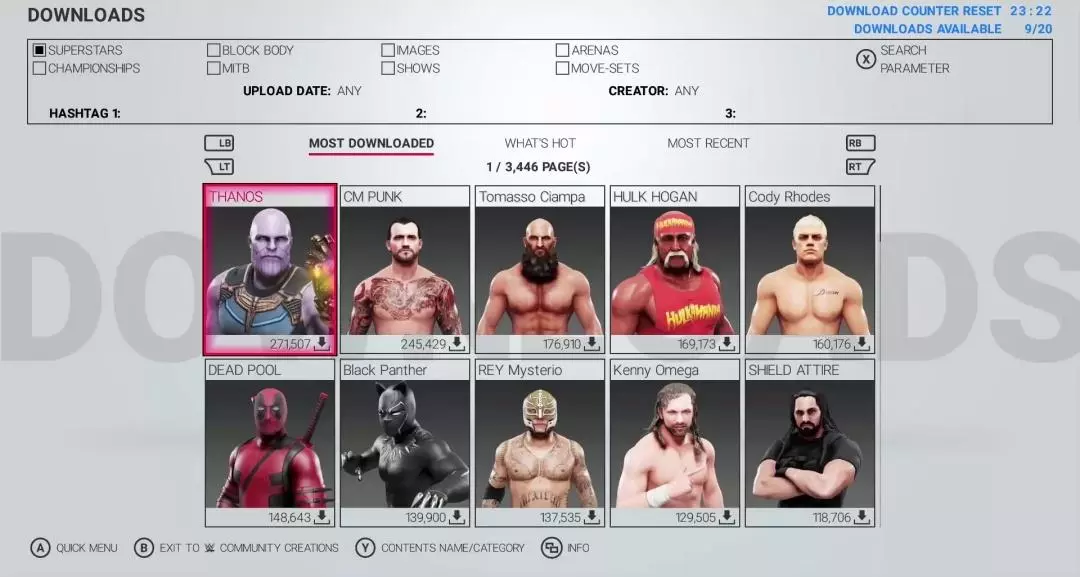 As WWE 2K19's community creations near its final days, closing around the time WWE 2K22 comes out, it is within the interest of video game historians to document the areas of the game which will soon be inaccessible to the public, such as its various online features.
Regarded as one of the finest titles in the WWE games lineup since WWE 2K14, the CAW creators of 2K19 have done a terrific job in assembling some of the wrestling world's wildest and most notable figures, both new and old.
Today we'll be looking at the game's most downloaded creations of pro wrestlers, on the Xbox One console. The data shown are accurate as of January 29, 2022, and will focus exclusively on pro wrestlers, with a list of more whimsical pop culture figures, alternate attires, and other content possibly coming another time.
5: Kenny Omega, 129,000+ downloads

One of pro wrestling's greatest modern hits, this CAW of Kenny Omega by creator Zeegs ranks #5 as the most downloaded wrestler on community creations. A star in both the US, his native Canada, and even Japan, Omega is hailed to be among the best wrestlers yet to be featured in modern WWE.
Currently an Executive Vice President of AEW, as well as former world champion of the promotion, many years are left in the man's career, with eyes constantly peering as to what he'll be doing next. This CAW features two attires of Omega based on his time in NJPW, particularly as a member of the Bullet Club stable, though erroneously, is a Super Heavyweight when downloaded. Nevertheless, Omega is a must for fans of AEW, as well as Japanese wrestling, with high demand for the man being seen in his impressive download count alone.
4: Cody Rhodes - 160,000+ downloads

Fellow AEW star to Omega, and wrestling promoter to boot, Cody Rhodes has accrued over 160,000 downloads in WWE 2K19. A veteran of WWE games, dating all the way back to Smackdown vs. Raw 2009, Rhodes has since cemented himself as one of AEW's most notable figures, behind the curtains, and in the ring.
This CAW, made by Dre41, features one attire of Rhodes based on his American Nightmare gimmick from NJPW, studded with his "Dream" tattoo on his chest, and bleach blonde hair. Cody is a recommended download for those who want PG Era and AEW-focused Universe modes.
3: Hulk Hogan - 169,000+ downloads

Arguably the most famous figure in all of wrestling, and someone who needs no introduction, Hulk Hogan ranks third in our list with over 169,000 downloads. Featuring two attires, his classic red and yellow gear, as well as an inverse palette swap of the two colors, this CAW was made by Robbiebert22, of a star that spans numerous eras and promotions.
While the Hulkster was absent from a slew of games due to a scandal involving the usage of slurs and racist tropes, he did eventually come back for WWE 2K20 after some time had passed, to a mixed reception from fans. It should be noted that although the Smackdown Hotel doesn't endorse such views, Hogan's influence on wrestling itself is undeniable. We leave the choice of forgiveness up to you.
2: Tommaso Ciampa - 176,000+ downloads

Considered one of NXT's brightest talents, Tommaso Ciampa make it into #2 of our list of WWE 2K19's most downloaded wrestlers on community creations. After requesting to not be in the game at all, Ciampa's exclusion left a void in many players and fans of NXT who wanted the Sicilian Psychopath in their game, to which CAWs have come to the rescue.
Marking Dre41's second CAW on this list, Ciampa features two attires, one sporting traditional short trunks, and the other with his signature camo pants. Ideal for NXT fans, and those who have followed Ciampa's career in the indies. It should be noted that this CAW's name is actually misspelled, with "Tommaso" being the correct version.
Honorable mentions:

While evidently, not everyone made it to WWE 2K19, our honorable mentions feature a slew of names released shortly before the game's release, and who couldn't secure their place in the roster due to timing and contracting issues. Neville, now going by the name Pac on AEW, was unable to be featured in 2K19 following a contract dispute in early 2018, with his earlier incarnation being among the most downloaded wrestlers on the server. Mark Henry, who retired in 2017, had not secured a Legends deal to appear in the game and wasn't able to make it as DLC.
Buddy Murphy, who returned to WWE programming in February 2018, was additionally not able to make it to the game, which is erroneous to some degree. John Morrison, a popular name who had been gone from the company for years by then, remained a staple in community creations up to this year, with a whopping 100,000 downloads to his name. He had since returned to programming in late 2019, by the time 2K20 had come out, also not making the cut for that game.
And lastly, as one of wrestling's more polarizing figures in recent years, Ryback squeaks in very slightly ahead of Morrison. Making his last appearance all the way back in WWE 2K16, Ryback is very unlikely to ever return to WWE, but nevertheless remains a big figure of the PG era. Respectively, these CAWS were made by BI0 Assass1n, NoXeMoLegend, BI0 Assass1n again, FlashhXxDean, and PlaymakerXCV. But without further ado, the number #1 figure is...
1: CM Punk - 245,000+ downloads

By far and away the most downloaded pro wrestler on community creations, CM Punk himself is #1 on our list. A legend in his own right, in both the indies and at the top of the sport, CM Punk is missed by many in the WWE for what he represented in his latter years in the company.
While the perception of him has become mixed in the time since, Punk came back to wrestling at AEW in August 2021, where he's currently feuding with young talent and red hot heel of the future MJF.
Even though he may never come back to a WWE game, Punk's legacy in the company lives on through community creations. This CAW, made by Robbiebert22 once more, features two attires of Punk, with only minimal changes between them, though nevertheless maintaining the distinction of being 2K19's most downloaded pro wrestler CAW.
The future of Community Creations?
While it's unfortunate every year to think about big roster omissions in WWE games, the community creations of each game always provides the player base a chance to represent some of their favorite wrestlers. Even if some names are lost causes to get in officially, CAWs always make for a nice alternative, and is a mode that will hopefully grow in upcoming installments.
Who do you think will be the most downloaded pro wrestler in WWE 2K22? Whether it be someone legendary, wacky, or even a fictional pro wrestler like Jacob Cass, the answer lies within both you the player, and in the community.