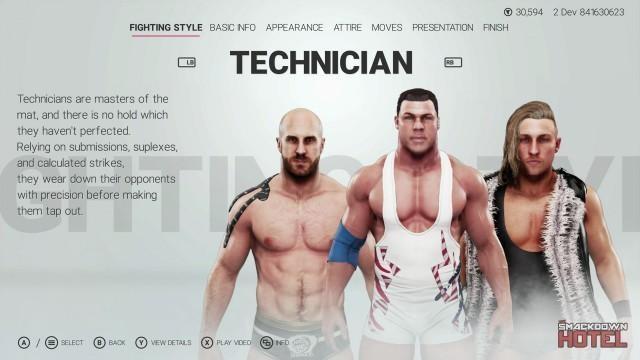 In WWE 2K19, the MyPLAYER fighting styles have been streamlined from eight in WWE 2K18, down to 5 core Fighting Styles to choose from, which are then further divided into two Sub-Styles each.
Upon creating your character in the MyPLAYER Wizard you will be able to pick one Fighting Style, and once you reach XP Level 10 you will be able to choose one of the respective Sub-Styles.
Each style has unique Attribute settings and access to different Skills and Abilities. Players should choose the Fighting Style that best represents their favorite play styles and interests.
Let's take an in-depth look at each of the Fighting Styles and Sub-Styles in WWE 2K19, with details on their top skills and attributes.
WWE 2K19 Fighting Styles: Technician
Technicians are masters of the mat, and there is no hold which they haven't perfected. Relying on submissions, suplexes and calculated strikes, they wear down their opponents with precision before making them tap out. They excel in Grappling and Technique.
Technician Sub-Style 1: Shooter
With deadly precision, the Shooter executes to perfection in the ring, specializing in Submission and Stamina.
Technician Sub-Style 2: UK Strong Style
Sometimes brute force is the only option, and practitioners of the UK Strong Style bring just that. They specialize in Environmental Offense and Arm Power.
WWE 2K19 Fighting Styles: Powerhouse
Powerhouses of the WWE Universe are the true gladiators of our time. Pulling from their arsenal of power moves and heavy strikes, they can mow down opponents of any size. In addition to the raw power they possess, their iron will and unrelenting drive makes them a dangerous force to be reckoned with. They excel in Power and Grappling.
Powerhouse Sub-Style 1: Beast
The true "Beasts" of the ring unleash devastating fire and Fury. They specialize in Grapple Speed and Damage Recovery.
Powerhouse Sub-Style 2: Hero
Driven by the crowd, their determination to never give up shines through. These Heroes specialize in Strike Speed and Reversal Offense.
WWE 2K19 Fighting Styles: Giant
Feared by the entire roster for their intensity and size, Giants dominate the squared circle. Using a devastating combination of brute force offence and inhuman strength, they easily overpower all who stand in their way. They excel in Power and Toughness.
Giant Sub-Style 1: Big Man
Quicker than you would expect, the Big Man can even take to the skies from the top rope. They specialize in Aerial Offense and Agility.
Giant Sub-Style 2: Monster
A force of nature that can't be reckoned with, Monsters specialize in Power and Durability.
WWE 2K19 Fighting Styles: Cruiser
Cruiser choose to defy gravity for the chance to capture greatness. Known for their Aerial abilities, lighting speed and high-risk maneuvers, they will put their bodies on the line and stop at nothing on their quest to glory. They excel in Speed and Agility.
Cruiser Sub-Style 1: Luchador
Taking to the Skies, the Luchador specializes in Aerial Combat, while sporting lighting-fast reflexes.
Cruiser Sub-Style 2: Technician Cruiser
Putting focus on their Ground Game, the Technical Cruiser specializes in Grapples and Submissions.
WWE 2K19 Fighting Styles: Striker
Strikers are the hardest hitting Superstars in the WWE, and are tough as nails. Using their limbs as weapons, they will pound their way through any obstacle in front of them. Unlucky opponents that get caught in their path know first-hand the severity of damage they are capable of inflicting. They excel in Striking and Stamina.
Striker Sub-Style 1: Brawler
Ready to fight anytime and any place, the Brawler specializes in quick Movement, and combat outside the ring.
Striker Sub-Style 2: Strong Style
Hard hitting and resilient, the practitioners of Strong Style specialize in Durability and Leg Power.
---
For more WWE 2K19 Guides check out our WWE 2K19 Guides and Walkthroughs section!