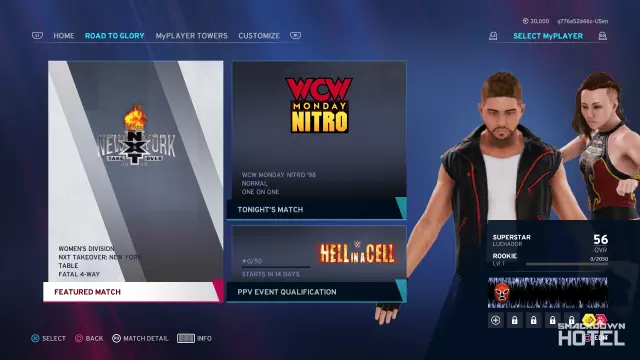 For the first time, in WWE 2K20 you will be able to create both male and female MyPlayers, and then compete with them in MyCareer, Road to Glory, and MyPLAYER Towers.
The male and female MyPLAYERs can have different styles (one can be a brawler and the other a high-flyer, for example), experience pools, progression trees, and creation part unlocks. This consistent pair can level up and unlock items throughout all three of these modes.
For the first time ever, any special creation parts you unlock through playing MyCAREER, Road to Glory, and MyPLAYER Towers are also available in the general Create-a-Superstar mode. On top of that, you will be able to export the appearance of your MyPLAYER out to the general character creations as well!
Road to Glory and MyPLAYER Tower fans will be familiar with the process of earning stars to enter special pay-per-view events. These Road to Glory events now include female matches for the first time, in addition to male matches.
Below you find everything you need to know about MyPlayer in WWE 2K20.
WWE 2K20 MyPlayer Classes
This year, MyPLAYER features 5 core "Classes" to choose from: CRUISER, STRIKER, SPECIALIST, POWERHOUSE and GIANT.
Each Class features 2 unique "Styles" that will play differently from each other in addition to having their own set of Rewards.
When you create your MyPLAYER in the MyPLAYER Wizard, you need to choose both A Class and Style for your MyPLAYER.
WWE 2K20 MyPlayer Prestige
There are 5 earnable PRESTIGE Ranks: ROOKIE, SUPERSTAR, LIVING LEGEND, TITAN, IMMORTAL.
Players can reach new PRESTIGE Ranks by reaching new XP levels. Each PRESTIGE Rank features 25 XP Levels.
Reaching new PRESTIGE Ranks unlocks exclusive rewards. Both Male and Female "Styles" have their own set of earnable rewards.
Over 100 exclusive MyPLAYER PRESTIGE unlockables. (All Superstars parts earned through MyPLAYER also unlock outside of MyPLAYER).
WWE 2K20 MyPlayer Tree Progression
The MyPLAYER Tree has been redesigned to allow for more freedom of choice.
Players can spend Attribute Points to upgrade their stats, or they can spend Skill Points to unlock new Skills, Abilities and Paybacks.
Each "Style" features its own unique MyPLAYER Tree.
WWE 2K20 MyPlayer Side Plates & Challenges
Side Plates and Challenges have been combined into one system. Each Side Plate is now comprised of a series of challenges that offer the player a variety of ways to earn a burst of XP towards their MyPLAYER progression.
Challenges have been expanded to support more situations and now provide updates during gameplay on challenge progress. Completing all of the challenges within a Side Plate earns you rewards.
WWE 2K20 Road To Glory
Compete against others daily to earn boosts, Superstar parts, and VC. Like before, you'll earn stars to gain access in Pay-Per-View events that line up with real WWE programming.
Female MyPLAYERs are now fully integrated into Road to Glory, including daily matches, as well as upcoming PPVs.
New "Featured Match" expands the options of daily scheduled "Tonight's Match" allowing triple threat, fatal 4-way, and 6-man matches.

Originals arenas will be integrated into the schedule of "Featured Match" when the Originals is active.

Rewards earned in Road to Glory are now allowed to be used in the rest of the game.
WWE 2K20 MyPlayer Towers
in the Towers Mode you compete against a string of WWE Superstar opponents. Each Tower features a unique theme with different win conditions and fun stipulations with varying degrees of difficulty.
The MyPLAYER Towers offer you a chance to improve your MyPlayer with an overwhelming amount of gameplay. In WWE 2K20 there are over 30 persistent MyPLAYER towers. On top of this, new Daily, Weekly, and real-life WWE PPV towers constantly keep things fresh.
Stars earned in Towers allow access to the monthly PPV towers where you can earn exclusive Superstar parts rewards upon completion.
---
For more WWE 2K20 Guides check out our WWE 2K20 Guides and Walkthroughs section!