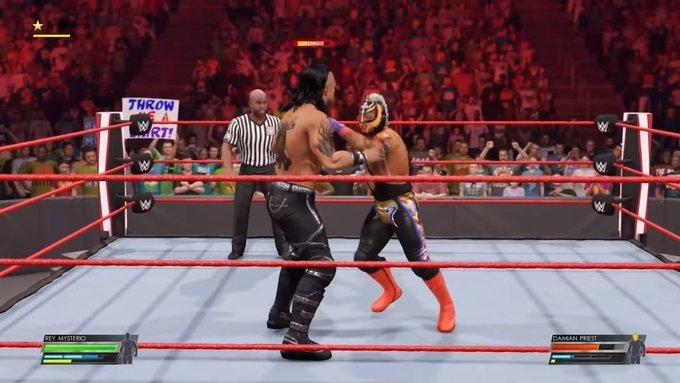 We finally got some official WWE 2K22 Gameplay from the first episode of a new series from the WWE 2K Development Team called Ringside Report. The first of these episodes focused on pure gameplay as people did want to see it for most people this would be a make-or-break decision on if they would pre-order the game or not.
The episode was hosted by the WWE 2K Creative Director Lynell Jinks and WWE 2K Art Producer Christina Diem Pham and was joined later in the video by Derek Donahue (Senior Designer), Jonathan Rivera (Senior Producer), and Jason Vandiver (Principal Designer). The team would also reveal that there will be future episodes on Future DLC Packs, In-Game Patchs, and the game's graphics.
The gameplay that we were shown was a 1 vs 1 between the WWE 2K22's Cover Star Rey Mysterio and a superstar making his series debut this year Damian Priest where we would see a lot of new features that are set to be included in the game such as the new dodge and block mechanics and the changes to controls.
Now we have already covered some details about the first Ringside Report on Gameplay in a prior article, but there were some more interesting details that about quite exciting to think about that have been implemented in WWE 2K22.
So in this article, we will be breaking down some of the other details that were shown off during the Gameplay Ringside Report and the comments made by the team during the video.
WWE 2K22 Gameplay Breakdown
To start off with, like we have seen in prior trailers, the in-game camera angle during matches is a lot more drawn in on the superstars and the game feels like it has a faster flow to it.
This is shown off during the gameplay as when Mysterio performs a grapple move from the corner on Priest which he sells but then gets back up when in past games he would have been on the mat after the move had ended.
Something else noticeable during the gameplay is how the physics engine (Havoc Engine) has been completely implemented not only with superstar's hair and clothing parts, a good example being the chains on Priest's ring attire.
Players are also able to initiate a grapple and then strike their opponent from that grapple and the development team would say that they made the Overall System more like button mashing to make it more user-friendly to new players to the series.
They would also talk more about the new Combo System where players can use these combos by starting with a grapple and then pressing either the light or heavy attack buttons up to 3 times. An example of a combo that players can use is Light, Heavy, Light, or Light, Light Heavy. It was confirmed that players can also customize combos if they are not happy with their chosen superstar's assigned combos.
WWE 2K22 New Reversals
Something else that is unique to WWE 2K22 is the removal of reversal limits as the development team believed that matches in 2K20 would be decided by who reserved their reversals better than who was the better player in the match.
The new reversal system now allows players to reverse any strike their opponent throws at them but the way to counter grapples is with "Breakers" where to counter the move, you must hit the same button as your opponent at the same time as well as your own light, heavy strikes, and grapples.
For more details about the new WWE 2K22 reversals system check out this complete guide about Controls.
There is also a new stun meter where if you keep hitting your opponent with light and heavy strikes, you will fill up their stun meter which when full will not allow them to reverse your attack for a short amount of time.
WWE 2K22 New HUD Explained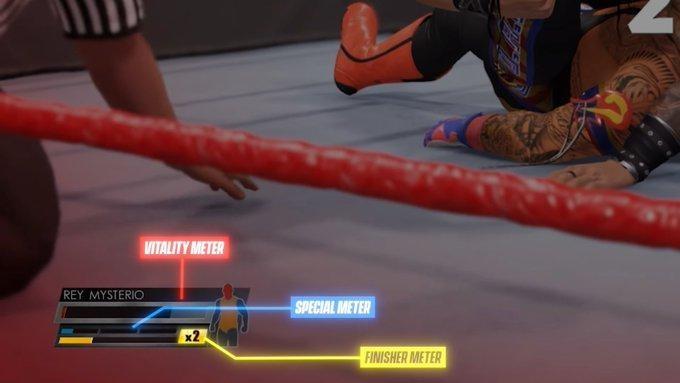 Regarding the new meters during the gameplay shown above:
The Vitality Meter is the amount of health your superstar has currently and the screen will flash red when you are in danger of being pinned by your opponent.
The Special Meter allows you to not only perform your Signature Moves and Paybacks but if you have at least 2 segments of the bar filled up, you can use it to kick out of pinfalls by opponents as another form of Resiliency.
The last meter would be the Finisher Meter which is functions like in the past WWE 2K games where it will show the number of finishers you can use at the current time.
Check out our full Guide to WWE 2K22's HUD and Meters.
WWE 2K22 Pin / Kick-Out System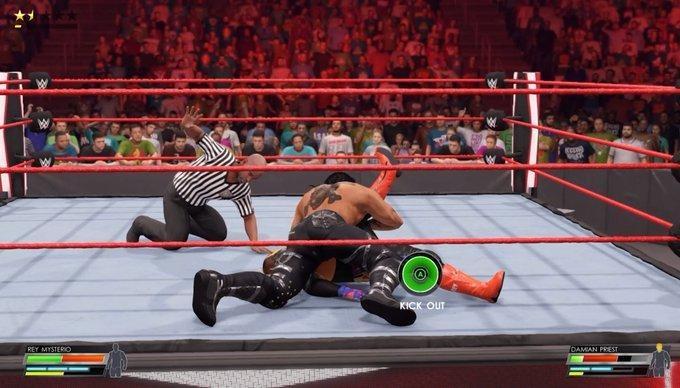 As with the new Kickout Meter, many people are asking if they are able to switch it back to how WWE 2K20 had, as some of them didn't like the change.
However, fans will be happy to hear that 2K did confirm that players would have the option to switch the pin minigame back to the Timed Button Press.
Hopefully with this gameplay reveal, we will start to get more official information in the weeks to come before the game becomes available worldwide first on March 8th.
What do you think about the Gameplay Ringside Report expanded details?
Leave your comments down below and thanks for checking into The Smackdown Hotel.