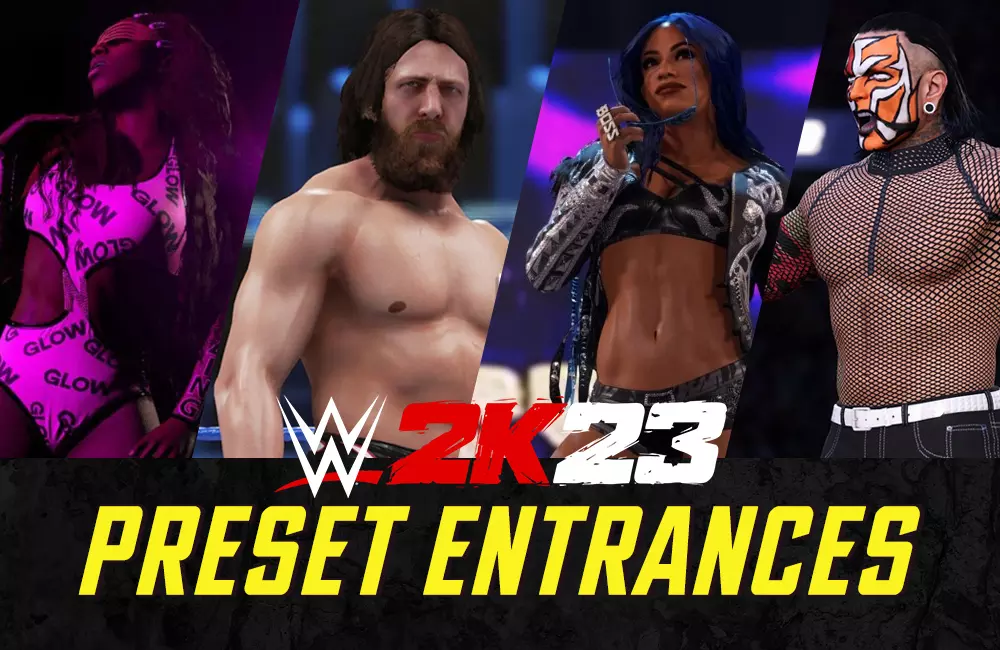 On this page, you find the full list of WWE 2K23 Preset Entrances, which includes every Single, Tag Team, and Trio Entrances in the game, as well as Championship Entrances and MITB motions.
As we do every year, we compiled the full list of all the Preset Entrance Motions that are available to players in the Create An Entrance Mode in WWE 2K23, in addition to the entrances assigned to the superstars already on the WWE 2K23 Roster.
In WWE 2K23, the number of available entrance motions continues to increase, as there are new entrance animations that are added in for the new debuting superstars, as well as presets for legends that were in WWE 2K22 that aren't in WWE 2K23, and superstars who have been released between the two games.
WWE 2K23 also marks the return of Advanced Create An-Entrance, after it was temporarily removed in WWE 2K22 because it was deemed "unstable" by the developers. Now, the mode has returned, meaning you can once again stitch together pieces from different entrances for the Intro, Stage, Ramp, Ring-In, and Ring portions.
NOTE: There are still some entrance motions that are still unknown as to who they belong to, so if any of you can recognize or guess any of these unknown entrance motions, please let us know in the comments below!
WWE 2K23 Preset Entrances - Single Motions
The following list includes all of the WWE 2K23 Preset Entrances for Superstars who aren't a part of the in-game roster. This includes superstars who were in prior games but are no longer with the company, as well as independent wrestlers from other promotions:
Ain't No Make Believe (John Morrison)
All Hail (Chris Sabin)
All Red Everything (Eve Marie)
"All Smiles" (Kylie Rae)
Alpha Omega (Kenny Omega)
Amazing Glow (Naomi)
American Dream (Dusty Rhodes)
Anonymo (A-Kid)
Aussie Aggression (Nick Miller)
The Axeman (Alexander Wolfe)
B-Teamster 1 (Curtis Axel B Team)
B-Teamster 2 (Bo Dallas B Team)
Bad Attitude (Jason Cade)
Baddie In Charge (Mia Yim)
The Banker (Mr. Mackelroy)
Bayamon's Finest (Jay Cruz)
Beast From The East (Bam Bam Bigelow)
Beefcake Barber (Brutus Beefcake)
Believer (Bo Dallas)
The Best Kept Secret (Buddy Murphy)
Big Bull (Bull Dempsey)
Big Metal 1 (Gran Metalik 1)
Big Metal 2 (Gran Metalik 2)
Big Hoot (Luke Gallows)
Big Poppa Pump (Scott Steiner 2000s)

UPDATE 1.08

Big Texan (Stan Hansen)
Black Sun (Hideo Itami)
Bloody Scorpion (Sting Wolfpack)
Bludgeon Brother 1 (Harper Bludgeon Brother)
Bludgeon Brother 2 (Rowan Bludgeon Brother)
Book Him (Flip Gordon)
Boxer (Generic Boxer)
Break The Walls 1 (Chris Jericho 1)
Break The Walls 2 (Chris Jericho 2)
Break The Walls 3 (Chris Jericho 3)
Bubbly Personality 1 (Emma)
Bubbly Personality 2 (Emma)
Bulgarian Brute (Rusev)
Business Suit (I.R.S)
Captain Charisma (Christian)
Caribbean Sensation (Savio Vega)
CaveWoman (SouthPaw Carmella)
Cha Cha With Me 1 (Fandango 1)
Cha Cha With Me 2 (Fandango 2)
Chainsaw (Chainsaw Charlie)
Chair Swinging (Balls Mahoney / Axl Rotten)
The Chairman (Mr. McMahon)
Classic Villain (William Regal)
The Coolest (Kyle O'Reilly)
Corey Graves (Corey Graves)
Corvus Iconicus (Sting '99)
Crimson Rebellion (Ruby Riott)
Cyber Glow (Cyber Naomi)
Dancing Superstar (Rebel)
Dark One (Luke Harper / Brodie Lee)
Dark Ritual (Aleister Black / Malakai Black)
Deca Dance (Tye Dillinger / Shawn Spears)
Defeated (Curt Hawkins)
Dire Intentions (Albert)
The Disciple (Murphy 2)
Disco Dancer (Disco Inferno)
The Doctor Is In (Dr. Britt Baker - Pre-AEW - Face)
The Dragon (Ricky Steamboat)
The Dragon '94 (Ricky Steamboat 1994)
Dream Over (Velveteen Dream)
Dukes Up (Simon Gotch)
Earth's Champion (The New Daniel Bryan)
ECW Legend (Mikey Whipwreck)
Eight Pack (Tony Nese)
English Powerhouse 1 (British Bulldog 1)
English Powerhouse 2 (British Bulldog 2)
Enigmatic 1 (Jeff Hardy 1)
Enigmatic 2 (Jeff Hardy 2)
Faceless (Sin Cara)
Fear Her (Jessicka Havoc)
Fearless (Pentagon Jr.)
Feast Your Eyes (Dominik Dijakovic)
Fiendish (The Fiend Bray Wyatt)
Fil-Am Flash (TJP)
Firefly Cultist 1 (Bray Wyatt 1)
Firefly Cultist 2 (Bray Wyatt 2)
Forever (Tessa Blanchard)
Forgotten Son (Jaxson Ryker)
Foxy (Alicia Fox)
The Freak 1 (Lars Sullivan 1)
The Freak 2 (Lars Sullivan 2)
Freedom Birds 1 (Buddy Roberts)
Freedom Birds 2 (Jimmy Garvin)
Freedom Birds 3 (Michael Hayes)
Full Moon 1 (Ember Moon 1)
Full Moon 2 (Ember Moon 2)
Fully Loaded Sheik (Ariya Daivari)
Funhouse Friend (Funhouse Bray Wyatt)
Generic Superstar 1
Generic Superstar 2
Generic Superstar 3
Generic Superstar 4 (Big Cass)
Generic Superstar 5 (Murphy)
Generic Superstar 6 (Pat McAfee)

UPDATE 1.08

Generic Superstar 7 (Curt Hawkins 2)
Generic Superstar 8 (Tucker)
The Genesis Of... (Curtis Axel)
Get Hype (Mojo Rawley)
Going Hard 1 (Dash Wilder - Revival)
Going Hard 2 (Scott Dawson - Revival)
Gold Medalist 1 (Kurt Angle 01)
Gold Medalist 2 (Kurt Angle 06)
Golden One 1 (Goldust 1)
Golden One 2 (Goldust 2)
Golden 1 (Lince Dorado? El Phantasmo? - NEW Motion)
Golden 2 (Lince Dorado - Lucha Dragons))
Gore (Rhyno)
Grizzled Fisherman (Bobby Fish)
The Guru (Sonjay Dutt)
Hall of Fame Inductee (Bob Backlund)
Happy Go Lucky (Crash Holly)
Hard Nox (Tegan Nox)
The Hardcore Extreme (Bubba Ray Dudley)
Hardcore Icon (Sandman)
The Hardcore Reverend (D-Von Dudley)
He Is A Machine (Brian Cage)
Here She Goes Again (Maria Kanellis)
Hot Mess (Chelsea Green)
Hula Dancer (Generic Hula Entrance)
Human Suplex Machine (Tazz)
Hype Man (Lio Rush)
The Icon (Sting - Modern)
Iconic 1 (Peyton Royce)
Iconic 2 (Billie Kay)
Innovative Dragon (Tatsumi Fujinami)
Insanity (Eric Young)
International Sensation (Hiroshi Tanahashi)
It's All About The Mac (Willie Mac)
Japanese Buzzsaw (Tajiri)
Kaiju Killer (Samoa Joe)
King Of The Cruisers 1 (Neville 1)
King Of The Cruisers 2 (Neville 2)
Knight Rider (Paige)
Knock 'Em' Down (Low Ki / Senshi)
Knock Out Artist (Mr. T)
Legit Boss 1 (Sasha Banks 1)
Legit Boss 2 (Sasha Banks 2)
Like A Diamond (Roderick Strong)
Limitless (Keith Lee)
The Living Legend 1 (Bruno Sammartino)
The Living Legend 2 (Larry Zbyszko)
The Lone Star Cowboy (Wesley Blake)
Long Island Broski (Zack Ryder
Loose Cannon (Brian Pillman)
The Low Down (D'Lo Brown)
Lucha Lucha 1 (Kalisto 1)
Lucha Lucha 2 (Kalisto 2)
Lucha Superstar (Generic Luchador)
The Lunatic (Dean Ambrose / Jon Moxley)
The Machismo Is Lethal (Jay Lethal)
Magic Monster (The Great Muta)
Mainframe Guardian (Sasha MemoryBanks)
Martial Artist (Mike Bailey)
Mass Destruction (Big Show)
Mighty Miss (Molly Holly)
Milan Miracle (Santino Marella)
The Millennium Man (Sycho Sid)
Mister Boring (Daniel Bryan NXT)
The Model 1 (Rick Martel 1)
The Model 2 (Rick Martel 2)
The Monster Among Man (Franken Strowman)
Mr. Athletic (Jeff Cobb)
Mr. Red, White & Blue (Jim Duggan With American Flag)
Ms. Texas (Jacqueline)
Munitions Specialist (Karl Anderson)
Next Generation Of Great (Jason Jordan)
Nexus Original (Justin Gabriel)
No Nonsense (Timothy Thatcher)
No Dummies Allowed (Eli Drake)
No! No! No! (Daniel Bryan No!)
Not Like Most (Nia Jax)
Not Like Most Bots (N14-J4X - 2K Original)
The One And Only 1 (Billy Gunn 1)
The One And Only 2 (Billy Gunn 2)
One Hundred Souls (Andrade Cien Almas)
One Man Army (AR Fox)
One Man Band (Heath Slater)
One of Two (Oney Lorcan)
The One Percent (EC3)
One Two Tre (Tre)
Outback Dundee 1 (Shane Thorne 1)
Outback Dundee 2 (Shane Thorne 2)
Painful Literature (Authors of Pain)
Pearlescent Legend (Ivory)
The Perfect One (Mr. Perfect)
Personality Disorder 1 (Cactus Jack '98)
Personality Disorder 2 (Cactus Jack '92)
Personality Disorder 3 (Dude Love)
Personality Disorder 4 (Mankind)
The Phenom Of Cameron NC (Trevor Lee)
Pink Dream (Alex Gracia)
Poison Flower (Peyton Royce - Flower Entrance)
Poison Pixie 1 (Candice LeRae 1)
Poison Pixie 2 (Candice LeRae 2)
Power Of Love (Mike Kanellis)
Princess (Madison Rayne)
Proud Heritage (Tatanka)
Punjabi Giant (The Great Khali)
Queen of Aerobic Style (Delilah Doom)
Ravishing (Lana)
Real Man (Rick Rude)
Red Beard (Rowan)
Repeat After Me (Jack Swagger)
Respect The Nation 1 (Faarooq N.O.D)
Respect The Nation 2 (Kama Mustafa N.O.D)
Rock & Roll 1 (Ricky Morton)
Rock & Roll 2 (Robert Gibson)
Rock The Promo Champ (A.J. Kirsch)
The Rockstar (Machine Gun Kelly)
Rose Gold 1 (Mandy Rose 1)
Rose Gold 2 (Mandy Rose 2)
Rowdy Rebel 2 (Ronda Rousey 2)
Royal Flush (Kenny King)
Rugged Moustache (Trent Seven)
Rural Hardcore (Mickie James)
Ruthless (Rhett Titus)
Samoan Dynasty (Rikishi)
Samural Sister (Samantha Urai)
Scottish Supernova (Noam Dar)
Sea Creature (Sea Creature)
Second Generation (Rachael Evers)
Seeing Red (Red)
Seismic Activity (Earthquake)
Self High Five 1 (DDP 1)
Self High Five 2 (DDP 2)
Shake, Rattle & Roll (Honky Tonk Man)
She Lady (She-Lady Nikki Bella)
She's On Fire (Alundra Blayze)
Sheepherding Kiwis (The Bushwhackers)
The Shield's Lunatic (Dean Ambrose Shield)
Shining Star (Santana Garrett)
Sign Of The Times (Scorpio Sky)
Sky Pirate (Kairi Sane)
Slam To Win (Mark Andrews)
Smooth C (Chuck Taylor)
SmoothShot (Killshot - Shane Strickland)
Spanky (The Brian Kendrick)
Spiritual Dragon (Shynron)
Stand To Attention (Sgt. Slaughter With American Flag)
Starry Eyed Wrestler (Barbi Hayden)
Storm Warning (Toni Storm)
Stunningly Hollywood (Stunning Steve Austin)
Stylin' And Profilin 1 (Ric Flair 1)
Stylin' And Profilin 2 (Ric Flair 2)
Summer Days (Summer Rae)
Super Hero (The Hurricane)
Swerved (Isaiah "Swerve" Scott)
Swiss Specialist 1 (Cesaro 1)
Swiss Specialist 2 (Cesaro 2)
Tech Chairwoman (ChairWoman Bliss)
The Bad Girl (Penelope Ford ???)
The Mastodon 1 (Vader WCW)
Thumbs Up, Thumbs Down (Sami Callihan)
Thunderous Boom (Adam Cole)
Time Traveler (Kushida)
The Top Enforcer (Arn Anderson)
Total Package 1 (Lex Luger 1)
Total Package 2 (Lex Luger 2)
Trinidad Rose (Zelina Vega)
Tropical Cyclone (Typhoon)
True Player (The Godfather)
Two of Two (Danny Burch)
Ultimate Finesser (Chris Bey ???)
Undead (Generic Zombie)
Undisputed Buzzsaw (Kyle O'Reilly - WWE 2K20)
Undisputed Strength (Roderick Strong)
Unleash The Demon 1 (Demon Finn Balor 1)
Unleash The Demon 2 (Demon Finn Balor 2)
Venice Surfer (Sting '91)
Ver 1.0 (Matt Hardy 1)
Voodoo Shaman (Papa Shango)
The Wanderer (Seth The Wanderer)
War Machine (The Terminator T2)
Warrior Princess (Sarray)
Wastleland Creature (Arctic Shield Roman Reigns)
WCCW Brotherhood 1 (Kerry Von Erich)
WCCW Brotherhood 2 (Kevin Von Erich)
Welcome To The Wasteland 1 (Konnor)
Welcome To The Wasteland 2 (Viktor)
What A Rascalz (Dezmond Xavier / Wes Lee)
Woken One (Matt Hardy 2)
World Strongest Man (Mark Henry)
Wrestling Artist (Colt Cabana)
Wrestling Genius (Kassius Ohno)
The Yes Movement 1 (Daniel Bryan 1)
The Yes Movement 2 (Daniel Bryan 2)
You Didn't Know ( Road Dogg Jessie James)
Zombie (Generic Zombie Entrance)
Credits: The SmackDown Hotel
Alternative Entrance Motions for In-Game Superstars
Just like in prior games, several in-game superstars that are part of the WWE 2K23 Roster have alternative entrance motions along with their main assigned entrance motion. This list has all of those entrance motions, which may include their older entrances used in previous games, or special entrances:
Alba Fyre 1
Alexa Bliss 2
Alexa Bliss 3
Alexa Bliss 4
Apollo Crews 2
Apollo Crews 3
Austin Theory 3
Bayley 2
Becky Lynch 2
Becky Lynch 3
Big E (Before New Day)
Big E New Day 2
Bobby Lashley 2
Braun Strowman 2
Cameron Grimes 2
Carmella 2
Chad Gable 2
Cody Rhodes 2 (Cody-Vator)
Dakota Kai 1
Dakota Kai 2
Damian Priest 2
Dolph Ziggler '09
Drew Gulak 2
Drew Mcintyre 2
Jinder Mahal 2
John Cena 2
Johnny Gargano 1
Kevin Owens 1
Kofi Kingston '12
Kofi Kingston New Day 1
Mace 2
Man.Soor 2
Matt Riddle 1
Mustafa Ali 2
Mustafa Ali 3
Natalya 2
Randy Orton Evolution
Rey Mysterio '08
Rhea Ripley 1
Ricochet 2
Robert Roode 1
Robert Roode 2 (NXT Takeover Brooklyn II)
Roman Reigns Shield
Roman Reigns 2
Sami Zayn 1
Sami Zayn 2
Seth Rollins Shield
Sheamus 1
Shelton Benjamin 2
Shinsuke Nakamura 1
Shinsuke Nakamura 2
Sonya Deville 2
Tommaso Ciampa 1 (Heel)
Tommaso Ciampa 2 (Face - DIY)
The Usos '14
Xavier Woods (Before New Day)
Xavier Woods New Day 2
WWE 2K23 Preset Entrances - Tag Team Motions
Here are all the Tag Team Entrance motions that you can assign to your tag teams in WWE 2K23:
The A-Listers (The Miz & John Morrison)
Alexa Bliss & Nikki Cross
All Night (Kenny King & Rhett Titus)
American Alpha
Aussie Aggression (TM-61)
The B Team
Banker & The Creature 1 (Mr. Mackelroy & Sea Creature)
The Bar
The Bludgeon Brothers
British Bulldogs (British Bulldog & Dynamite Kid)
Brothers Of Hardcore (The Dudley Boyz)
Bulgarian Brute (Rusev & Lana)
The Bull Fighters (Los Matadores)
The Club (Gallows & Anderson)
The Creed Brothers
Cyber Link Up (CyberNaomi & Daemon_Deville)
The Deleters Of Worlds (Matt Hardy & Bray Wyatt)
Diamond In The Rough (DDP & Cactus Jack)
Disputed Age (Kyle O'Reilly & Roderick Strong)
The Dream Team (Beefcake & Valentine)
Edge & Lita
Extreme Weather Conditions (The Natual Disasters)
Familia Mysterio (Rey & Dominik Mysterio)
Fire & Desire (Mandy & Sonya)
Fists In The Air (The Nation of Domination)
Freedom Birds 1 (The Fabulous Freebirds 1)
Freedom Birds 2 (The Fabulous Freebirds 2)
The Funkadactyls (Cameron & Naomi)
Generic Tag 1
Generic Tag 2
Generic Tag 3
Generic Tag 4 (Women Tag)
Generic Tag 5 (The Great Muta w/Manager)
Generic Tag 6 (Tyson Kidd & Cesaro)
Generic Tag 7 (#DIY)
Generic Tag 8 (MSK - Wes Lee & Nash Carter)
Generic Tag 9 (Heavy Machinery)
Generic Tag 10
Get Hype 1 (Hype Bros - Mojo Rawley & Zack Ryder)
The Hollywood Blonds
The Hooliganz (London & Kendrick)
The Hurt Business
I Got Kids (Heath Slater & Rhyno)
The Icons (The IIconics)
Imperium Tag
Just Fists (The Revival)
Karrion Kross W/ Scarlett
Last Names Only (Blake and Murphy)
Legado Del Fantasma
LoveBirds (The Kanellis 1)
Lovely Couple (The Kanellis 2)
The Lucha Dragons
Ma.Ce & Manager
Man.Soor & Manager
Maximum Male Models 2
Messiah And Disciple (Seth Rollins & Murphy)
Million Dollar Moves (The Prime Time Players)
Mix Tag 1
Mix Tag 2
Mix Tag 3
Mix Tag 4
The Miz & Maryse
The Miztourage
Never Defeated (Ryder & Hawkins)
The New Day Big E & Kofi
The New Day Big E & Woods
The New Day Kofi & Woods
One and Two (Danny Burch & Oney Lorcan)
One Hundred Souls (Andrade Cien Almas & Zelina Vega)
Package Deal (Red & Tre)
Painful Literature 1 (Authors of Pain)
Perth Preppies (SouthPaw Ilconics)
Pretty Dancers (Breezango)
The Pride Of Puerto Rico (The Colons)
R-Truth and Kofi Kingston
The Rider (???)
RK-Bro (Randy Orton & Matt Riddle)

UPDATE 1.06

Rock & Roll (The Rock & Roll Express)
The Rock 'N' Sock Connection (The Rock & Mankind)
The Sami & Kevin Show
Sheepherding Kiwis (The BushWhackers)
Shelton Benjamin and Chad Gable
Sons Of The Bayou (Harper & Rowan - Wyatt Family)
The Street Profits
Strongmen & Gentleman (The Vaudevillans)
Tag Team Extreme Party (Public Enemy)
Team Extreme (The Hardy Boys)
Toxic Attraction (Tag)
The Usos '14
The Usos 1
The Usos 2
The Viking Raiders
The WasteLand (The Ascension)
The Way - LeRae & Hartwell
Whisker Wisteria (Mustache Mountain)
World Class Siblings (The Von Erichs)
World's Greatest Team (Shelton Benjamin & Charlie Haas)
Wrestling Dragons (Kyle O'Reilly & Bobby Fish)
Ziggler & Mcintyre
Note: Some of the Tag Team Entrances will not appear until you've unlocked the respective Characters / Legends.
WWE 2K23 Preset Entrances - Trio Motions
Here are all of the available Trio Entrance Motions available for use in WWE 2K23 for players' 3-man or women factions:
Absolution
The Brawling Brutes
Damage CTRL

UPDATE 1.08

Evolution
Generic Stable 1 (4-Man Entrance)
Generic Stable 2 (4-Man Entrance)
Generic Trio 1 (The Fabulous Freebirds)
Generic Trio 2
Generic Trio 3
Generic Trio 4 (AJ Styles, Finn Balor & Partner - WWE 2K19 My Career)
The Hurt Business Trio
Imperium Trio
Jinder Mahal With Bollywood Bro 1 (Jinder With Singh Brothers 1)
The Judgement Day
Legado Del Fantasma
Lucha House Party
Maximum Male Models 1
Miztourage Trio
The New Day 1
The New Day 2
The O.C.
Painful Literature 2 (Authors of Pain with Paul Ellering)
Retribution
The Bloodline

EXCLUSIVE

The Shield
Titus Worldwide
Toxic Attraction (Trio)
WWE 2K23 Champion Preset Entrances (Title Motions)
Here are all of the preset champion title motions that players can assign to superstars on the in-game roster or even their own created superstars:
Alba Fyre Champion
Alexa Bliss Champion
Batista Champion
Becky Lynch Champion
Bron Breakker Champion NEW
Butch Champion
Ciampa Champion
Dolph Ziggler Champion
Drew Mcintyre Champion 1
Drew Mcintyre Champion 2
Eddie Guerrero Champion
Fiendish Champion (The Fiend Bray Wyatt)
Generic Champion 1
Generic Champion 2
Generic Champion 3 (Big Boss Man)
Gold Medalist Champion (Kurt Angle)
Hollywood Hogan Champion
JD McDonagh Champion
Jinder Mahal Champion
John Cena Champion 1
John Cena Champion 2
Kaiju Killer Champion (Samoa Joe)

UPDATE 1.10

Kevin Owens Champion
King Corbin Champion
Knight Rider Champion (Paige)
Legit Boss Champion (Sasha Banks)

UPDATE 1.10

The Miz Champion
Not Like Most (Nia Jax)

UPDATE 1.10

Randy Orton Champion
Rey Mysterio Champion
The Rock Champion 1
The Rock Champion 2
Roman Reigns Champion
Rowdy Rebel Champion (Ronda Rousey)
Santos Escobar Champion
Sky Pirate Champion (Kairi Sane)
Steve Austin '96 Champion
"Stone Cold" Steve Austin Champion
Undisputed Buzzsaw Champion (Kyle O'Reilly)

UPDATE 1.10

Undisputed Champion (Adam Cole)

UPDATE 1.10

World's Strongest Champion (Mark Henry)
The Yes Movement Champion (Daniel Bryan) NEW
Toxis Rose Champion (Mandy Rose)

UPDATE 1.10

Yokozuna Champion
WWE 2K23 Money In The Bank Preset Entrance Motions
Here are all of the preset Money In The Bank entrance motions that players can assign to other superstars on the in-game roster or even their own created superstars:
Becky Lynch MITB Motion NEW
Carmella MITB Motion
Edge MITB Motion
Generic MITB Motion 1
Generic MITB Motion 2
Generic MITB Motion 3
Generic MITB Motion 4
Generic MITB Motion 5
Generic MITB Motion 6
Generic MITB Motion 7 (Dean Ambrose)
Happy Corbin MITB Motion
John Cena MITB Motion
Kane MITB Motion
The Miz MITB Motion
Randy Orton MITB Motion
Seth Rollins MITB Motion
Sheamus MITB Motion
The Yes Movement MITB Motion (Daniel Bryan)
---
What do you guys think of the list of WWE 2K23 Preset Entrances?
Leave your comments down below and help us figure out who the unknown entrances belong to!
This WWE 2K23 Preset Entrances list took a very long time to put together. So if you want to share this on any other websites, then please link/credit to this original webpage. Thank you :)
---
For additional Guides on WWE 2K23 check out our WWE 2K23 main section!