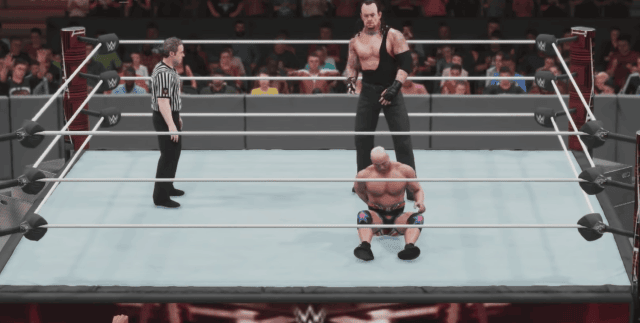 WWE 2K23 has brought some much-needed features into the game, some of these features are returning features, i.e. features that were in the previous versions of the game, while there also are those that have been added to the game series for the very first time. But, there are quite a few removed features too.
Features that the gaming community wanted for a while now, have been added to the game, and they work ever so smoothly and efficiently. But, it seems like some important features had to face the axe to make these changes possible. Let us take a look at some of them:
1. Removed Moves
Last year, in WWE 2K22, we saw a plethora of moves and features being removed. And although some of those moves have returned to the series with WWE 2K23, a lot of the moves will still not be making a return to the game this year.
Moves like Daniel Bryan's Kendo-Assisted Yes Lock, Samoa Joe's Powerbomb Into Boston Crab, The New Day's Unicorn Stampede, and The Shield's Triple Powerbomb have still not been added.
And although there are moves that have returned to the game, such as Roman Reigns' Super Dropkick (Drive-By Dropkick), John Cena's Multiple Attitude Adjustments, Cesaro's Apron Superplex, and RVD's Van Daminator and Corkscrew Leg Drop, they have returned in a manner where you have to assign most of these moves manually, so, they might still not fulfill every WWE 2K series fan's expectations.
2. Pulling Straps Down
This was a very neat little feature that was added to the series back in WWE 2K18. This enabled us to pull down the straps of wrestlers like The Undertaker, Kurt Angle, Big-E, and more - and added some real sense of immersion to the games.
The animations looked good, it was easy to do and added some real depth to the game, as we could look and feel like The Undertaker a bit more. However, this feature has now been removed from the game due to reasons only the developers can comprehend.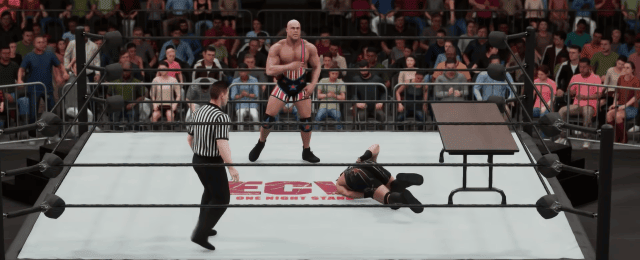 3. Tired Finishers
"Tired Finishers", just as the name suggests, were animations of finishers that looked much more tired than usual. Yes, they were an actual thing till WWE 2K22!
Once the character you were playing as, had endured some real damage, his finishers and signatures started looking more and more tired.
4. Stacked Tables
Back in the day, up until WWE 2K22, we could stack two tables on top of one another. This feature has now been removed.
This feature enabled us to deliver some really hardcore-looking maneuvers to our opponents. Especially worth trying were superplexes and powerbombs on top of the stacked tables. THEY LOOKED BRILLIANT!
5. Universe Mode Promos
The Promos in the Universe Mode was a really fun feature that was removed from the game this year. It was a neat little feature that helped us in creating some brilliant and realistic segments.
We could let Paul Heyman be Paul Heyman on the microphone all the while trying to deliver some smackdown on the mic ourselves. We could create some really nice and fun segments using this feature in the game.

6. Chain Wrestling
The Chain Wrestling feature enabled us to start off matches with some good old-fashioned wrestling. We could use collar and elbow tie-ups, headlocks, body locks, etc., just like chain wrestling in real matches.
We could enjoy more realism in the game, as more often than not we see chain wrestling at the start of WWE matches. Very few matches start with a barrage of suplexes and punches, maybe only Brock Lesnar's matches start that way. So, watching this feature make the list of removed features in the game comes as a bit of a surprise.
Also, the Working Holds feature has been omitted from this year's game too.
7. Face and Body Paint Damage
Until last year's WWE 2K22, we could see the face and body paint on wrestlers receding as the match went on.
Unfortunately, this feature will now be added to the removed features list of WWE 2K23.
8. Squash Matches
This feature was introduced back in WWE 2K19, it enabled us to have matches that could end very quickly if we used a considerably stronger wrestler against a weaker one.
This feature was not included in this year's game either, after being left out of WWE 2K22 as well.
---
What do you think about these features being removed from the WWE 2K series? In the meanwhile, you can check out some hidden features and easter eggs in WWE 2K23.