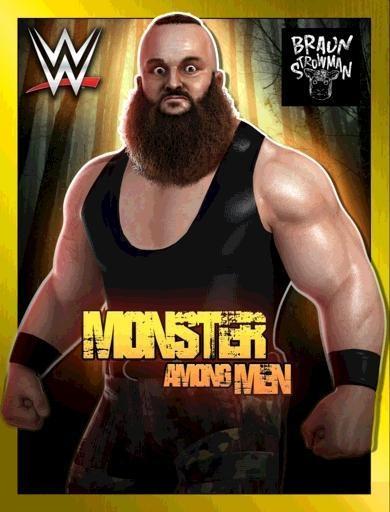 Gender

Male

Nickname / Version

Monster Among Men

Alternative Versions

Braun StrowmanBraun Strowman '13

Era

Modern Era

Superstar Tier

C Tier

Superstar Class

Showboat

Ability Style

Defensive

Promoter

Trainer
After the 2016 WWE Draft separated him from The Wyatt Family, Braun Strowman became a chainsaw tearing through the Raw roster without mercy. "The Monster Among Men" has shown his monstrosity in his feud with Roman Reigns where he locked Roman in an ambulance and tipped it over with his bare hands! Needless to say, Braun is moving like a locomotive and has no intention of stopping.
SPECIALS: Running Dropkick, Yokosuka Cutter, Superplex, Running Clothesline, Biel, Reverse Chokeslam, Big Boot
FINISHER: Running Powerslam
TAG LINKS: Modern Era, RAW, Alexa Bliss & Braun Strowman, WrestleMania 35, WrestleMania 36