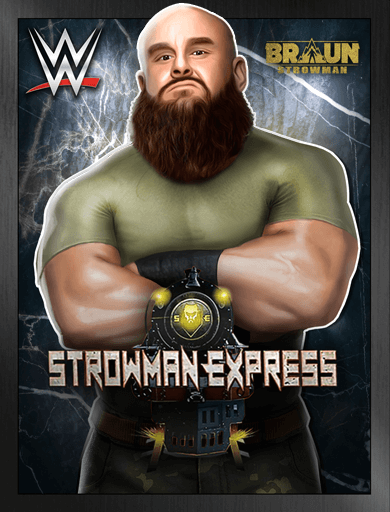 Gender

Male

Alternative Versions

Braun Strowman '13Braun Strowman '17

Nickname / Version

Strowman Express

Era

Modern Era

Superstar Tier

A Tier

Superstar Class

Striker

Ability Style

Defensive

Promoter

Coach

Real Life Profile

Braun Strowman
If it's got two legs and a heartbeat, or even four wheels and a flatbed, there's a good chance Braun Strowman has destroyed it by now. Strowman's destruction has led him to significant accomplishments throughout his WWE career, and he achieved arguably his greatest moment when he won the Universal Championship by defeating Goldberg at WrestleMania 36. Braun Strowman is a Superstar's nightmare, and one that doesn't end when the final bell rings, because even when the match is over, it's all but certain that he's not finished with you, and you'll once again have to "Get These Hands."
SPECIALS: Yokosuka Cutter, Biel, Strowman Express, Chest Club, Chokeslam, Reverse Chokeslam, Big Boot
FINISHER: Running Powerslam
TAG LINK: Modern Era