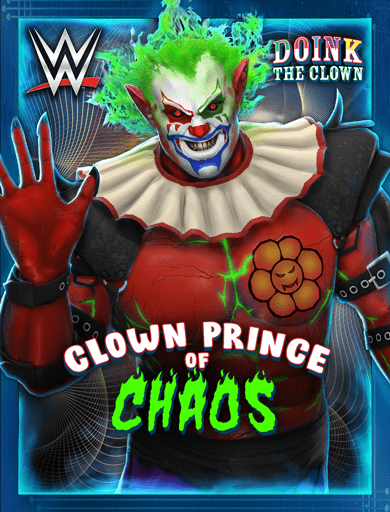 Doink the Clown '21 is featured as a playable character in the WWE Champions Roster, as part of the WWE Superstar roster in the Modern Era.
Doink the Clown '21 is classed as a Chaotic Acrobat in the game.
PROFILE INFO
Gender

Male

Roster

WWE Superstar

Nickname / Version

Clown Prince of Chaos (Merrymaking Maniac)

Era

Modern Era

Superstar Class

Acrobat

Ability Style

Chaotic

Alternative Versions

Doink the Clown

Real Life Profile

Doink the Clown / Matt Borne
Emerging from the depths of insanity, Doink the Clown gazes into the mirror at his newly mutated form... and laughs like a maniac! In this new state, there's no telling how much mayhem and destruction he can cause, and that just fills his charred little heart with oh-so-much joy!
SPECIALS: Mutated Arm Drag, Mutated Scoop Slam, Mutated Atomic Drop, Mutated Running Clothesline, Mutated Whoopie Cushion, Mutated Eye Poke
FINISHER: Mutated Stump Puller
TAG LINKS: Modern Era, WWE Mutants