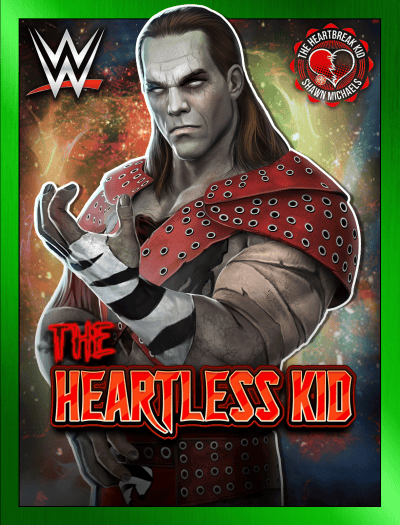 Gender

Male

Nickname / Version

The Heartless Kid

Alternative Versions

Shawn MichaelsShawn Michaels '91Shawn Michaels '92Shawn Michaels '94Shawn Michaels '97 Shawn Michaels '98

Era

Modern Era

Superstar Tier

S Tier

Superstar Class

Technician

Ability Style

Focused

Promoter

Coach
Reanimated by dark magic, Shawn Michaels knows he's crude... he knows he's hex-y... he's got the looks... that drive everyone mad! He's got the moves... that really spook them... and send shivers up and down their spine!
SPECIALS: Bloody Tears, Love Bite, Stake Driver, Nail in the Coffin, Heartstopper Smash, Bad Moon(sault)
FINISHERS: Screaming Chin Music, Zombie Attack!
TAG LINKS: Modern Era, Zombies