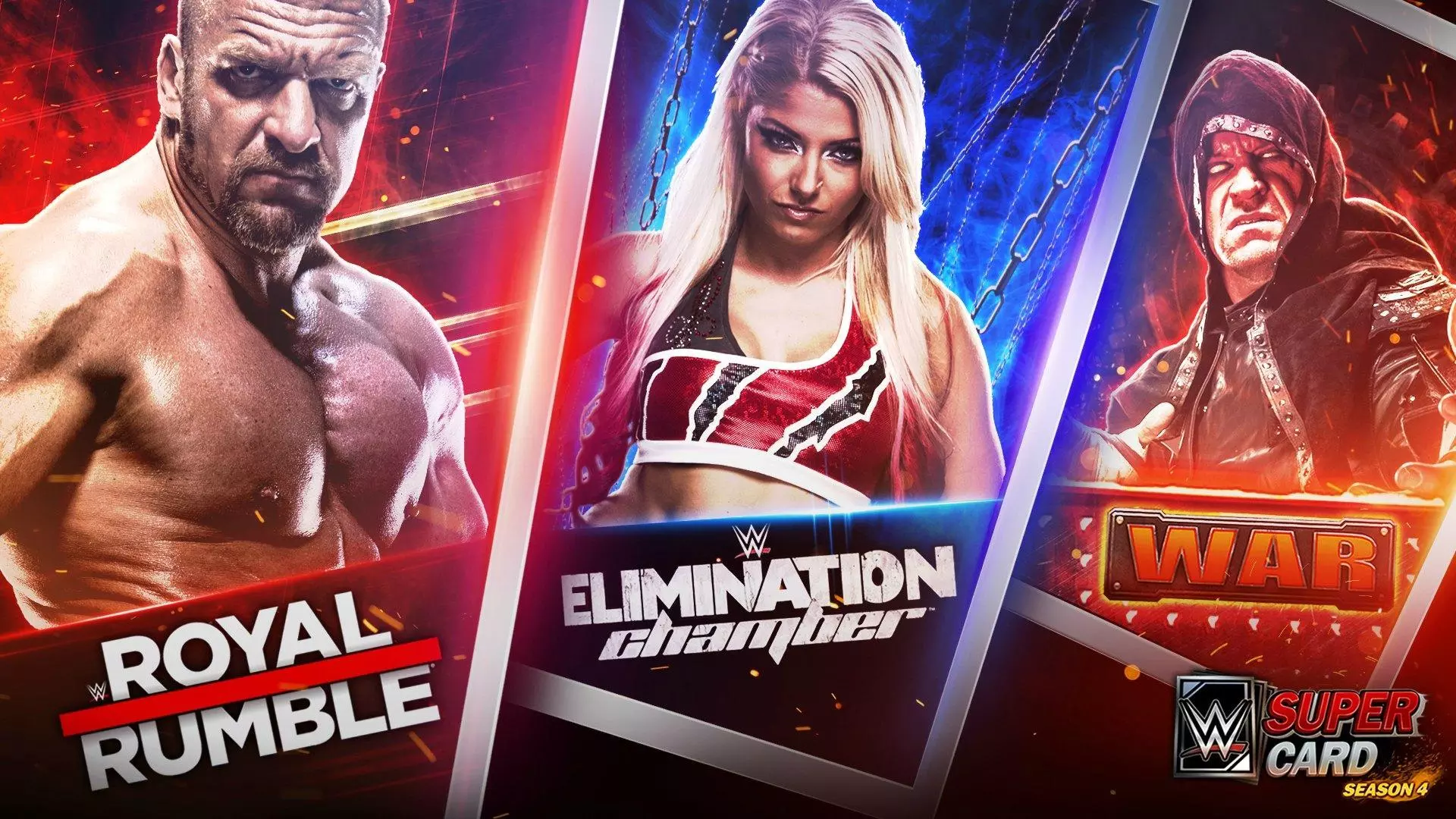 Wild Mode (Exhibition)
Fast-paced 1-2 minute battles where you engage AI-controlled opponents with actual user-created decks, using 4 Male Superstars, 2 Female Superstars, and 2 Support cards. Each exhibition is played with a 2-out-of-3 falls format, and matches and can consist of Solo (one-on-one), Tag Team, or Divas type. You acquire free cards for playing (2 if you win, 3 for a perfect win, 1 if you lose). [Read: 'How To Play' Detailed Guide - Exhibition & Ranks]
Wild Mode lets you use all your cards, together, in open competition. To put it another way, you can use Season 1, Season 2 and Season 3 cards in the same hand in any combination.
Ranked Modes (PVP Weekly Leagues)
Weekly Leagues will appear for one of three game modes, with only one of the three game modes active at any time for players to compete for spots on their PVP league leaderboard. Leagues consist of 30 players who are battling their way through four different tiers – Bronze, Silver, Gold and Platinum. There will also be Global Leaderboards and Rewards. At the end of each League, the top five players will move up a tier, while the bottom five will move down a tier. Competitive Points (CP) are rewarded to players based on their final league standings.
War (previously known as Ranked Mode)
Ranked Mode is an Exhibition mode that allows you to battle other players in real-time in a live environment where you have a limited amount of time to pick your card and then see the action unfold in the ring. As you play Ranked Mode, you'll accumulate Trophies. The amount of Trophies depends on your opponent's deck strength. If you lose, you'll also lose Trophies based on that strength. Your Trophy amount is displayed on a leaderboard. You can view global rankings anytime, in addition to your rank and the rankings within your Team. At the end of every month, the top players in the game will be rewarded with Credits. [Read: Season 3 introduces new Ranked & Wild Game Modes]
Royal Rumble Mode
Royal Rumble, as part of Season 3, is a new 15-card on 15-card extravaganza where you battle another player to have the last card standing in the ring. In each round, you and your opponent play cards to battle. If you own the ring, you sacrifice a card to pick the type of match (Speed, Power, Toughness or Charisma) that'll unfold. If you aren't currently holding down the ring, you play a card to go up against opponent's card. If your opponent doesn't pick up an advantageous match type, he or she will lose the ring and your card will enter as the new victor. Holding the ring for a full round earns you one point. Having the last card standing gives you three points. The player with the most points wins, but there is a catch: ring-holder attributes drain as they go against new opponents. [Read: Royal Rumble Launches with Season 3]
Elimination Chamber Mode
Elimination Chamber is a brand new game mode included in the unified PVP system in WWE SuperCard Season 4. This mode uses female WWE Superstars for players to build decks of 10 cards to face off. The key to winning in this mode is to have an intimate knowledge of female Superstar cards and which types of matches were previously held. [Read:
Details on New Unified PVP Leagues & Elimination Chamber Mode
]
King of the Ring Mode
In KOTR, matches are simulated. The player builds a deck of 12 cards to determine his tier and rewards. Then the AI matches up the player with other players with each match lasting 10 minutes and a gap of 50 minutes between each match. Half of the players of the deck is active and loses stamina and the other inactive half gains stamina. With decrease in stamina the stats of a card decrease as well, so the player might use energy cards obtained from the card picks to fill a card's energy bar and the player might also use one or more stat boosts. The top 8 players move onto the contenders bracket. [Read: King of the Ring Overhaul in Season 4 - Details ]
Money In The Bank (MITB)
The Money In The Bank Mode is a new experience that tasks you with battling opponents, strategically climbing a ladder, and coming down with contracts that can be cashed in for uniquely-themed cards. Money in the Bank can be played multiple times a day and while the rewards will cycle regularly, you can cash in your contracts whenever you want. [Read: New Money In The Bank mode arrives in WWE SuperCard Update]
Weekly Events Game Modes (Single & Team Variants)
People's Champion Challenge (PCC)
In this week-long event, players will choose between two WWE Superstars in a virtual match. Through competition in exhibition matches, players will accumulate victory points for themselves while adding to the total point count of all other players who selected the same WWE Superstar. Competing against and defeating higher ranked opponents will help players obtain the highest number of points (1, 3, or 5 points). At the end of the week, players will gain access to high profile cards featuring the victorious WWE Superstar; the higher their rank based on point total, the more lucrative the reward. [Read: Gameplay Additions: People's Champion Challenge]
Road to Glory (RtG)
An event that allows you to use a large deck of 20 Superstars and Divas to acquire top cards. Unlike the People's Champion event you're not competing directly with other players, but playing against the clock. Matches take place in four rounds, with each round dealing four cards to both players. Beat opponents to earn points in each stage to acquire a new card of the contested rarity level and advance up to the next reward. [Read: New "Road to Glory" Gameplay Mode]
Ring Domination (RD)
You and an opponent take turns placing down cards on the event's special nine-square board in a competition to control the most squares. To control a square, you need to either (a) play a card on an empty square with no adjoining opponent cards or (b) challenge an opposing card by placing one of yours in an adjoining spot. If your card's alignment arrow faces the opposing card, a card battle begins. The winner takes both squares. After you compete in a match, you win "pulls" that allow you to remove shards that obscure a reward. If you reveal the entire card, you win that reward. Pulling shards also nets you cards similar to how a traditional pick works. [Read: WWE SuperCard adds Ring Domination mode]
---
References: Cat Daddy Games / 2K