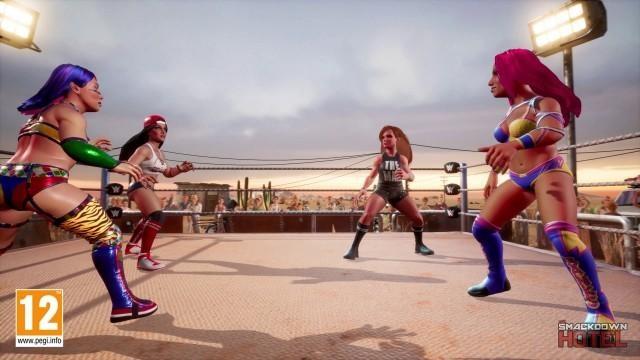 Over the last week thanks to Youtuber SUPERZOMGBBQ, we have been able to see some more exclusive Battlegrounds gameplay.
So in this article, we will be talking about all of the new details revealed in these gameplay videos.
Superstar Classes, Special Moves and Controls
In the videos, we see more details about the different classes of superstars in the game.
This includes the unique special moves for each class and their stats as well. We also see the control scheme for Battlegrounds as well in the videos.
We have an article on the website that goes into more detail about the Special Moves and Class Stats. Also, we have another article that goes in-depth about the Battlegrounds Control Scheme.
Alternate Way of Breaking The Ring
During a video showing off a Fatal 4 Way match in the auto shop arena, we now know about a different way of breaking the ring.
As talked about in a prior article, the player is able to throw an explosive barrel at ringside into the ring to break it.
However the player can also use the barrel to break different parts of the ring, then they are able to use the broken ring posts as weapons.
Confirmation of Cross-Play
Finally while checking out the options of the game during one of the videos, we have seen the confirmation of Battlegrounds supporting crossplay.
When Battlegrounds is released on the 18th, players on Xbox and PC with be able to play with each other.
Recently Google has come out with a statement saying that Battlegrounds crossplay will be supported on Google Stadia.
However, we still don't know if Sony or Nintendo will support crossplay on their systems.
Check out the Videos
Here are all of the pre-release gameplay videos uploaded at this time for anyone interested in checking them out.
Thanks again to SUPERZOMGBBQ for releasing these Battlegrounds Gameplay Videos.