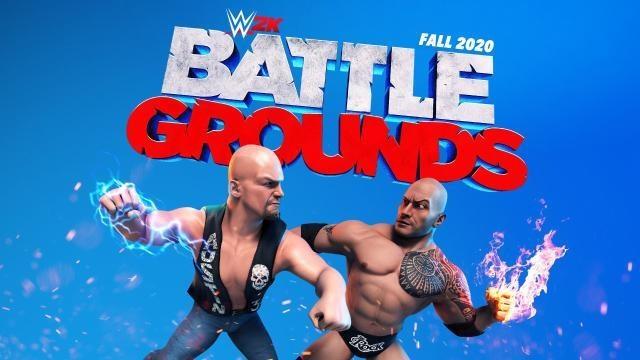 After a disastrous release of WWE 2K20 in 2019, 2K decided to forgo the annual release and instead went with WWE 2K Battlegrounds, a new, innovative concept different in as many ways possible from the yearly releases. Instead of making it as close to what we'd see every week on a Raw or Smackdown they opted to go a more arcade-style.
The Basics
Controls: Battlegrounds control scheme is vastly different from 2K20, gone is the awful submission mini-game, replaced with an L2, R2, mashing scheme. While this is superior to the "ring around the rosy" style of the previous game, it is far from ideal (at least for me). This also replaces the pin mini game and they are your finisher buttons as well. While tapping isn't the most efficient way to fix the issues of the mini games, it is still an upgrade and we appreciate their attempt at trying to make sure Battlegrounds wasn't just a clone of their previous games. The reversal is also different as instead of having one button to hit at the correct time, players must keep an eye out as timing and the correct button vary from move to move, making it harder to spam reversals in player vs player matches.
Match Types: Of course, a wrestling game is only as strong as its match modes and Battlegrounds offers a variety of different matches. Single, Tag Team, Triple Threat, Fatal Four Way, Gauntlet, Royal Rumble, and Steel Cage. While a condensed list from other games, this gives enough options to keep gamers from getting bored with a limited amount of settings. While the exhibition matches are what you've come to expect from WWE games, 2K did make changes to two match types that are worth mentioning.
Steel Cage: Battlegrounds offers a unique take on Steel Cage Matches, instead of the traditional style of match you must fill your money bar by scaling the fence and grabbing money bags. Oh, and every few minutes the cage becomes electrified so choose your attempts at grabbing the cash wisely. One of the biggest issues from the main series we encountered was the broken steel cage mechanics, we too often would find ourselves down for a long period of time giving the opponent ample time to escape despite only being seconds into the match. This is a massive upgrade from that and, while not perfect, it feels new and it still keeps it from feeling the same old, same old.
Royal Rumble: Another change is the Royal Rumble Match, again you are asked to mash the L2 and R2 buttons in order to eliminate your opponent. The catch is that you must wear down your opposition enough to where you are able to fill your meter before they fill theirs, making a much longer process of elimination - yet not done in a way that feels like it takes an eternity to toss someone out. Also, the limit of wrestlers in the ring at one time is four and this is where we encountered a bug. The gameplay drops its frame rate as the chaos of multi-person matches seems to a bit much for the console to handle and can cause your game to slow down or even crash. Hopefully, this is fixed with a patch in the coming weeks.
Classes and Power-Ups: Each Superstar utilizes one of 5 Class Styles: Powerhouse, Technician, High-Flyer, Brawler, and All-Rounder. Each class style has its own combat moves and throws. WWE 2K Battlegrounds also has a unique system that allows you to choose three different power-ups after selecting a wrestler these vary from Invincibility to being able to cause Earthquakes and Lightning storms.
Online Modes: Battlegrounds has 2 Online Modes: Tournament and King of the Battleground. However, there is no matchmaking for the regular match types, such as Singles, Tag Team, Steel Cage, etc. (you can only invite friends in the lobby). This limits the longevity of the game a lot.
Roster
The Roster offers 70 wrestlers at launch, which is a great amount for an arcade game, with a perfect variety of current Superstars and Legends, both male and female.
Plus, there are also over 60 more characters that will be added for free in future updates. In addition, each Superstar has at least 3 different and accurate attires.
The downside is that almost the entirety of the roster and the various attires must be unlocked. While on one hand, this increases the longevity of the game, the amount of credits (Battle Bucks) required to unlock everything are not well-balanced compared to the time you need to spend to earn them in-game. This may force you to buy one of the various microtransactions packs, which are also overpriced (some cost more than the game itself).
Arenas
One of our favorite things about Battlegrounds is the arena choices. There aren't nearly as many to choose from, as you only get 8 Arenas to battle in, but each offers a unique environment as well as some interesting interactive objects.
New York: Welcome to the Underground! Without spoiling too much as this and the other arenas we will cover have campaign mode implications, New York is basically a subway station. You fight in the ring with a train running in the background, while there aren't any interactive pieces here, it offers a fun setting and again a change from the super realistic feel and look of their previous releases.
Florida: This was heavily featured in the trailers for the game. You battle on a deck in the Everglades with a Crocodile in the crowd on each side. This is where interactive objects begin as you are able to toss your opponent outside into the mouth of the Crocodile. Don't worry, there is no blood and your opponent survives… so you can repeat this maneuver as much as your heart desires!
Mexico: Here you are south of the border and are treated to a helpful Ram! Opponent giving you trouble, Feel free to hop the guardrail and take control of a Ram to put him on the receiving end of a Ram style headbutt! Not much else is of note from this battleground but it is fun chasing your opposition as a ram.
Boot Camp: Attention Maggots! Welcome to Boot Camp an outdoor venue that sees you surrounded by military men and one guy is even barbecuing some food as the event takes place. This arena offers an interactive Helicopter where you can climb the rail outside up onto the chopper and target your opponent for a massive high-risk attack. Do this enough times and the ring will break but need not to worry, this doesn't end the match you still must win by pinfall or submission.
Scotland: Here players will brawl in an elevated arena in Glasgow. Treat your opponent to some not-so-great Bagpipe music as you can take the bagpipes from a ringside spectator and chase your opponent with them causing them to block their ears in pain.
Detroit: Here you are in an auto repair shop and can make ample use of the surroundings. You have explosive barrels that you can either throw your opponent into or grab one and smash them with it. You also have a car that is on a lift where you can throw or whip your opponent into it causing the car to fall on them.
Raw and WrestleMania: We lumped these two together because they are your standard WWE arenas. No interactive objects, just the usual WWE set.
Campaign Mode
Here the story plays out in a comic book, which means no voice acting you read a brief 2-page introduction which concludes with Paul Heyman getting the Ok from Vince McMahon to create a new concept called Battlegrounds.
Instead of taking a created wrestler through the grind of a My Career in Battlegrounds players will take control of various "local talents" on their home turf as WWE Superstars arrive to test your skills. You must play through Campaign to unlock Arenas, Clothing for Created wrestlers all power-ups and in order to unlock certain characters. We might be a minority here, but we enjoy having to go through the grind of Campaign to unlock things as opposed to being able to spend ten bucks on the accelerator pack to unlock everything with the touch of a button. The Campaign mode is long enough but not too long and offers enough variety and some legitimate chuckles through the comic strips.
Your Local talents are:
Bolo Reynolds from Brooklyn New York
Billy Huggins from the Everglades, the man was raised by Snakes…literally
J. Salazar from Mexico. Known as The Cure, T.J. brings his expertise of pain and healing to the WWE rings
Cassie and Polly Velle: The Evil French Twins go to Bootcamp after inciting the anger of Steve Austin.
Jessica Johnson: She becomes known as the Loch Ness Mobster due to her strength.
Gabriel Pierce: Known as the Disruptor after hacking into various things in order to lure Austin the Detroit to scout him.
Creation Suite
Wrestler: Battlegrounds creation suite is perhaps its biggest weakness. Offering a limited amount of items and little to no customization options you are restricted to what you're able to put your created star in, this even more restricting if you wish to create a female brawler.
Battleground Challenge: This is where you can upgrade your created wrestlers' stats by competing through multiple match types against different opponents. Each match increases your stats and throughout the paths, you can unlock various rewards.
Create A Battleground: This is a straight to the point creator. You can create your own battleground after selecting a theme, including NXT, Royal Rumble, and SummerSlam rings if you choose to create those arenas. Still, you are given a limited (yet fun) amount of options, and you can only save 3 Custom Arenas slots, which is a very limiting amount.
It's worth noticing that you can't receive credits (Battle Bucks) without an online connection, meaning you can't unlock characters while off-line. Strangely, you also can't create a character or an arena without an online connection. We were in the middle of a creating character and when the connection dropped for a second, we were straight booted out of the creator (and lost all progress).
Overall Rating: 6.5
We rate WWE 2K Battlegrounds a 6.5 out of 10. We have spent hours playing this and have thoroughly enjoyed it, it is a fun experience. With limited bugs (at least we haven't encountered too many) and a fresh adaptation 2K delivered a fun experience. While there is still plenty of room for improvement we think most will find the experience enjoyable. Of course, this all depends on what you want out of a wrestling game. If you want a "wrestling simulator" Battlegrounds probably isn't for you as it focuses more on the over the top elements of sports entertainment. If you were a fan of WWE All-Stars or even the Def Jam games we would recommend this title for you. At $40 though the price is a bit steep so we do wish 2K would have reduced it by ten dollars.
We do think 2K is onto something here and really hope this is the first of multiple titles in the series. One of the biggest knocks on 2K the last few years has been their dedication to making the game more realistic really hampered the player's enjoyment, Battlegrounds deviates from that and tries and mostly succeeds at not being anything like the other 2K titles.