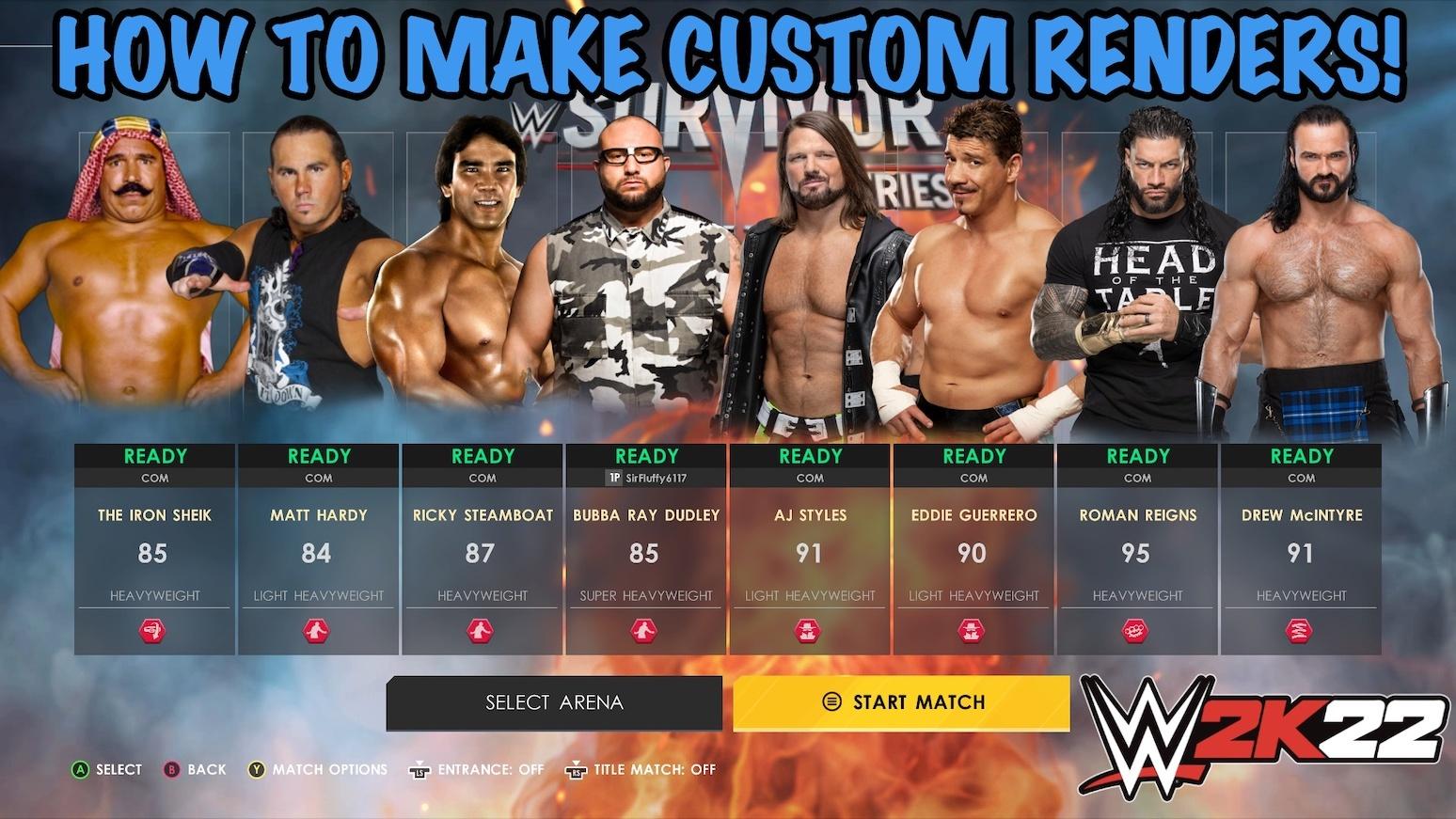 As one of the newest additions to WWE 2K22, custom renders have been extremely well received as a step forward for the franchise, especially in allowing for CAWS to gain added legitimacy, and appear as if they were in the game officially.
After much experimenting personally and with community feedback, custom renders have developed their own community of people producing some content, as well as learning their way around their new feature, with this article explaining some important notes on the topic.
It should be noted this article is updated with the changes made to render sizing after WWE 2K22's Update 1.09.
WWE 2K22 Custom Render Image Format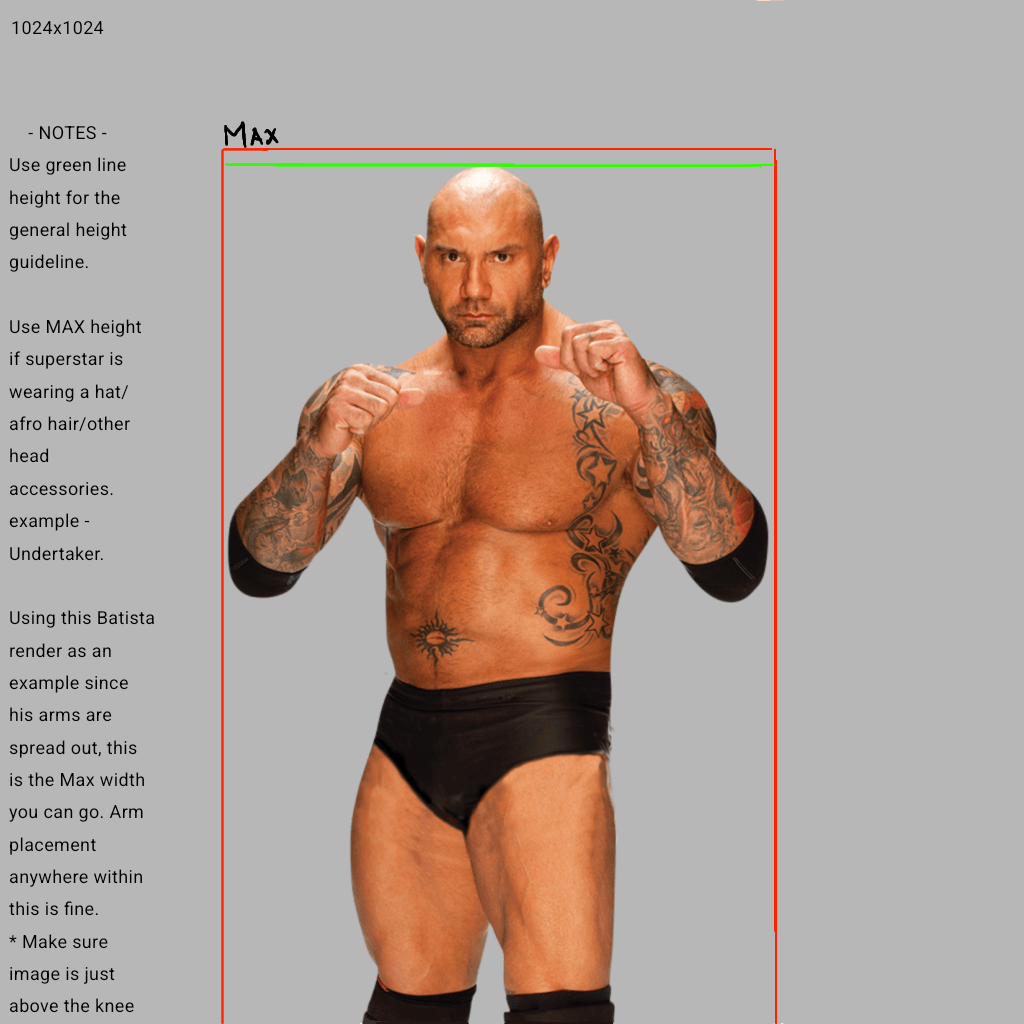 Fundamentally, renders should be of equivalent height and width, such as 512x512, or 1024x1024, preferably the latter for higher quality, and in the PNG file format. In order to upload renders, you must do so on the WWE 2K Uploader, logging onto your Sony, Steam, or Microsoft account. Your renders will then be available to download to your game in the "Image Manager" section within Community Creations.
A past issue pre-1.09 was how custom renders would have inconsistent sizes depending on the game mode, but has since been patched. User u/Nate_T11 on Reddit has provided a template for the community to use and has gained tons of positive traction.
The original post will be linked here, with another post testing out how it looks here. When I personally use the custom render template, I put the superstar's head to the upper red line, as they look tinier if it's focused on the green line's position instead.
It should be noted when creating custom renders to use an image that reaches above the wrestler's knees. Images of the waist above will look clunkier due to superstars in-game having their renders to about that same length, such as in the example given with Batista by u/Nate_T11.
It's okay for a superstar's limbs (very likely the arms) to pass the red line, though it's advised to keep it within the space to avoid awkward loading screen situations, such as seeing someone's arms over another wrestler's face. An older Reddit post pre-1.09 analyzing this subject has been made, and at this point is somewhat outdated, but for those still interested, will be left here.
How to make Custom Renders in WWE 2K22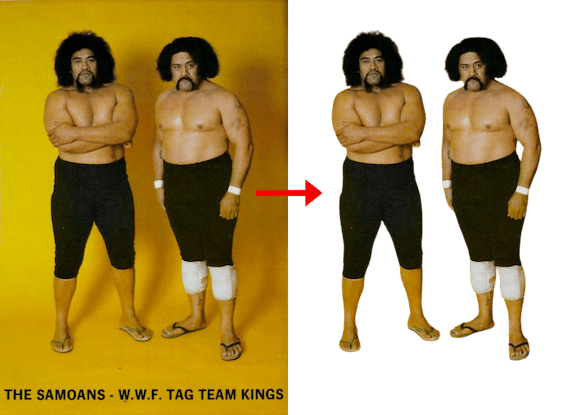 Custom renders for the most part can be found online, but can also be taken from promotional images found around the web. A simple online search along the lines of "[name] render wrestler" along with an image set to transparent, or a search for "[name] png", can yield some quality results, though if you can't find a way to remove a background on a good image, the site remove.bg can help remove backgrounds on images you might want to use, though at a reduced quality, unfortunately. Another alternative would include photoroom.com.
In order to align images into the template mentioned before, it is advised to use any of a multitude of programs used for photo editing, especially those with layers to move around certain images over others to get them to fit the designated boundary. My personal favorite is FireAlpaca on my computer, though other alternatives such as Photoshop can be used as well.
Other things to know:

As pointed out by Daphne/@The_Starstruck, it's possible to use custom renders on in-game superstars themselves, specifically if you plan on using alternate attires. A great idea if you want to update Mandy Rose's hair color, get a Shield version of Seth Rollins, or add Elias' brother Ezekiel as an alternate attire.
It has been reported by some players on Playstation and Xbox that the game will crash after applying 35 custom renders. It is believed this has been fixed after Update 1.08, though is something to be cautious of regardless.
(Update after 1.17) Custom renders will now appear as used if assigned after this update, though if done so beforehand, it will still appear as "Not Used" in the Deletion Utility, so be careful if you're applying custom renders to anyone and want to use "Delete all unused images" feature
(Update after 1.17) It's now possible for uploaded CAWs on Community Creations to come with the render upon being downloaded
WWE 2K22 Custom Renders: Final Tests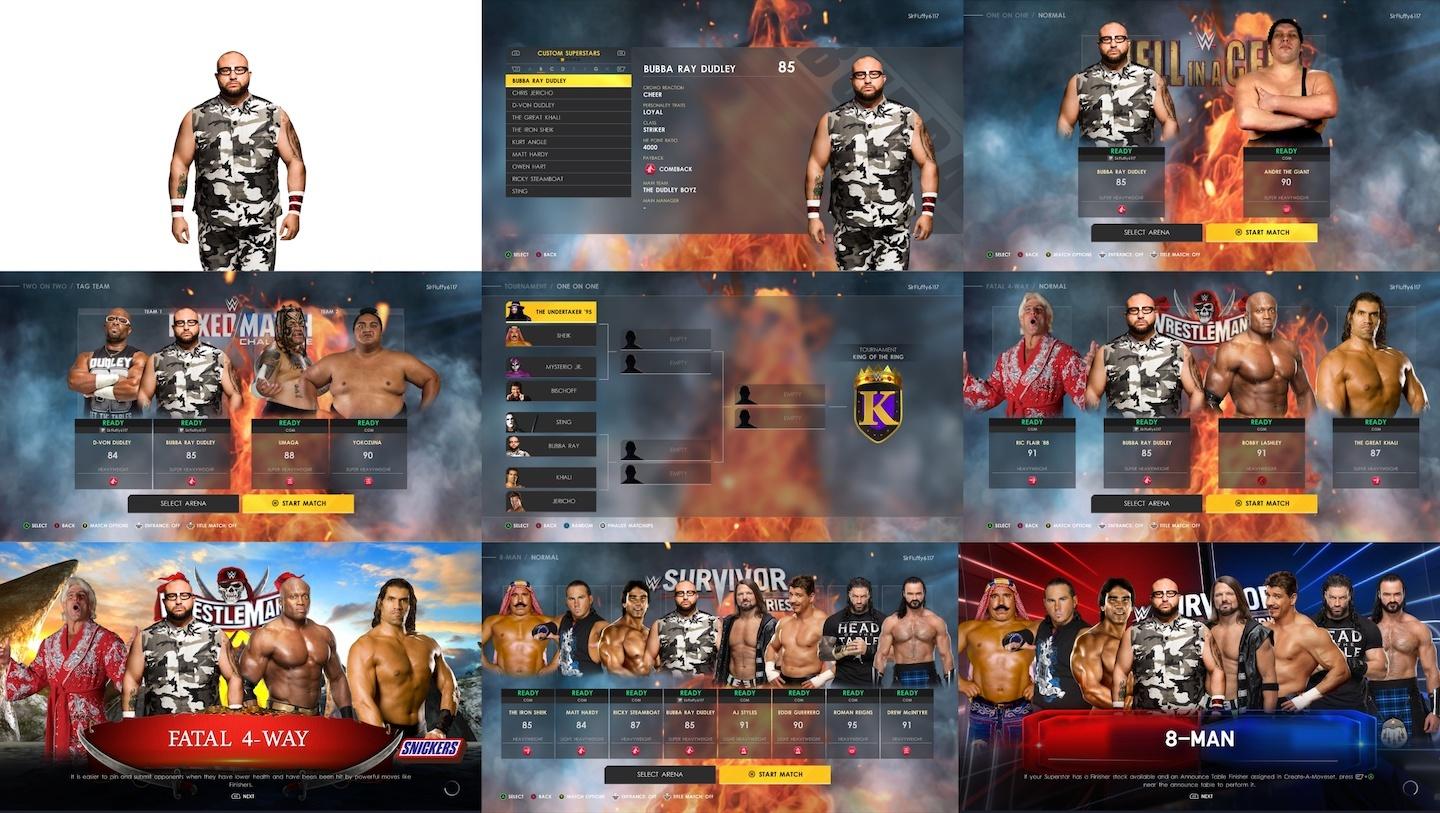 The picture above is a compilation centered around the Bubba Ray Dudley CAW I have in my game, in various match types. Pictured as well are renders for other CAWS, such as the Iron Sheik, Ricky Steamboat, and the Great Khali, who have also been made as CAWs for comparison. Bubba's image fits in well with the base roster and DLC characters in-game and doesn't look out of place in terms of size as his custom render is put through numerous scenarios.
Previous renders I had would make Bubba look normal in the character select screen, but abnormally large during loading screens, showing that previous issues in-game have since been fixed.
All-in-all, the addition of custom renders is a step in the right direction for the series and is something that 2K will hopefully maintain in the coming years. Even if Sting or Rick Rude aren't in the game, these will make them feel as if they're in the game already! And of course, for giving us stuff like this... (Credit for the image goes to u/RiverCitySaint)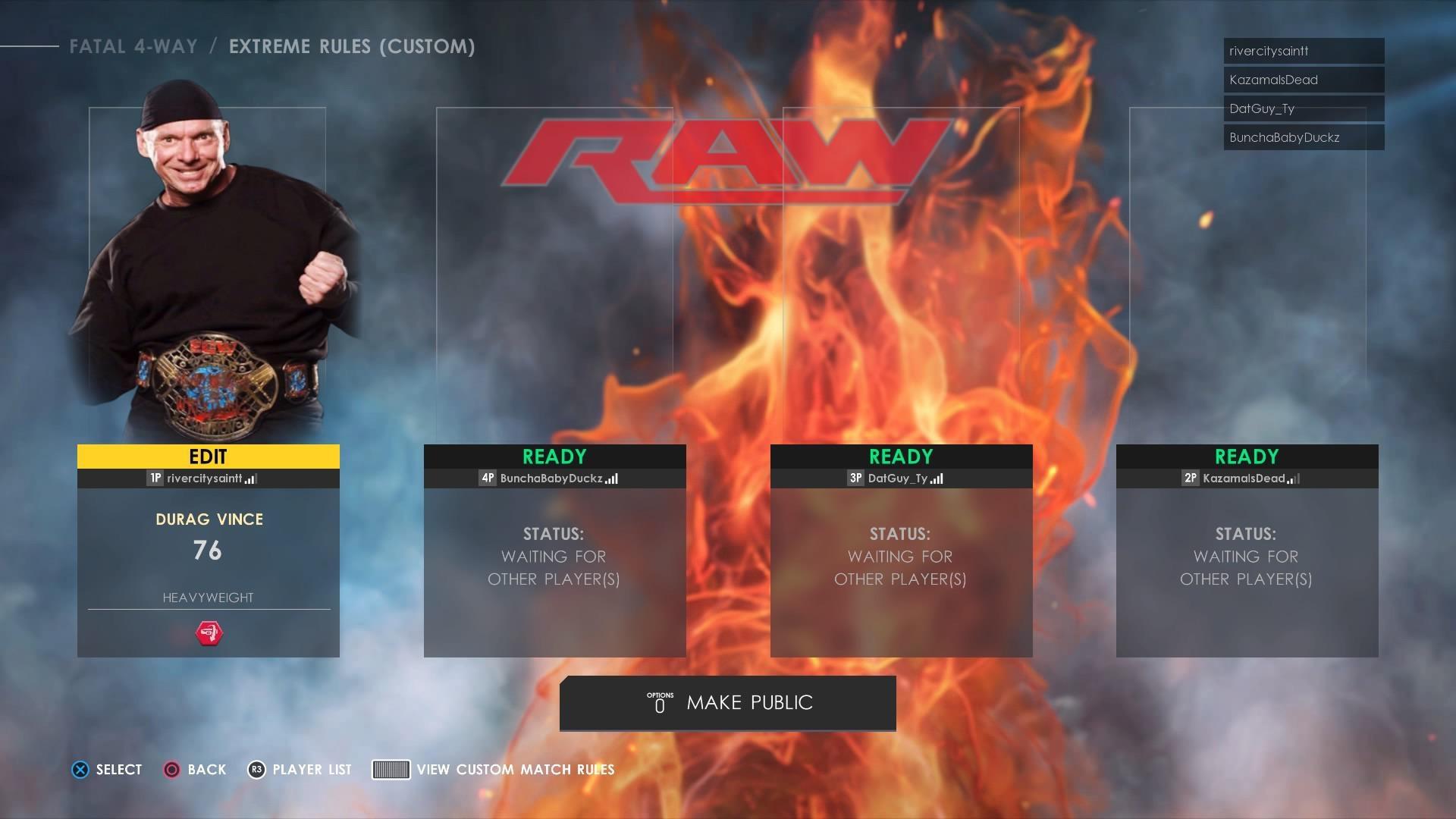 We hope you found this guide useful, and don't get forget to check out our other WWE 2K22 guides on the site too!