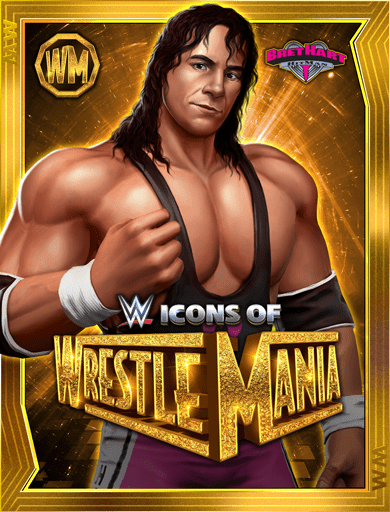 Gender

Male

Alternative Versions

Bret Hart Bret Hart '06-'19Bret Hart '85Bret Hart '93Bret Hart '97

Nickname / Version

Icons of WrestleMania

Era

Icons of WrestleMania

Superstar Tier

A Tier

Superstar Class

Showboat

Ability Style

Focused

Promoter

Mentor

Real Life Profile

Bret Hart
Members of the Hart Foundation, Bret Hart and Jim Neidhart defeated The Bolsheviks in a tag team match at WrestleMania VI, they defeated The Bolsheviks in under 19 seconds with a Tag-team finisher called "Hart Attack". They later began feuding with Demolition, who had just won the WWF Tag Team Championship against The Colossal Connection at WrestleMania VI. The Hart Foundation began their second, and final, WWF Tag Team Championship reign by defeating Demolition members Crush and Smash in a two out of three falls match with some help from Legion of Doom.
SPECIALS: Belly to Back Suplex, Diving Elbow Drop, Russian Leg Sweep, Spike Piledriver, DDT, Pendulum Backbreaker, Running Dropkick
FINISHER: Sharpshooter
TAG LINKS: Icons of WrestleMania, WrestleMania VI