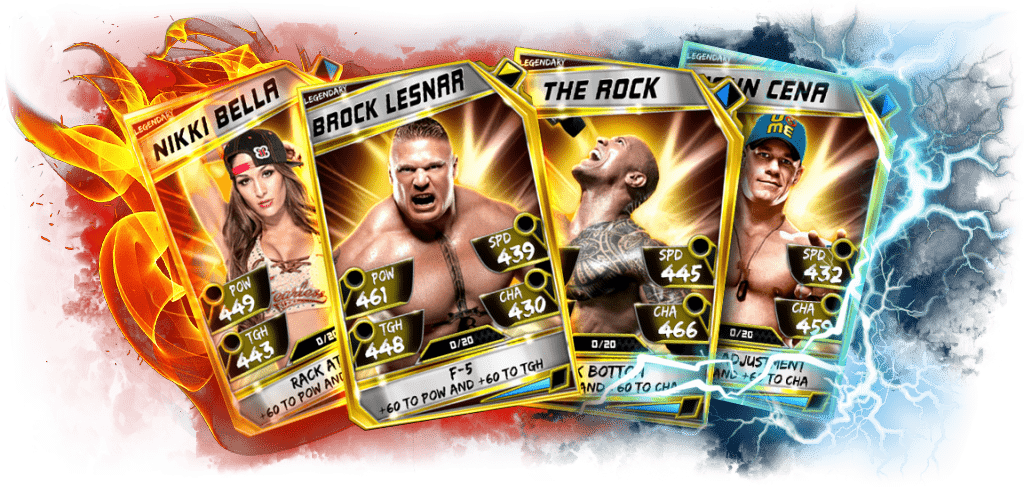 The following are the WWE SuperCard FAQ specifically related to the Season 2 of the game. For comprehensive general FAQ, read here instead: WWE SuperCard FAQ.
Q: What is the Season 2 update?
The Season 2 update is a new competitive period in WWE SuperCard that features customizable cards, an expanded roster, global chat, and much more.
Q: What's new with Season 2 cards?
Season 2 cards support a variety of features that their Season 1 counterparts don't have. One of these new features is Customization. As you train your S2 cards, you'll receive tokens. Tokens can then be used to level up any ratings slot. For example, if you want the highest POW John Cena Legendary card on the block, you can use up to four tokens to level up his POW rating. If you want a more balanced John Cena, just spread your tokens across the card's ratings slots.

Enhancements have also been added to the fold. You can equip up to five multi-charge enhancements on S2 cards, one for each ratings slot and one for a card's special ability. When you use an enhancement on a ratings slot, that rating is automatically boosted whenever an event in a match-up calls for that stat. When you use an enhancement on an ability, that ability gains the stat of whatever enhancement you used. For instance, if you used a POW boost on a CHA ability, that ability becomes a POW + CHA ability until all the charges are used.

Additionally, as you play with Season 2 cards through match-ups, your cards will automatically level up their skills courtesy another new feature: Play Levels. Different tiers of cards support different amounts of Play Levels, all of which permanently increase a card's overall strength.
Q: Can Season 1 cards be played against Season 2 cards?
Season 1 cards are ineligible for play against Season 2 cards. However, you can still play your Season 1 cards in Season 1's Exhibition and King of the Ring mode. If you're a returning player with a valid deck, the option to play Season 1 content is on the main menu.
Q: I'm a new player. How do I access Season 1 content?
Season 1 Exhibition content is currently only available to players that have a valid Season 1 deck prior to the Season 2 update.
Q: Can I still collect Season 1 cards?
If you're a returning player with a valid Season 1 deck, yes. Season 1 Exhibition's draft board still drops Season 1 cards. Season 1's King Of The Ring mode still provides Season 1 cards as rewards.
Q: Can I still use my S1 cards in S2 Update?
You can Fuse them as ingredients in the Fusion Chamber or you can use them to train your Season 2 cards.
Q: How does the Loyalty Fusion Chamber work?
We have an entire guide to how Loyalty Fusion Chamber works right over here.
Q: What happens if I use all of my Season 1 cards for training and Loyalty fusion?
If you drop below the valid deck amount of Season 1 cards required to play Season 1 KOTR (8 Superstars, 2 Divas and 4 supports) or Exhibition (4 Superstars, 1 Diva and 2 Support), those game modes will be removed from your main menu. If your S1 link disappears and you do have enough cards, if you contact Feedback within the app under "Card Issues" and explain that you want S1 cards to participate in S1 again, they'll hook you up.
Q: Can I set Season 1 cards as my Champ?
Players will have separate Season 1 and Season 2 Champs. You can set any of your Season 1 cards to be your S1 Champ. You can set your Season 2 cards to be your Season 2 Champ.
Q: Will the weekly events such as Road to Glory, People's Champion Challenge, and Ring Domination be available for play with Season 1 decks or Season 2 decks?
Events will be running exclusively for Season 2 for the foreseeable future.
Q: What are Deck Tiers and what do they do?
Deck tier is determined by what Superstar and Diva cards are being used in each mode. Players are matched up against other players of a similar Deck Tier. Additionally, a player's Deck Tier determines how rare of a card they can win from Exhibition matches. For example, a player with an 'Epic' Deck Tier can earn up to an Epic card from Exhibition, while a 'Super Rare' Deck Tier can only earn up to a Super Rare card. Move up to a new deck tier and you will be rewarded with a card of that new tier (Tier Name+ and ++ do not garner a "freebie").
Q: I have two cards of the same person with the same tokens, why are their stats different?
On the left Improve screen are the match counters for each stat. The more matches, the higher the stat. They won't be identical there.
Q: I combined two cards to make a Pro card, but after I leveled it the stats are lower than my friend who has the same Pro card. What did I do wrong?
The maximum stats possible on a Pro card are based on a few things:
The level of the two cards used to create it.
The number and position of the tokens used.
The match count gauges.
Always max out your cards in all three areas before combining them to create the best possible Pro card. This thread has a simple checklist to follow.
Q: What triggers my Superstar's abilities?
Abilities are triggered randomly when the Superstar is played. The chance for the ability to trigger is based on the rarity of the Superstar. You will find the chance of an ability being activated (commonly known as a "proc") on your card's Improve screen.
Q: I pulled a card that was in the next tier up. Why did this happen?
It appears that there is a lag where your tier is not updated straight away. Restart your device and you should see that you are now in that higher tier and the card you pulled was your freebie.
Q: Can we change our in game names?
That functionality isn't in the game, unfortunately.
Q: Is there a best way to apply tokens?
No, it's your call! Just make sure to apply them all before combining.
Q: I'm having issues with Android emulators like Bluestacks. What can I do?
Emulators are not supported, so there are no official fixes for this.

Sources: 2K Support | Cat Daddy Games / 2K Forums