On this page, you find the full wrestling profile of Bear Boulder, with his Career History, real name, age, height and weight, the Promotions he worked for, all the Face/Heel turns, the Championship Titles he won, his Finishers, Theme Songs, Tag Teams and Stables, his appearance changes through the years, and more.
Tommy Wansaw was born in Elizabeth, New Jersey on May 5, 1990, and he is currently 32 years old.
He is currently a Wrestler, working for AEW, under the ring name of Boulder.
Profile Info
Gender

Male

Real Name

Tommy Wansaw

Ring Names

Boulder

(

August 23, 2022

-

Present

)

Bear Boulder

(

October 20, 2019

-

August 22, 2022

)

Bear Beefcake

(

April 27, 2018

-

February 15, 2020

)

Beefcake

(

September 1, 2012

-

September 7, 2019

)

Beefcake Charlie

(

November 22, 2014

-

November 25, 2018

)

Born

May 5, 1990 (age 32)

Birth Place

Elizabeth, New Jersey

Billed From
Career History
Roles

Wrestler

(

September 1, 2012

-

Present

)

Companies / Promotions

Promotion
from
to

Promotion

AEW

December 3, 2020

Present

Promotion

CZW

April 17, 2019

March 21, 2020

Face / Heel Turns

| Alignment | from | to |
| --- | --- | --- |
| Heel | August 23, 2022 | Present |
| Face | September 1, 2012 | August 22, 2022 |

Images

Sep 2012
Finishers

Elevated Drop - with Bear Bronson

(

November 18, 2017

-

Present

)

Theme Songs

Theme Song

"Galvanization" by Mikey Rukus - with Bronson

-

Team

(

August 23, 2022

-

Present

)

Theme Song

"The Trap" by Mikey Rukus - with Bear Bronson

-

Team

(

May 17, 2021

-

August 22, 2022

)

Theme Song

"Exterminate All" by Mitchell Marlow - with Bear Bronson

-

Team

(

December 3, 2020

-

May 16, 2021

)
Titles & Accomplishments
Titles Won

Chaotic Wrestling

1 CW Tag Team Championship (with Bear Bronson)

Pure Pro Wrestling

1 PPW Continental Championship

Xtreme Wrestling Alliance

1 XWA Tag Team Championship (with Bear Bronson)
Relations
Tag Teams & Stables

The Iron Savages / Bear Country

-

Bear Bronson (

November 18, 2017

-

Present

)

Ruffin It

-

Bear Bronson, Leon Ruff (

June 17, 2022

-

July 6, 2022

)

The Aesthetic Males

-

Damian Gibbs, Mike Del, Aaron Stride

(

April 16, 2016

-

December 8, 2017

)

The Aesthetics Enterprise

-

Damian Gibbs

(

November 22, 2014

-

November 19, 2016

)

Managers

JT Davidson
Bear Boulder Game Appearances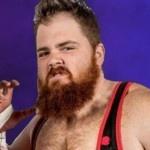 the-wrestling-code