On this page, you find the full wrestling profile of Bear Bronson, with his Career History, real name, age, height and weight, the Promotions he worked for, all the Face/Heel turns, the Championship Titles he won, his Finishers, Theme Songs, Tag Teams and Stables, his appearance changes through the years, and more.
Joseph Fitz was born in East Islip, New York on November 13, 1995, and he is currently 27 years old.
He is currently a Wrestler, working for AEW, under the ring name of Bronson.
Profile Info
Gender

Male

Real Name

Joseph Fitz

Ring Names

Bronson

(

August 23, 2022

-

Present

)

Bear Bronson

(

August 17, 2016

-

August 22, 2022

)

Joe Bronson

(

February 13, 2015

-

July 28, 2017

)

Hous Blazer

(

August 19, 2015

-

August 16, 2016

)

Height

6 ft 2 in (188 cm)

Weight

Born

November 13, 1995 (age 27)

Birth Place

East Islip, New York

Billed From
Career History
Roles

Wrestler

(

August 19, 2015

-

Present

)

Companies / Promotions

Promotion
from
to

Promotion

AEW

December 3, 2020

Present

Promotion

CZW

August 19, 2015

March 21, 2020

Face / Heel Turns

| Alignment | from | to |
| --- | --- | --- |
| Heel | August 23, 2022 | Present |
| Face | August 19, 2015 | August 22, 2022 |

Images

Dec 2020

Aug 2015
Finishers

Chokebomb

(

August 19, 2015

-

Present

)

Fire Thunder Driver

-

Reverse Piledriver

(

August 19, 2015

-

Present

)

Discus Lariat

(

August 19, 2015

-

Present

)

Elevated Drop - with Bear Boulder

(

November 18, 2017

-

Present

)

Theme Songs

Theme Song

"Galvanization" by Mikey Rukus - with Boulder

-

Team

(

August 23, 2022

-

Present

)

Theme Song

"The Trap" by Mikey Rukus - with Bear Boulder

-

Team

(

May 17, 2021

-

August 22, 2022

)

Theme Song

"Exterminate All" by Mitchell Marlow - with Bear Boulder

-

Team

(

December 3, 2020

-

May 16, 2021

)
Titles & Accomplishments
Titles Won

World Wrestling Entertainment

1 WWE 24/7 Championship - as Santa Claus

Chaotic Wrestling

1 CW New England Championship
1 CW Tag Team Championship (with Bear Beefcake)

Create A Pro Wrestling Academy

Five Borough Wrestling

2 FBW Tag Team Championship (with AJ Spectre)

Pro Wrestling ZERO1 USA Northeast

1 ZERO1 USA Northeast Heavyweight Championship

WrestlePro

1 WrestlePro Silver Championship

Xtreme Wrestling Alliance

1 XWA Tag Team Championship (with Bear Beefcake)

Other Accomplishments

ZERO1 USA Northeast Heavyweight Title Tournament Winner (2020)
Relations
Tag Teams & Stables

The Iron Savages / Bear Country

-

Bear Boulder (

November 18, 2017

-

Present

)

Ruffin It

-

Bear Boulder, Leon Ruff (

June 17, 2022

-

July 6, 2022

)

Business Casual

-

MJF (

February 13, 2015

-

December 10, 2016

)

Managers

JT Davidson
Bear Bronson Game Appearances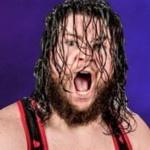 the-wrestling-code