On this page, you find the full wrestling profile of Leon Ruff, with his Career History, real name, age, height and weight, the Promotions he worked for, all the Face/Heel turns, the Championship Titles he won, his Finishers, Theme Songs, Tag Teams and Stables, his appearance changes through the years, and more.
Dartanyon Ruffin was born in Detroit, Michigan on April 14, 1996, and he is currently 26 years old.
He is currently a Wrestler, working for AEW, under the ring name of Leon Ruffin.
Profile Info
Gender

Male

Real Name

Dartanyon Ruffin

Ring Names

Leon Ruffin

(

May 1, 2022

-

Present

)

Leon Ruff

(

June 16, 2017

-

April 30, 2022

)

Height

5 ft 7 in (170 cm)

Weight

Born

April 14, 1996 (age 26)

Birth Place

Detroit, Michigan

Billed From
Career History
Roles

Wrestler

(

June 16, 2017

-

Present

)

Companies / Promotions

Promotion
from
to

Promotion

AEW

June 17, 2022

Present

Promotion

GCW

November 21, 2021

January 14, 2022

Promotion

WWE

Brand

NXT

April 29, 2020

August 6, 2021

Promotion

EVOLVE

June 23, 2018

March 1, 2020

Face / Heel Turns

| Alignment | from | to |
| --- | --- | --- |
| Face | June 16, 2017 | Present |

Images

Apr 2020

Jun 2017
Finishers

Frog Splash

(

June 16, 2017

-

Present

)

Theme Songs

Theme Song

"Punch Drunk Honey" by CFO$

-

Single

(

December 4, 2019

-

August 6, 2021

)
Titles & Accomplishments
Titles Won

World Wrestling Entertainment

1 NXT North American Championship

Evolve

1 Evolve Tag Team Championship (with AR Fox)
Relations
Tag Teams & Stables

Ruffin It

-

Bear Boulder, Bear Bronson (

June 17, 2022

-

July 6, 2022

)

AR Fox & Leon Ruff

-

AR Fox

(

November 10, 2018

-

February 29, 2020

)

The Skulk

-

Adrian Alanis, Liam Gray, Tommy Maserati

(

May 27, 2018

-

December 4, 2019

)
Leon Ruff Game Appearances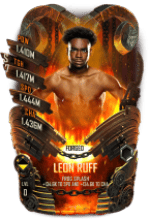 supercard