On this page, you find the full wrestling profile of Kongo Kong, with his Career History, real name, age, height and weight, the Promotions he worked for, all the Face/Heel turns, the Championship Titles he won, his Finishers, Theme Songs, Tag Teams and Stables, his appearance changes through the years, and more.
Steve Wilson was born in Grand Rapids, Michigan on August 10, 1979, and he is currently 43 years old.
He is currently a Wrestler, working for Independent promotions, under the ring name of Kongo Kong.
Profile Info
Gender

Male

Real Name

Steve Wilson

Ring Names

Kongo Kong

(

December 22, 2010

-

Present

)

Osyris

(

January 1, 1998

-

August 9, 2014

)

Height

6 ft 7 in (201 cm)

Weight

Born

August 10, 1979 (age 43)

Birth Place

Grand Rapids, Michigan

Billed From

Deepest, darkest jungle

(

December 22, 2010

-

Present

)

Parts Unknown

(

January 1, 1998

-

August 9, 2014

)

Nicknames

The New Monster; Da Juggernaut; The Fury
Career History
Roles

Wrestler

(

October 1, 1998

-

Present

)

Companies / Promotions

Promotion
from
to

Promotion

INDY

March 15, 2003

Present

Promotion

TNA

April 13, 2017

June 7, 2019

Promotion

GFW

June 13, 2015

October 2, 2016

Face / Heel Turns

| Alignment | from | to |
| --- | --- | --- |
| Face | February 21, 2020 | Present |
| Heel | October 1, 1998 | February 20, 2020 |

Images

Dec 2010

Oct 1998
Finishers

The Cracker-Jack

-

Spear

(

October 1, 1998

-

Present

)

Helldriver

-

Gorilla Press Powerslam

(

October 1, 1998

-

Present

)

Diving Splash

(

December 22, 2010

-

Present

)

Theme Songs

Theme Song

"Ganesha" by The Healing Drum

-

Single

(

June 8, 2019

-

Present

)

Theme Song

"Monster" by Dale Oliver

-

Single

(

June 13, 2015

-

June 7, 2019

)

Theme Song

"Ganesha" by The Healing Drum

-

Single

(

December 22, 2010

-

June 12, 2015

)

Theme Song

"Last of a Dying Breed" by Ludacris Feat. Lil' Wayne

-

Single

(

January 1, 1998

-

December 21, 2010

)
Titles & Accomplishments
Titles Won

American Pro Wrestling Alliance

1 APWA Global Championship
2 APWA Quardruple/Quintuple Crown Championship

Border City Wrestling

1 BCW Can-Am Heavyweight Championship

Battle On The Border

1 BOTB Heavyweight Championship

Border Town Pro Wreslting

Crossfire Wrestling

1 CW Heavyweight Championship
1 CW Tag Team Championship (with Bin Hamin)

Elite Pro Wrestling

1 Elite Pro Heavyweight Championship

Extreme Wrestling Federation

2 EWF Heavyweight Championship
1 EWF Midwestern Championship
1 EWF Tag Team Championship (with Hurricane)

Funkdefied Wrestling Federation

1 FWF Heavyweight Championship

Heroes and Legends Wrestling

1 HLW Heavyweight Championship

Independent Wrestling Association Mid-South

3 IWA Mid-South Heavyweight Championship

Insanity Pro Wrestling

Juggalo Championship Wrestling

1 JCW Heavyweight Championship

Mid-Ohio Wrestling

1 Mid-Ohio Heavyweight Championship

Price of Glory Wrestling

1 POGW Tag Team Championship (with Idol Heinze)

Pro Wrestling All-Stars of Detroit

1 PWASD Heavyweight Championship

Pro Wrestling Zero1

1 ZERO1 USA Northern States Championship

Pure Pro Wrestling

1 PPW Michigan Heavyweight Championship

Revolution Championship Wrestling

1 RCW Heavyweight Championship

Strong Style Wrestling

1 SSW Heavyweight Championship

Xtreme Intense Championship Wrestling

1 XICW Proving Grounds Championship
1 XICW United States Championship
1 XICW Xtreme Intense Championship

Other Accomplishments

IWA Mid-South Ted Petty Invitational Winner (2015)
IWA Mid-South Heavyweight Title Tournament Winner (2014)
EWF 5th Annual X8 Tournament Winner (2008)
POGW Glory Cup Winner (2011)
RCW Survival of the Biggest Winner (2021)
XICW Proving Ground Title Tournament Winner (2016)
Relations
Tag Teams & Stables

Team OSI-ris

-

The SI

(

October 3, 2010

-

June 12, 2011

)

Heinzington Beach Enterprises Presents

-

Idol Heinze

(

September 13, 2009

-

September 12, 2010

)

Managers

Jimmy Jacobs
Kongo Kong Game Appearances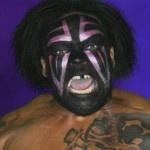 the-wrestling-code