News & Updates
by

Andy

Category: AEW Games News
In the AEW Games 2.Show, AEW World Champion Kenny Omega answered the top 5 questions about the AEW Console Game, while AEW Referee Aubrey Edwards revealed new details and gameplay for the AEW Elite GM mobile game.
Check out the full video below:
by

Scott Shacklady

Category: WWE 2K Battlegrounds News
Just recently 2K Battlegrounds have announced the third batch of free DLC for Battlegrounds.
In this article, we will show what you can expect over the next 5 weeks beginning the 23rd.
First Drop: 23/12/20
The first drop will have four new superstars and they are as followed:
Ric Flair

Sheamus

Montez Ford (Unlocked from start)

Sting (Unlocked from start)
During this week there will also be a new holiday-themed arena unlocked for the player just in time for Christmas.
Second Drop: 30/12/20
The second drop will have three new playable stars in it and they are as listed below:
Diesel

Razor Ramon

Angelo Dawkins (Unlocked from start)
Like the previous week, a new arena will be added with this one being a winter bear one.
Third Drop: 06/01/21
The third drop will only include two new playable characters with them being as shown below:
Fourth Drop: 13/01/21
Just like the last drop this one will only have two more characters in the update and they as seen below:
Chad Gable

Akam (Unlocked from start)
Final Drop: 20/01/21
The final drop will have the last three playable superstars which includes as followed:
Rezar (Unlocked from start)

Fandango

Rowdy Roddy Piper
What do you guys think about the third batch of Battlegrounds content?
Leave a comment below and thanks for reading.
by

Scott Shacklady

Category: WWE 2K Battlegrounds News
Just yesterday WWE 2K Battlegrounds Twitter Account revealed that the second batch of free DLC will be released over the next 4 weeks.
2K announced that NBA 2K21 Cover Star "Laheem" Lillard, and "Gronkster" are set to arrive and raise hell in WWE 2K Battlegrounds as part of the next roster update, which also includes 9 new WWE Superstars, 17 customization items and five new arenas.
So in this article we will be telling you what to expect to be added over this next few weeks.
First DLC Drop: 23/11/20
Monday, November 23
Haunted House Arena (unlocked);
Tuesday, November 24
Gronkster (unlocked);
Macho Man Randy Savage;
Undertaker - American Badass attire;
Thanksgiving Arena (unlocked);
Undertaker 30th Anniversary Arena;
The first of these drops will include a new haunted house arena to fight with there being elements of the Everglades arena as two caskets will be at the left and right sides which players can throw their opponents into which will be unlocked on the day.
As for new stars added in they are the Gronkster and NBA 2K21 Cover Star Laheem Lillard which are unlocked from the start.
There is also a new American Badass attire for the Undertaker that is available from the 22th with players being able to unlock this by entering in the locker code "UNDERTAKER 30" on the locker code screen.
Also on the 24th Macho Man Randy Savage will be purchasable from the in-game store.
Second DLC Drop: 02/12/20
During this drop there will be a special Halloween Circus themed arena for players to access.
Rhea Ripley and The Boogeyman will also be available for players to fight as.
Wednesday, December 2
"Laheem" Lillard (unlocked);
Rhea Ripley (unlocked);
The Boogeyman;
Halloween Circus Arena;
Third DLC Drop: 09/12/20
In this drop, 3 new superstars will be available which are Billie Kay, Andrade and Kane
There will also be a new Survivor Series Themed Arena added as well.
Wednesday, December 9
Billie Kay (unlocked);
Kane;
Andrade;
Survivor Series Arena;
Fourth DLC Drop: 16/12/20
Finally on the drop date Buddy Murphy and Peyton Royce
Also Edge will be available for purchase for anyone who did not pre order the game.
Wednesday, December 16
Buddy Murphy (unlocked);
Peyton Royce;
Edge.
Here is the video with details about the DLC Drops for anybody interested in having a look
by

Andy

Category: WWE SuperCard News
Season 7 of WWE SuperCard has arrived, featuring three new card tiers, hundreds of new cards, on-demand play and the introduction of SuperMoves.
by

Stanislav Harkavyi

Category: WWE SuperCard News
The Season 7 of WWE SuperCard is just around the corner and new details were revealed during the past several weeks. So in this article, we collect all available information about the upcoming Season 7. In general, the new season has two main vectors: updating the in-game progress system and improving gameplay mechanics.
Speaking of progress, the new season is going to re-establish the game's basic economy and achievements. Those are two spheres, that Cat Daddy Games didn't change much since the release back in 2014. But now we are looking forward to seeing a whole bunch of improvements that will be implemented with the new add-on.
WWE Supercard Season 7 will launch with 3 new Card Tiers: Bio-Mechanical tiers, Swarm and Behemoth. Also with the Season 7 release game modes are going to be connected with each other and success in one mode will help you to give you additional benefits in another.
And now let's talk about all features in detail!
Styles and Techniques in WWE SuperCard S7
Styles and Techniques are brand new and pretty crucial attributes of Season 7 cards. They bring a new layer of strategic gameplay into matches. SuperCard creators promise that those attributes can dramatically change the outcome of a given match-up, give increased value to cards sitting in the middle of the deck and provide additional customization.
What do you need to know about Styles?
Styles is a new Season 7 card attribute similar by its mechanic to Arrows Alignment
There are five total Styles: Grappler, Brawler, Striker, Highflyer, and Orator
Styles are constant characteristics predetermined for each superstar, not just cards. This fact means that Swarm and Behemoth Jeff Hardy will have the same Style.
Players cannot change the Styles of the card
Styles don't provide any improvement to the card by itself but it gives access to a unique set of techniques.
A card Style itself is predetermined and doesn't increase card stats. Every style has access to four different Techniques. Every card gets randomly one of those four Techniques.
But how it works and how it affects gameplay? Let's find out more about what Technique is!
What do you need to know about Techniques?
Technique is a new Season 7 card attribute. It works similarly to Signature.
Technique is not static and is rolled randomly when you receive a card.
It's possible to re-roll technique using credits similar to Equipment re-rolls
When you combine two cards with different Techniques, you will be able to choose one from those two Techniques.
Technique is an ability that can be triggered during the match.
There are six total Techniques: Chain, Overrun, Assist, Reversal, Inspire, and Defender.
Chain, Overrun, and Inspire trigger after card wins the game and provide different stat bonuses for your next card.
Assist triggers before the match and gain % of a stat from a random card in your deck.
Reversal triggers after loss and starts a different match-up instead of a lost one.
Defender triggers after the win and negates a portion of damage taken by cards in the next match-up.
Here's what Styles have access to what Techniques:
Grappler: Chain, Assist, Reversal, Inspire
Brawler: Chain, Overrun, Reversal, Defender
Striker: Chain, Overrun, Assist, Defender
Highflyer: Overrun, Assist, Reversal, Inspire
Orator: Assist, Reversal, Inspire, Defender
Super Moves in WWE SuperCard S7
Super Moves is another brand new gameplay mechanic, which can be pretty familiar to every experienced gamer. It is an extremely powerful ability that charges over a long time, explodes in the right spot, and likely to win you the game. Well, yeah, now we have Ultimates in WWE Supercard. Or Fatality, if you want so.
In the words of the in-game mechanic, Super Move is special additional Support. When it is charged you can wait till the right moment and use it before the match as the extra boost. Unlike Supports, this ability doesn't require special cards and is available for any player.
Super Moves gives a new field of strategy for casual and free-to-play players. Alongside Techniques and Styles, Super Moves make the deckbuilding process more interesting and deep.
What do you need to know about Super Moves?
Super Moves is a new mechanic, that works similarly to Supports.
During games in different game modes, the player will charge a Super Move meter.
The player can use Super Move in the next battle similar to the usage of Support.
Once the meter is full, Super Move activation gives +100% to all stats to the card(s) for the next battle.
Super Move may have different rules in different modes. In most cases, those rules dictate the number of cards affected by Super Move activation.
New SuperCoins Currency in SuperCard S7
Right now, while Season 6 is still relevant, WWE Supercard has a pretty sophisticated economy system with four different currencies, that can be obtained in different game modes and can be spent in four different stores to buy different cards including unique ones.
Season 7 is going to combine LP of PVP mode, BP of Team BattleGrounds, and Contracts of Money in the Bank into one currency called SuperCoins. LP, BP, and Contract stores also will be unified into a single store called SuperStore.
This fact means that player isn't forced to play pretty underwhelming Money in the Bank to get MITB event cards. Also, players without a team can obtain cards from the former Team BattleGround Store. Those changes give additional motivation for players to visit the game as soon as possible.
What do you need to know about SuperStore and SuperCoins?
PVP, MITB, and TBG modes will be rewarded with SuperCoins instead of previous currencies.
All of the player's LP, BP, and Contracts will be automatically removed and then mailed back to every player as SuperCoins with conversion specifics.
LP will be exchanged with a conversion ratio of 1:1, Contracts get a ratio of 2:1 and BP get a ratio of nearly 3:1
SuperStore is going to combine offers from TBG, PVP, and MITB stores.
Before the start of Season 7 every player can exchange LP, BP, and Contracts for SuperCoins with the additional chance of getting Summerslam '20 Battleground Promo card.
Ladder and Achievements System Updates
The Ladder and Achievements System is a pretty old part of the game. It was introduced a long time ago and barely changed throughout history. Usually, the new season adds only a few Top 8 Tier Achievements. The reward for new achievements is just 500 credits, which is just mediocre in the world of more than 1000 credit for any of the foundation packs.
Ladder objectives are all about "Play X games" with pretty absurd rewards, that was never relevant. For example, for playing 2000 games players will receive random Summerslam '18 female. Of course, everybody will be happy to get a Legacy card for such a tough challenge.
But now Cat Daddy Games realized the problems of the current system. With Season 7 they promise the total rework and improvement of that system Season 7. Let's take a closer look at all available information.
What do you need to know about the new Ladder and Achievements System?
Ladder and Achievements System will be seasonal and similar to Pass-type systems.
Ladder objectives will be focused on the games played over the season.
Achievements will be remastered and new ones will be added during the season. There is still no information about particular examples of Achievements objectives.
All existing Ladder and Achievements objectives will be reset with the Season 7 release.
All unclaimed rewards for Ladder and Achievements objectives will be lost after Season 7 debut.
Improving existing features in WWE SuperCard S7
Besides fundamental changes, Season 7 also brings us a lot of minor features, which are usual to every WWE Supercard season. It means the appearance of new card Tiers, new modes, new quests, and minor changes to existing formats:
WWE Supercard Season 7 will provide 3 new Card Tiers. Behemoth is confirmed to be the new Top Tier. It is followed by Swarm and Bio-Mechanical tiers.
With Season 7 release will have a Card Shakeup. That means that Season 4 cards (Beast, Monster, Titan, Wrestlemania 34, Goliath, and Summerslam '18) become Legacy and will not be allowed to use in all game modes except Wild and King of the Ring. Also, that means that Shattered will be the lowest tier available on the draft board and given to the new players, who successfully finished the tutorial.
Season 7 will also feature stat truncation, which was announced earlier this year. It means that all cards that break six digits will be shown in a short version. For example, a card with 110,124 POW will be shown as 110,1K, and a card with 2,348,329 CHA will be shown as 2.348M. Truncation does not mean that card stats will be reduced. You can always inspect the full number in Collection.
All PVP game modes now will be available On-Demand. In the PVP screen, the player will be able to choose their favorite PVP mode to play instead of being forced to play a particular one.
Starting with Season 7 draft board picks will be available in every game mode except King of the Ring.
Season 7 will introduce Collections. It is a new "Collect' em all" type of quest. Сollection is a set of up to six cards across a theme or tier. When all of them are collected, the player will get a reward.
All PVP modes will provide an Auto-play mechanic that will take control over the game in case of the player being inactive.
In late December new War Games and Women's War Games modes will be introduced.
Overview
WWE Supercard Season 7 should be really cool. Cat Daddy Games present a lot of improvements in card design, gameplay, and interface. New SuperStore and SuperCoins give access to more content for the casual player.
The remastered Ladder and achievements system is meant to attract players for daily visits. Styles and Techniques make deckbuilding more complex than just putting all your best cards into a pile. And Super Moves gives additional chance for synergy decks to be presented in meta.
But what about you? Are you looking forward to WWE Supercard Season 7? If so, what feature do you expect the most? Leave your impressions about the upcoming add-on in the comment section below!
by

Andy

Category: AEW Games News
You think you can do better? GM Mode is back, and better than ever! Sign your favorite AEW wrestlers and start building your league. Book your own matches and watch the action unfold!
Build. Plan. Fight. Win. Be a champion. Prove you have what it takes in AEW Elite General Manager!
by

Andy

Category: AEW Games News
Believe the unbelievable. Achieve the unachievable. Expect the unexpected. Where dream matches become reality.
Watch the Trailer for the upcoming AEW Console Game developed by Yuke's, featuring Chris Jericho, Kenny Omega, and Hikaru Shida:
by

Andy

Category: AEW Games News
After revolutionizing the wrestling industry, All Elite Wrestling today shared its plans to reimagine the gaming world with the launch of AEW GAMES.
The new venture will start with a line-up of three new wrestling titles, including two mobile games and the highly anticipated console game, which is being developed by the historic and former WWE Games developer YUKE'S!
Back in May 2019, Yuke's announced they were working on a new wrestling game, departing from the main WWE Games series after developing it for over 20 years.
We now know that Yuke's and AEW have joined forces in a historic partnership, that not only sees AEW competing against WWE, but also sees Yuke's competing against the upcoming WWE 2K22 and their former WWE license, still owned by 2K Sports.
The birth of AEW GAMES was ushered in with a star-studded keynote special event hosted on YouTube (which you can check out below), featuring Kenny Omega, who has been at the forefront of AEW's console game, along with Cody Rhodes, Dr. Britt Baker and Ref Aubrey Edwards.
The event also featured the introduction of wrestling gaming mastermind and the newest AEW GAMES team member, Hideyuki "Geta" Iwashita, best known for his work on the critically-acclaimed No Mercy. Two mobile games will be available even sooner for fans.
AEW Console Game
A preliminary trailer for the AEW Console Game developed by Yuke's was showcased during the reveal event, featuring Kenny Omega, Chris Jericho, and Hikaru Shida.
The game is currently in development, so the footage shown may not be representative of the final product.
The release date is unknown, but it's been confirmed that the game will come out for both current-gen and next-gen consoles.
AEW Elite GM
Developed by Crystallized Games, AEW Elite GM is the evolution of the GM simulator genre, taking the strategic elements of simulation and fantasy games to create a competitive and engaging space for the wrestling community to take part in.
AEW Elite GM is anticipated to launch later in 2021.
AEW Casino: Double or Nothing
Developed by KamaGames, AEW Casino: Double or Nothing will feature AEW-branded versions of slots, blackjack, poker and roulette, along with AEW music, sounds, videos, wrestler virtual avatars, gift packs and more.
AEW Casino: Double or Nothing is anticipated to launch this winter
About AEW
Founded by President and CEO Tony Khan, AEW is a new professional wrestling league headlined by Cody & Brandi Rhodes, Kenny Omega, The Young Bucks (Matt & Nick Jackson), Chris Jericho, Hangman Page and Jon Moxley. For the first time in many years, AEW is offering an alternative to mainstream wrestling, with a growing roster of world-class male and female wrestlers that is injecting new spirit, freshness and energy to the industry. The inaugural event under the AEW banner was the sold-out DOUBLE OR NOTHING PPV in Las Vegas in May 2019.
AEW began airing its weekly show on TNT on Wednesday, Oct. 2, 2019, from 8-10 p.m. ET. The show, "AEW DYNAMITE," is Wednesday's No. 1 wrestling show and attracts the youngest wrestling audience on television. AEW's multi-platform content also includes "AEW DARK," a weekly prowrestling YouTube series, "Being the Elite" a weekly behind-the-scenes YouTube series, and "AEW Unrestricted," a weekly podcast series co-produced with WarnerMedia.
Kenny Omega and the AEW GAMES team will provide updates to fans as well as ongoing development content, so stay tuned for future updates!
by

SimoneSDH

Category: WWE 2K Battlegrounds News
2K announced today that 10 WWE Superstars and 20 customization items will be coming to WWE 2K Battlegrounds in the first of several roster updates starting November 6, 2020. Featuring fast-paced action and an assortment of power-ups, special moves, unconventional melee items, and interactive environments, WWE 2K Battlegrounds offers a unique arcade-style and aesthetic for casual and hardcore WWE games fans alike. More than 50 additional Superstars and cosmetic items will be made available in the months to come. You never know who or what might come crashing into the Battlegrounds!
The following Superstars, Legends, and Hall of Famers are currently scheduled to appear in WWE 2K Battlegrounds via automatic updates, with some content requiring unlocking:
Friday, November 6:
Goldberg

Batista

Jey Uso (unlocked)

Jimmy Uso (unlocked)


Wednesday, November 11:
Ultimate Warrior

Eddie Guerrero (unlocked)

Lita (unlocked)


Wednesday, November 18:
Trish Stratus

Booker T

Ruby Riott (unlocked)
WWE 2K Battlegrounds DLC Update #1 Trailer:
Each update will also include a selection of Superstar and Battleground arena customization items, including outfits, face paint, arena designs, color schemes, and more.
For all the information on WWE 2K Battlegrounds check out the WWE 2K Battlegrounds Main Section, and for an updated list of all the confirmed Superstars for the game, you can visit the WWE 2K Battlegrounds Roster Page.
by

Andy

Category: WWE SuperCard News
Today, 2K announced that Season 7 of WWE SuperCard, the newest addition to the action-packed collectible card-battling game, is scheduled to launch in November 2020 as a free, downloadable update on the Apple App Store for iOS devices, including iPhone and iPad, as well as the Google Play Store and Amazon Appstore for Android devices and Facebook Gaming.
Featuring greater flexibility in play styles, increased strategic depth, three new card tiers, a huge roster of WWE Superstars, Legends and Hall of Famers, and new ways to earn cards and battle with players around the world, WWE SuperCard will continue raising the bar for competitive and engaging WWE action in a unique format.
Offering more than 2,000 cards in active play, WWE SuperCard encourages players to build teams of WWE Superstars and Legends, train them to full potential, battle in various match types and test their skill in fast-paced tournament action. Players can enhance the free-to-play experience by acquiring new card packs.
WWE SuperCard's Season 7 includes the following:
Styles & Techniques – Plan strategic deck-building decisions with Styles, a new attribute on all Season 7 cards based on Superstars' real world in-ring personas. Each Style attribute will gain access to Techniques, giving powerful advantages that can greatly affect a matchup;
Super Moves – Build up devastating maneuvers with unique animations across any mode and unleash at will to provide an advantage against tough opponents;
New Card Tiers – Access three new card tiers, and compete for 200 new cards;
All Game Modes – Play any game mode you want, whenever you want, with unified access to the draft board. Featured modes will offer bonus rewards and encourage competition;
Art Refresh – Enjoy a comprehensive art refresh which will touch nearly every menu with a modern and sleek new look. Motion graphics will highlight key information, providing increased excitement and clarity;
Collections – Earn rewards for completing dynamic Collections. Limited-time events will feature new Collections regularly;
WarGames Event – Battle for control of multiple rings and earn points for holding a location in this all-new event type, coming soon;
AND MUCH, MUCH MORE – Look forward to numerous quality-of-life improvements, Daily Login 2.0 rewards, timed promotions and more!
Developed by Cat Daddy Games, a 2K studio, the WWE SuperCard Season 7 will be available for download free of charge on the Apple App Store for iOS devices, including the iPhone and iPad, as well as the Google Play Store and Amazon Appstore for Android devices and Facebook Gaming in November 2020.
by

SmackDown Hotel Channel

Category: WWE 2K Battlegrounds News
After a disastrous release of WWE 2K20 in 2019, 2K decided to forgo the annual release and instead went with WWE 2K Battlegrounds, a new, innovative concept different in as many ways possible from the yearly releases. Instead of making it as close to what we'd see every week on a Raw or Smackdown they opted to go a more arcade-style.
The Basics
Controls: Battlegrounds control scheme is vastly different from 2K20, gone is the awful submission mini-game, replaced with an L2, R2, mashing scheme. While this is superior to the "ring around the rosy" style of the previous game, it is far from ideal (at least for me). This also replaces the pin mini game and they are your finisher buttons as well. While tapping isn't the most efficient way to fix the issues of the mini games, it is still an upgrade and we appreciate their attempt at trying to make sure Battlegrounds wasn't just a clone of their previous games. The reversal is also different as instead of having one button to hit at the correct time, players must keep an eye out as timing and the correct button vary from move to move, making it harder to spam reversals in player vs player matches.
Match Types: Of course, a wrestling game is only as strong as its match modes and Battlegrounds offers a variety of different matches. Single, Tag Team, Triple Threat, Fatal Four Way, Gauntlet, Royal Rumble, and Steel Cage. While a condensed list from other games, this gives enough options to keep gamers from getting bored with a limited amount of settings. While the exhibition matches are what you've come to expect from WWE games, 2K did make changes to two match types that are worth mentioning.
Steel Cage: Battlegrounds offers a unique take on Steel Cage Matches, instead of the traditional style of match you must fill your money bar by scaling the fence and grabbing money bags. Oh, and every few minutes the cage becomes electrified so choose your attempts at grabbing the cash wisely. One of the biggest issues from the main series we encountered was the broken steel cage mechanics, we too often would find ourselves down for a long period of time giving the opponent ample time to escape despite only being seconds into the match. This is a massive upgrade from that and, while not perfect, it feels new and it still keeps it from feeling the same old, same old.
Royal Rumble: Another change is the Royal Rumble Match, again you are asked to mash the L2 and R2 buttons in order to eliminate your opponent. The catch is that you must wear down your opposition enough to where you are able to fill your meter before they fill theirs, making a much longer process of elimination - yet not done in a way that feels like it takes an eternity to toss someone out. Also, the limit of wrestlers in the ring at one time is four and this is where we encountered a bug. The gameplay drops its frame rate as the chaos of multi-person matches seems to a bit much for the console to handle and can cause your game to slow down or even crash. Hopefully, this is fixed with a patch in the coming weeks.
Classes and Power-Ups: Each Superstar utilizes one of 5 Class Styles: Powerhouse, Technician, High-Flyer, Brawler, and All-Rounder. Each class style has its own combat moves and throws. WWE 2K Battlegrounds also has a unique system that allows you to choose three different power-ups after selecting a wrestler these vary from Invincibility to being able to cause Earthquakes and Lightning storms.
Online Modes: Battlegrounds has 2 Online Modes: Tournament and King of the Battleground. However, there is no matchmaking for the regular match types, such as Singles, Tag Team, Steel Cage, etc. (you can only invite friends in the lobby). This limits the longevity of the game a lot.
Roster
The Roster offers 70 wrestlers at launch, which is a great amount for an arcade game, with a perfect variety of current Superstars and Legends, both male and female.
Plus, there are also over 60 more characters that will be added for free in future updates. In addition, each Superstar has at least 3 different and accurate attires.
The downside is that almost the entirety of the roster and the various attires must be unlocked. While on one hand, this increases the longevity of the game, the amount of credits (Battle Bucks) required to unlock everything are not well-balanced compared to the time you need to spend to earn them in-game. This may force you to buy one of the various microtransactions packs, which are also overpriced (some cost more than the game itself).
Arenas
One of our favorite things about Battlegrounds is the arena choices. There aren't nearly as many to choose from, as you only get 8 Arenas to battle in, but each offers a unique environment as well as some interesting interactive objects.
New York: Welcome to the Underground! Without spoiling too much as this and the other arenas we will cover have campaign mode implications, New York is basically a subway station. You fight in the ring with a train running in the background, while there aren't any interactive pieces here, it offers a fun setting and again a change from the super realistic feel and look of their previous releases.
Florida: This was heavily featured in the trailers for the game. You battle on a deck in the Everglades with a Crocodile in the crowd on each side. This is where interactive objects begin as you are able to toss your opponent outside into the mouth of the Crocodile. Don't worry, there is no blood and your opponent survives… so you can repeat this maneuver as much as your heart desires!
Mexico: Here you are south of the border and are treated to a helpful Ram! Opponent giving you trouble, Feel free to hop the guardrail and take control of a Ram to put him on the receiving end of a Ram style headbutt! Not much else is of note from this battleground but it is fun chasing your opposition as a ram.
Boot Camp: Attention Maggots! Welcome to Boot Camp an outdoor venue that sees you surrounded by military men and one guy is even barbecuing some food as the event takes place. This arena offers an interactive Helicopter where you can climb the rail outside up onto the chopper and target your opponent for a massive high-risk attack. Do this enough times and the ring will break but need not to worry, this doesn't end the match you still must win by pinfall or submission.
Scotland: Here players will brawl in an elevated arena in Glasgow. Treat your opponent to some not-so-great Bagpipe music as you can take the bagpipes from a ringside spectator and chase your opponent with them causing them to block their ears in pain.
Detroit: Here you are in an auto repair shop and can make ample use of the surroundings. You have explosive barrels that you can either throw your opponent into or grab one and smash them with it. You also have a car that is on a lift where you can throw or whip your opponent into it causing the car to fall on them.
Raw and WrestleMania: We lumped these two together because they are your standard WWE arenas. No interactive objects, just the usual WWE set.
Campaign Mode
Here the story plays out in a comic book, which means no voice acting you read a brief 2-page introduction which concludes with Paul Heyman getting the Ok from Vince McMahon to create a new concept called Battlegrounds.
Instead of taking a created wrestler through the grind of a My Career in Battlegrounds players will take control of various "local talents" on their home turf as WWE Superstars arrive to test your skills. You must play through Campaign to unlock Arenas, Clothing for Created wrestlers all power-ups and in order to unlock certain characters. We might be a minority here, but we enjoy having to go through the grind of Campaign to unlock things as opposed to being able to spend ten bucks on the accelerator pack to unlock everything with the touch of a button. The Campaign mode is long enough but not too long and offers enough variety and some legitimate chuckles through the comic strips.
Your Local talents are:
Bolo Reynolds from Brooklyn New York
Billy Huggins from the Everglades, the man was raised by Snakes…literally
J. Salazar from Mexico. Known as The Cure, T.J. brings his expertise of pain and healing to the WWE rings
Cassie and Polly Velle: The Evil French Twins go to Bootcamp after inciting the anger of Steve Austin.
Jessica Johnson: She becomes known as the Loch Ness Mobster due to her strength.
Gabriel Pierce: Known as the Disruptor after hacking into various things in order to lure Austin the Detroit to scout him.
Creation Suite
Wrestler: Battlegrounds creation suite is perhaps its biggest weakness. Offering a limited amount of items and little to no customization options you are restricted to what you're able to put your created star in, this even more restricting if you wish to create a female brawler.
Battleground Challenge: This is where you can upgrade your created wrestlers' stats by competing through multiple match types against different opponents. Each match increases your stats and throughout the paths, you can unlock various rewards.
Create A Battleground: This is a straight to the point creator. You can create your own battleground after selecting a theme, including NXT, Royal Rumble, and SummerSlam rings if you choose to create those arenas. Still, you are given a limited (yet fun) amount of options, and you can only save 3 Custom Arenas slots, which is a very limiting amount.
It's worth noticing that you can't receive credits (Battle Bucks) without an online connection, meaning you can't unlock characters while off-line. Strangely, you also can't create a character or an arena without an online connection. We were in the middle of a creating character and when the connection dropped for a second, we were straight booted out of the creator (and lost all progress).
Overall Rating: 6.5
We rate WWE 2K Battlegrounds a 6.5 out of 10. We have spent hours playing this and have thoroughly enjoyed it, it is a fun experience. With limited bugs (at least we haven't encountered too many) and a fresh adaptation 2K delivered a fun experience. While there is still plenty of room for improvement we think most will find the experience enjoyable. Of course, this all depends on what you want out of a wrestling game. If you want a "wrestling simulator" Battlegrounds probably isn't for you as it focuses more on the over the top elements of sports entertainment. If you were a fan of WWE All-Stars or even the Def Jam games we would recommend this title for you. At $40 though the price is a bit steep so we do wish 2K would have reduced it by ten dollars.
We do think 2K is onto something here and really hope this is the first of multiple titles in the series. One of the biggest knocks on 2K the last few years has been their dedication to making the game more realistic really hampered the player's enjoyment, Battlegrounds deviates from that and tries and mostly succeeds at not being anything like the other 2K titles.
by

Andy

Category: WWE 2K Battlegrounds News
In this page you find the full list of all the WWE 2K Battlegrounds Achievements / Trophies for Xbox One and PlayStation 4.
The achievements list is pretty thin for WWE 2K Battlegrounds, with just 13 objectives and without a Platinum Trophy on PS4.
#

Title

PS4

Xbox1

1

I won
Perform a pin successfully

1

2

Zoologist
Control the ram and feed your opponent to the alligator

1

3

Thunderstorm
Unlock the "Thunderstorm" Power Up

1

4

That's my signature
Perform 20 signature moves

1

5

Becoming a SuperStar
Complete the Wrestlemania event

2

6

Welcome to the Sunshine State
Unlock the Everglades battleground

1

7

Vs. the World
Win a Gauntlet match against 5 opponents or more

2

8

Charismatic
Fill the crowd bar

1

9

Freedom!
Win a Steel Cage match

1

10

Nothing personal
Perform 20 taunts

1

11

Is that a legal move?
Pick up a motorcycle and a turnbuckle

1

12

Anybody else?
Win a Royal Rumble match with 20 opponents

2

13

Invincible
Win a Royal Rumble match against 30 opponents in normal difficulty or higher

3

Total Trophies / Achievements: 13
---
For all the information on WWE 2K Battlegrounds check out the WWE 2K Battlegrounds Main Section, and the full WWE 2K Battlegrounds Controls Guide.
by

Andy

Category: WWE 2K Battlegrounds News
Power-Ups in WWE 2K Battlegrounds are a special feature that you can use during a match to get an advantage.
Each Superstar can take 3 Power-Ups in a match, and these can include things such as refilling your health, having unblockable hits, setting your fists on fire, causing an earthquake, and many more over-the-top visual effects.
These Arcade-style Power-Ups can give you different ways to play, offering extra excitement and an additional dimension of strategy that can quickly change the direction of a match.
In this guide, we'll go through how to equip power-ups, how to use them, and the full list of all the 18 Power-Ups available in the game.
Power-Ups Tiers
In WWE 2K Battlegrounds there are 18 Power-Ups available, which are classified into 3 tiers.
The higher the tier, the more powerful the Power-Up.
How To Unlock Power-Ups in WWE 2K Battlegrounds
You can unlock all the Power-Ups by playing through the Campaign Mode.
Each Power-Up can also be upgraded through 3 levels.
You can use the Battle Bucks to level them up. Battle Bucks are earned by simply playing the game.
Equipping Power-Ups
Before starting the match, in the Superstar Selection Screen, you can pick which power-ups you want to go into battle with.
You can equip your Superstar with one power-up per tier, for a total of 3 Power-Ups per match.
How to Use Power-Ups in WWE 2K Battlegrounds
WWE 2K Battlegrounds has a Power-Up Bar. This is located in the HUD at the bottom of the screen, where you can see the icons of 3 power-ups you've chosen.
Power-ups become available to perform when the Power-Up Bar reaches the activation zone. Keep an eye on the bar so you use them at strategic moments. When you use a Power-Up, the bar decreases again.
You can choose to activate a Tier 1 Power-Up or wait for the bar to fill enough to use a Tier 2 or Tier 3 Power-Up.
Each Tier of the Power-Ups in WWE 2K Battlegrounds is performed using the D-Pad:
Power-Up Tier 1:

left

(left)
Power-Up Tier 2:

up

(up)
Power-Up Tier 3:

right

(right)


Below you find the full list of all 18 Power-Ups available in WWE 2K Battlegrounds, including their respective effects and levels.
You can unlock power-ups by playing the Campaign Mode, and you can upgrade them to the next levels by using Battle Bucks.
WWE 2K Battlegrounds Power-Ups List - Tier 1
1. Flaming Fist (Unlocked from the Start)
Deal increased damage for a limited time.
LVL 1: +20% damage for 15 seconds
LVL 2: +30% damage for 20 seconds
LVL 3: +40% damage for 25 seconds
2. Stone Wall
Take less damage for a limited time.
LVL 1: -20% damage for 15 seconds
LVL 2: -30% damage for 20 seconds
LVL 3: -40% damage for 25 seconds
3. Reflector
Some of the damage you receive is dealt back to your opponent for a limited time.
LVL 1: 75% damage for 10 seconds
LVL 2: 100% damage for 15 seconds
LVL 3: 150% damage for 20 seconds
4. Stamina Drain
Your opponent will lose part of their Stamina Bar.
LVL 1: -60% Stamina to the opponent
LVL 2: -80% Stamina to the opponent
LVL 3: -100% Stamina to the opponent
5. Super Combo Moves
Your combos and special moves will inflict more damage than usual for al limited time.
LVL 1: +50% damage for 15 seconds
LVL 2: +60% damage for 20 seconds
LVL 3: +70% damage for 25 seconds
6. Invincibility
Your Health Bar will not decrease for a limited time.
LVL 1: 6 seconds
LVL 2: 7 seconds
LVL 3: 8 seconds
WWE 2K Battlegrounds Power-Ups List - Tier 2
7. Speedy Recovery (Unlocked from the Start)
Your Health Bar will recover more rapidly for al limited time.
LVL 1: +5% faster recovery for 16 seconds
LVL 2: +7% faster recovery for 16 seconds
LVL 3: +10% faster recovery for 16 seconds
8. Power Pin
For a limited time, it's harder for your opponent to kick out of your pin attempts.
LVL 1: +10% harder for 15 seconds
LVL 2: +15% harder for 20 seconds
LVL 3: +20% harder for 25 seconds
9. Weapons Master
The damage you inflict by using a weapon is increased for a limited time.
LVL 1: +60% damage for 15 seconds
LVL 2: +80% damage for 20 seconds
LVL 3: +100% damage for 25 seconds
10. Reversal Resist
Your opponent will not be able to reverse your throws for a limited time.
LVL 1: Opponent can't reverse for 10 seconds
LVL 2: Opponent can't reverse for 15 seconds
LVL 3: Opponent can't reverse for 20 seconds
11. Super Throw
You will be able to perform an exclusive throw one time.
LVL 1: Timing window to perform: 15 seconds
LVL 2: Timing window to perform: 25 seconds
LVL 3: Timing window to perform: 30 seconds
12. Energy Thief
You absorb the Heat Bar of all nearby opponents.
LVL 1: +30% energy
LVL 2: +60% energy
LVL 3: +90% energy
WWE 2K Battlegrounds Power-Ups List - Tier 3
13. Unblockable Force (Unlocked from the Start)
Hits you perform cannot be blocked or parried for a limited time.
LVL 1: 20 seconds
LVL 2: 25 seconds
LVL 3: 30 seconds
14. The Curse
Opponents cannot activate their Power-Ups for a limited time.
LVL 1: 20 seconds
LVL 2: 30 seconds
LVL 3: 40 seconds
15. Feel the Heal
You receive a Health Bar boost.
LVL 1: +15% Health Boost
LVL 2: +20% Health Boost
LVL 3: +25% Health Boost
16. Earthquake
You smash the ground, knocking down your opponents and damaging their health.
LVL 1: 2000 Damage
LVL 2: 3500 Damage
LVL 3: 5000 Damage
17. Ice Breath
You blow ice breath to freeze your opponent, making them vulnerable to attack.
LVL 1: 4 seconds
LVL 2: 5 seconds
LVL 3: 7 seconds
18. Thunderstorm
This Power-Up brings lightning bolts down on your opponents, raining damage from above.
LVL 1: 1000 Damage
LVL 2: 1500 Damage
LVL 3: 2000 Damage
---
For all the information on WWE 2K Battlegrounds check out the WWE 2K Battlegrounds Main Section, and the full WWE 2K Battlegrounds Controls Guide.
by

Andy

Category: WWE 2K Battlegrounds News
In this page you find a breakdown of all the WWE 2K Battlegrounds Game Features, including Game Modes, Gameplay and more. Developed by Saber Interactive, WWE 2K Battlegrounds releases on September 18, 2020 for PlayStation 4, Xbox One, Nintendo Switch, PC Windows, and Google Stadia.
WWE 2K Battlegrounds Overview

The world of WWE is your battleground with all-new, over the top, in-your-face, arcade action as your favorite WWE Superstars and Legends battle in outlandish interactive environments around the world.
Battle it out with or against your friends in your favorite local and online Match Types with an arsenal of exaggerated maneuvers, special abilities, and devastating power-ups, including Steel Cage, Royal Rumble, Fatal 4-Way and more - all while Mauro Ranallo and Jerry "The King" Lawler call all the multiplayer mayhem! Are you ready to enter the battleground?
Brawl Without Limits
Featuring a Roster of more than 70 WWE Superstars and Legends (with more unlockable Superstars to come via free updates in the future), take your favorites into battle with unrestrained, unhinged, and in-your-face pandemonium!
Pull off over-the-top moves and use your special abilities to destroy your opponent while battling in interactive environments during multiplayer action!
Battle with Friends - Online or on the Couch
Compete in Online Tournaments or stake your claim as King of the Battleground and survive the online melee against players from around the world!
Plus, brawl in local multiplayer and dominate your friends from your living room!
Loads of Match Types
Wage war in a wide variety of your favorite Match Types with fun, new twists, including Steel Cage, Royal Rumble, Fatal Four Way, and the all-new Battlegrounds Challenge!
It's Your Battleground
Make WWE 2K Battlegrounds your own with tons of customizable parts as you create, customize, and edit your own original Created Characters and Custom Battlegrounds Arenas!
Battle It Out Across the Globe
Play through an all-new story mode told through original comic strips, alongside Paul Heyman and Stone Cold Steve Austin and help lead the charge to find the next WWE Superstars!
Battle as unique and colorful new characters against established WWE Superstars to test your mettle and show your skills while unlocking new characters and Battlegrounds along the way.
Game Modes - WWE 2K Battlegrounds

WWE 2K Battlegrounds features the following Game Modes to play through:
Exhibition Matches (Single Player & Multiplayer)
In Exhibition matches, you can play as and against WWE Superstars. You can play Exhibition matches as men or as women, but women cannot play against men.
Exhibition matches can be played single player against the AI, up to 4 players local at home or online.
There is a wide variety of Match Types within Exhibition mode including 1v1, Tag Team, Triple Threat, Fatal Four Way, Steel Cage Match, Royal Rumble and more.
Campaign Mode (Single Player)
A single-player mode where the user competes against real WWE Superstars. The story is told through comics as you add to your stable of superstars to beat the next challenge. Play as one of the 7 newly created Superstars like Bolo Reynolds and Jessica Johnson.
The story is divided into several regions; new regions are unlocked progressively when the user completes the previous ones. Each region features its own arena and playable superstar. The user unlocks an assortment of game content (superstars, power-ups, vanity items, etc.) while playing campaign matches and achieving campaign goals.

Note: In the campaign mode you cannot play as WWE Superstars, just against them.
King of the Battleground (Multiplayer - Online only)
Take on all comers in the King of the Battleground, an Online last man standing mode where players compete in a free for all match where everyone is trying to eliminate their opponents and stay in the arena.
The objective is to throw opponents out of the arena. The longer the user stays in the arena, the higher the score they earn.
Four players start in the ring while four more are waiting on the sidelines and will enter the arena when an opponent has been thrown out. Players dynamically matchmake into a live game. This mode keeps on going until all opponents have been thrown out of the arena.
Tournaments (Multiplayer - Online only)
Online Tournaments with different win conditions will be available at launch.
These will be online time-restricted events featuring a multi-round tournament with a custom match and rule-set. Each time the user wins a match, they get rewards.
Battleground Challenge (Single Player)
Create your own Superstar and begin your own career. You can customize your Superstar however you want with items you unlock or can purchase in the store, including combat animations.
Creation Modes
Superstar Creator: The user can create their own Superstar with a number of customization options including face, skin color, height, weight, clothing options and more. Change class style, body type, face, hair, eyes among other things.


Battleground Creator: The user can create their own Arena to play matches in. The user can customize the arena with custom turnbuckles, ropes, skirts, and more.
Gameplay Features - WWE 2K Battlegrounds
Gameplay includes common moves such as Running Hits, Aerial Techniques, Irish Whip, Pin, Submission, Counters / Reversals, Blocks, and Parry. See the full Controls Scheme.
Classes: Each Superstar utilizes one of 5 Class Styles: Powerhouse, Technician, High-Flyer, Brawler and All-Rounder. Each class style has its own combat moves and throws.
Power-Ups: In addition, all Superstars have access to arcade-style Power-ups. The player can choose which 3 powerups to bring into battle. They can be used during a match when the player has accumulated enough energy. Effects include health regeneration or doing enough damage with one punch to break the arena.
Skill Trees: This is a system that allows the user to unlock different skills to improve performance and are composed of three branches: attack, defense, and charisma.
Battlegrounds: Battle your way through 8 destructible Battleground Arenas. The action continues even when the ring is broken!
Interactive Objects: The arenas contain different interactive elements that superstars can use to their advantage. Each one of them has a different mechanic. These are objects that can be found outside of the arena but within the gameplay area of the battleground. Soar from military helicopters, smash opponents with cars in an auto shop and toss them into the jaws of a hungry alligator in the swamp.
Weapons: Superstars can use different weapons such as Steel Chair, Guitar, Kendo Stick, Motorcycle and a Toy Hammer.
Crowd Bar: The crowd calls out for certain combat moves during a match and if the player performs them, they will earn extra points to get their crowd meter up. This can help when performing a pin or submission on an opponent because the crowd is behind the player more.
Daily Challenges: The daily challenge system feeds challenge's to the user to encourage them to explore the game. Such as "Play more games!" and "Apply a vanity item to your created superstar"
Alt. Attires & Vanity items: Custom WWE Superstars can wear any vanity item. Real WWE Superstars only can wear specific outfits that they have worn in real life. Each Superstar has 2 alternative outfits/costumes which can be purchased.
Currency

There are two types of currency in the game: Battle Bucks (earned in-game by playing) and Golden Bucks (purchased in the Store with real money).
All game content can be unlocked with earned Battle Bucks such as WWE Superstars, vanity outfits, clothes, and custom arena items.
To unlock content faster, Golden Bucks are available for purchase on the first party game stores.
Purchase is optional and not required to unlock all available content
---
For all the information on WWE 2K Battlegrounds check out the WWE 2K Battlegrounds Main Section, and the full WWE 2K Battlegrounds Roster Page.
by

Andy

Category: WWE 2K Battlegrounds News
WWE 2K Battlegrounds features 5 different "bars" mechanics in the game: a Health Bar, a Stamina Bar, a Heat Bar, a Crowd Bar, and finally a Power-Up Bar.
With so many things to keep track of, it can be confusing to understand them at first. What does each of these bars represent? What is the difference between the Heat Bar and the Crowd Bar in WWE 2K Battlegrounds?
In this article, we will go through each of these mechanics in WWE 2K Battlegrounds and explain what purpose they serve and how they work.
You can also check out the full Controls Tutorial and Classes Guide with Combos List for other helpful gameplay guidance and combat information.
1. The Health Bar
The Health Bar (along with the Stamina Bar) is located around a circle under your Superstar's feet, on the left side.
It's represented in green color and is what you might guess: it shows your remaining health, which will decrease when you take damage.
The lower your health, the harder it will be for you to kick out of a pinfall attempt, or to escape a submission hold. It will also take you longer to get back up when your health is depleted.
If your health bar is completely empty, you will have no chance to escape a pin or submission.
The amount of Health that your superstar has at the start of the match, depends on the Superstar's Class and their Overall Rating.
2. The Stamina Bar
The Stamina Bar is located near the Health Bar, around a circle under your Superstar's feet, on the right side.
It's represented in blue color and it measures your Superstar's fatigue.
Combos, Special Throws and Special Moves will use Stamina. You also need Stamina to perform common actions such as Running, Blocking and Submissions.
So you will need to wait for your Stamina bar to refill to be able to perform certain moves. Your Stamina Bar refills automatically, and some Classes refill stamina faster than others.
3. The Heat Bar
The Heat Bar is represented as a white circle under your Superstar's feet.
This is essentially the equivalent of the "Momentum" bar we've come to know from the main WWE Games series.
Your Heat Bar fills when you perform moves, taunt, or simply deal damage to your opponent.
When your Heat Bar is full, you can execute Signature and Finisher Moves (by pressing L2 + R2 on PS4, or LT + RT on Xbox).
Whether you execute a Signature or a Finisher depends on your opponent's health: if your opponent is on the last bar of his health, you'll execute a Finisher on him, otherwise you'll execute a Signature.
If you have enough Heat, you can also push your opponent into the turnbuckle with a Special Irish Whip to activate a turnbuckle minigame. However, if your Heat Bar is too low, you won't be able to perform counters to defend yourself.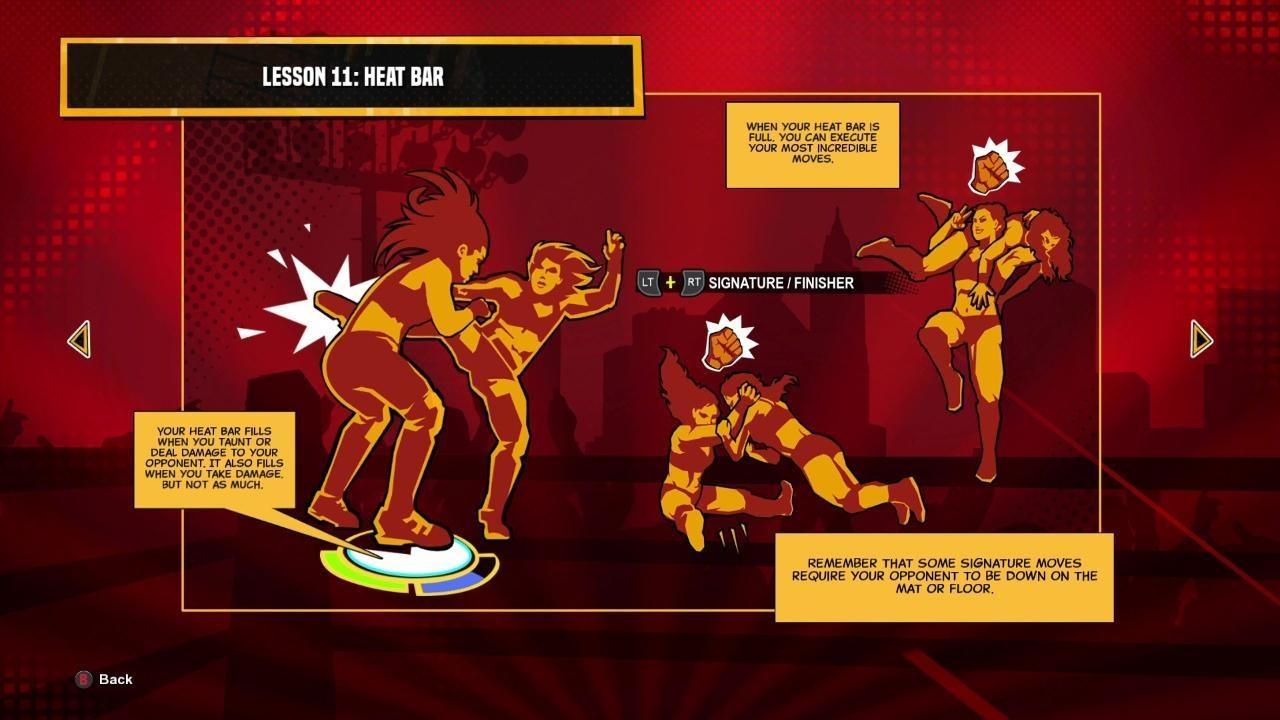 4. The Crowd Bar
Unique to the game, WWE 2K Battlegrounds feature a Crowd Bar. This is located at the very bottom of the screen, where the Superstar HUD is.
While playing a match in WWE 2K Battlegrounds, in the HUD area will be continuously prompted to perform certain actions to win over the crowd.
When you execute a move that the crowd wants to see, the Crowd Bar fills. On the other hand, if your actions are boring or repetitive, the crowd will boo you, and the Crowd Bar will drop. The Crowd Bar also drops if you're inactive.
Taunting your opponent also gets the crowd on your side and helps you raise your crowd bar.
Having a high Crowd Bar makes it easier for you to win by Pinfall or Submission, and it improves your chances of victory in the various combat minigames.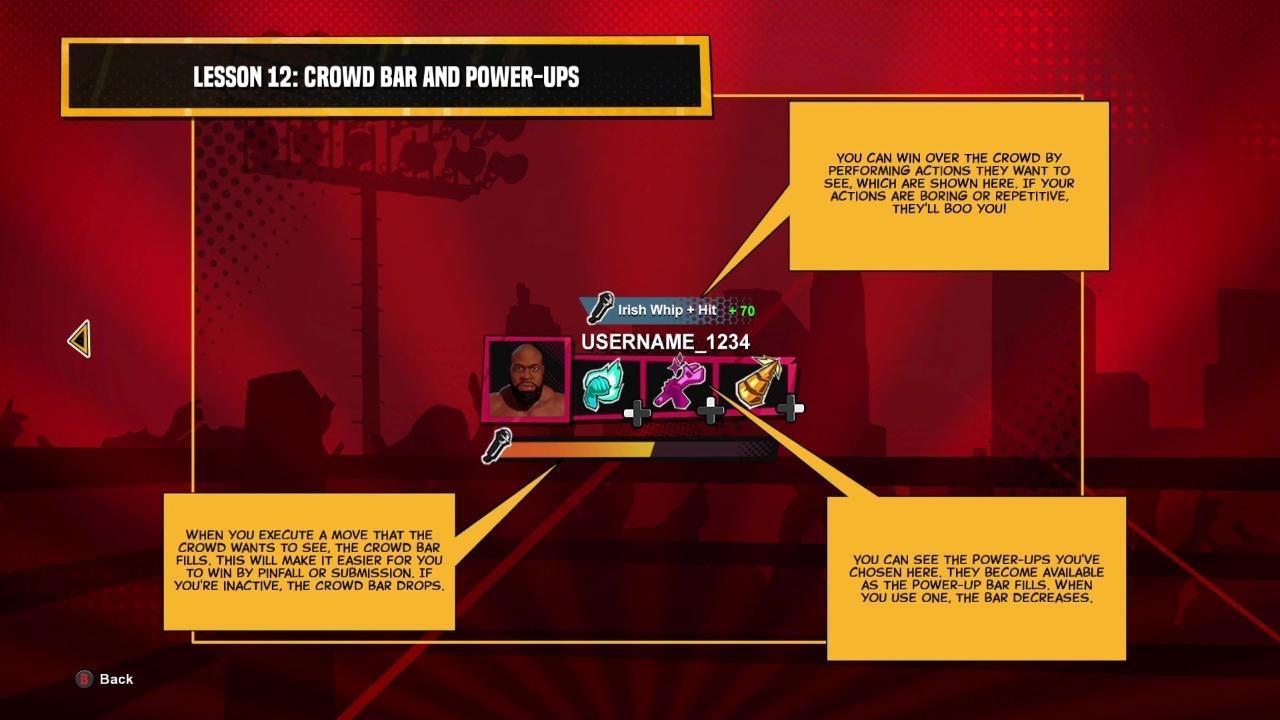 5. The Power-Up Bar
Finally, WWE 2K Battlegrounds has a Power-Up Bar. This is also located in the HUD, where you can see the icons of 3 power-ups.
Power-ups become available to perform as the Power-Up bar fills.
When you use one, the bar decreases again.
See the Full Guide and List of all Power-ups in WWE 2K Battlegrounds.
Bonus: The "Money Bar" in Steel Cage Matches
Steel Cage Matches in WWE 2K Battlegrounds have a unique mechanic:
Superstars must fill their Money Bar by collecting the money that appears hanging from the cage.
When the Money Bar is full, the Superstar can try to escape over the top of the cage.
The first Superstar to escape is the winner! In Tag Team matches, the escape of just one of the two team members is enough to win the match.
---
Hopefully, this clears up the confusion a bit as to which purpose each bar serves. If you're still confused, don't worry, we understand you! Keep playing and you'll surely understand the mechanics better.
For all the information on WWE 2K Battlegrounds check out the WWE 2K Battlegrounds Main Section, and the full WWE 2K Battlegrounds Controls Guide.