On this page, you find the full wrestling profile of Alex Riley, with his Career History, real name, age, height and weight, the Promotions he worked for, all the Face/Heel turns, the Championship Titles he won, his Finishers, Theme Songs, Tag Teams and Stables, his appearance changes through the years, and more.
Kevin Robert Kiley Jr. was born in Fairfax Station, Virginia on April 28, 1981, and he is currently 41 years old.
He is currently a Part Time Wrestler, working for NWA, under the ring name of Kevin Kiley Jr..
Profile Info
Gender

Male

Real Name

Kevin Robert Kiley Jr.

Ring Names

Kevin Kiley Jr.

(

December 8, 2022

-

Present

)

Alex Riley

(

December 18, 2008

-

May 6, 2016

)

Carson Oakley

(

October 23, 2008

-

December 17, 2008

)

Kevin Kiley

(

October 30, 2007

-

October 22, 2008

)

Height

6 ft 3 in (191 cm)

Weight

236 lbs (107 kg)

(

October 6, 2011

-

Present

)

251 lbs (114 kg)

(

October 5, 2011

)

Born

April 28, 1981 (age 41)

Birth Place

Fairfax Station, Virginia

Billed From

Nicknames

A-Ry
Career History
Roles

Part Time Wrestler

(

December 8, 2022

-

Present

)

Wrestler

(

October 30, 2007

-

May 6, 2016

)

Commentator

(

June 24, 2013

-

February 12, 2015

)

Actor

(

May 6, 2016

-

August 21, 2019

)

Companies / Promotions

Promotion
from
to

Promotion

NWA

February 11, 2023

Present

Promotion

WWE

Brand

NXT

March 11, 2015

May 6, 2016

Promotion

WWE

August 29, 2011

March 10, 2015

Promotion

WWE

Brand

Raw

May 30, 2011

August 28, 2011

Promotion

WWE

Brand

SmackDown

April 26, 2011

May 29, 2011

Promotion

WWE

Brand

Raw

September 6, 2010

April 25, 2011

Promotion

WWE

Brand

NXT

June 8, 2010

August 31, 2010

Promotion

FCW

October 30, 2007

November 20, 2010

Face / Heel Turns

| Alignment | from | to |
| --- | --- | --- |
| Heel | January 27, 2016 | May 6, 2016 |
| Face | May 23, 2011 | January 26, 2016 |
| Heel | December 18, 2008 | May 22, 2011 |
| Face | October 30, 2007 | December 17, 2008 |

Images

Jan 2016

Mar 2015

Jun 2013

Oct 2007
Finishers

High Knee

(

June 8, 2010

-

May 6, 2016

)

Diving Somersault Neckbreaker

(

March 10, 2015

)

You're Dismissed/Final Score/Hit the Showers

-

Fireman's Carry Cutter

(

October 30, 2007

-

September 21, 2012

)

Riley Elevation

-

Lifting DDT

(

April 26, 2011

-

September 21, 2012

)

Theme Songs

Theme Song

"Say It To My Face" by Downstait & Jim Johnston

-

Single

(

May 30, 2011

-

May 6, 2016

)

Theme Song

"I Came to Play" by Downstait - with The Miz

-

Team

(

June 8, 2010

-

May 23, 2011

)
Titles & Accomplishments
Titles Won

Florida Championship Wrestling

1 FCW Florida Heavyweight Championship
Relations
Alex Riley Game Appearances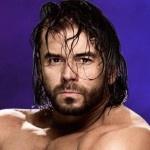 the-wrestling-code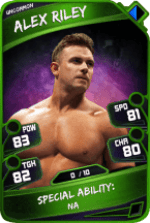 supercard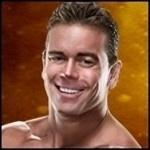 wwe12