On this page, you find the full wrestling profile of Mike Tyson, with his Career History, real name, age, height and weight, the Promotions he worked for, all the Face/Heel turns, the Championship Titles he won, his Finishers, Theme Songs, Tag Teams and Stables, his appearance changes through the years, and more.
Michael Gerard Tyson was born in Brooklyn, New York on June 30, 1966, and he is currently 57 years old.
He is a Boxing legend.
Mike Tyson was inducted in the WWE Hall of Fame in 2012 as part of the Celebrity wing.
Profile Info
Gender

Male

Real Name

Michael Gerard Tyson

Ring Names

Mike Tyson

(

March 6, 1985

-

Present

)

Born

June 30, 1966 (age 57)

Nationality

United States

Birth Place

Brooklyn, New York

Height

5 ft 10 in (178 cm)

Nicknames

Iron Mike; The Baddest Man on the Planet; Kid Dynamite

Notes

He is a Boxing legend.
Career History
Images

Mar 2012
Titles & Accomplishments
Hall of Fame

WWE Hall of Fame

-

Year

2012

,

Celebrity

Other Accomplishments

International Boxing Hall of Fame induction (class of 2011)
Ring magazine Prospect of the Year (1985)
Ring magazine Fighter of the Year (1986, 1988)
Sugar Ray Robinson Award (1987, 1989)
BBC Sports Personality of the Year - Overseas Personality (1989)
FICTS "Guirlande d'Honneur" (2010 - Milan, Italy)
Central State University of Wilberforce, Ohio - Honorary Doctorate in Humane Letters (1989)
Relations
Mike Tyson Game Appearances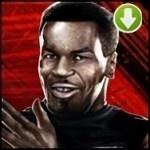 wwe13
Coming soon.