On this page, you find the full wrestling profile of Vanessa Borne / Danielle Kamela, with her Career History, real name, age, height and weight, the Promotions she worked for, all the Face/Heel turns, the Championship Titles she won, her Finishers, Theme Songs, Tag Teams and Stables, her appearance changes through the years, and more.
Danielle Sierra Kamela was born in Scottsdale, Arizona on May 20, 1993, and she is currently 29 years old.
She is currently a Wrestler, under the ring name of Danielle Kamela.
Profile Info
Gender

Female

Real Name

Danielle Sierra Kamela

Ring Names

Danielle Kamela

(

May 20, 2021

-

Present

)

Vanessa Borne

(

June 28, 2017

-

May 19, 2021

)

Danielle Kamela

(

December 30, 2015

-

June 27, 2017

)

Height

5 ft 4 in (163 cm)

Weight

Born

May 20, 1993 (age 29)

Birth Place

Scottsdale, Arizona

Billed From
Career History
Roles

Wrestler

(

December 30, 2015

-

Present

)

Companies / Promotions

Promotion
from
to

Promotion

AEW

March 1, 2022

April 20, 2022

Promotion

WWE

Brand

NXT

October 5, 2016

May 19, 2021

Face / Heel Turns

| Alignment | from | to |
| --- | --- | --- |
| Heel | September 27, 2017 | Present |
| Face | October 5, 2016 | September 26, 2017 |

Images

Oct 2016
Finishers

Spinning Leg Hook Belly-to-back Suplex

(

October 5, 2016

-

Present

)

Night Night

-

One-armed Swinging Neckbreaker

(

October 5, 2016

-

September 26, 2017

)

Theme Songs

Theme Song

"Straight Like That" by Ben Mclusky & Adele Roberts

-

Single

(

March 1, 2022

-

Present

)

Theme Song

"The Vision" by CFO$

-

Single

(

June 23, 2017

-

May 19, 2021

)

Theme Song

"Sonrisa Mentirosa"

-

Single

(

October 5, 2016

-

June 22, 2017

)
Relations
Tag Teams & Stables

Aliyah & Vanessa Borne

-

Aliyah (

February 13, 2019

-

November 13, 2019

)
Vanessa Borne / Danielle Kamela Game Appearances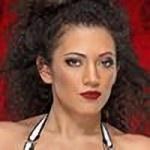 universe