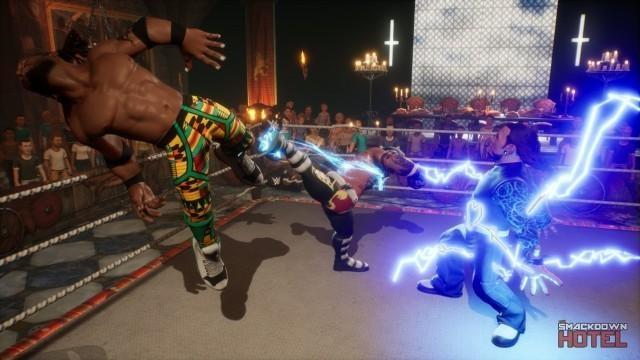 During the week WWE 2K Battlegrounds released a trailer about the Game Modes in Battlegrounds that is narrated by Paul Heyman and in this article we will be breaking down all of the information in the new trailer.
Campaign Mode
As shown in the trailer players will be throw down in this single-player story mode with its plot being told in a comic book strip art style as Paul Heyman and Stone Cold Steve Austin try to search for superstars to add to a newly developed WWE brand.
Players will be able to use one of seven newly created superstars such as Bolo Reynolds and Jessica Johnson as they travel across different locations competing against other WWE superstars while completing different campaign goals and unlocking various WWE Superstars, power-ups and items.
Playable Match Types and Breakable Weapons
Shown in the trailer as well as the playable match types in Battlegrounds Exhibition Mode and they are currently One on One, Regular and Tornado Tag, Triple Threat, Fatal 4 Way, Steel Cage and Royal Rumble matches.
.Also shown during the trailer was that the in-game weapons are breakable as during a match, we see a steel chair and a motorcycle broken over someone's head.
Battlegrounds Challenge Mode and Online Tournaments
Paul Heyman also revealed a new mode in the game called the Battlegrounds Challenge Mode where you take your custom superstar through 100 challenges and try to complete them all from the bottom to the top to earn Golden Bucks to spend in the in-game store.
He also announced that 2K Battlegrounds would also have online tournaments that players can compete in to earn more Golden Bucks however each tournament would only be available for a certain amount of time so player better take part in as many as they are able to so they can earn Golden Bucks to spend.
King of The Battlegrounds
Paul Heyman then went on to talk about the online King of The Battlegrounds mode with you and 7 other online players competing against each other to become the last man or woman standing with a new superstar being added on the outside once a superstar in the ring has been eliminated.
Once the player has been eliminated or survive till the end, their score with being added to an overall leaderboard to see who has the best score so far with the longer they stay in the ring, the better the player's score being.
Unannounced Superstars and New Environmental Attack
Finally, during the trailer, we saw the in-game models of 5 currently unannounced superstars and they are AJ Styles, Randy Orton, Nikki Bella, Seth Rollins, and Dolph Ziggler which we have added to the Battlegrounds Roster Page.
We also saw the confirmation of a new environmental attack as during a match between Becky Lynch and Charlotte Flair in the American Auto Shop, Becky throws Charlotte to the outside and she hits a jack holding up a car which drops the car on her which acts like the alligator in the docks or the goat in the Mexico arena.
Here is the Game Modes trailer for anyone to watch if they are interested.