On this page, you find the full wrestling profile of Corey Graves, with his Career History, real name, age, height and weight, the Promotions he worked for, all the Face/Heel turns, the Championship Titles he won, his Finishers, Theme Songs, Tag Teams and Stables, his appearance changes through the years, and more.
Matthew Polinsky was born in Pittsburgh, Pennsylvania on February 24, 1984, and he is currently 39 years old.
He is currently a Commentator and Host, working for WWE on the Raw brand, under the name of Corey Graves.
Profile Info
Gender

Male

Real Name

Matthew Polinsky

Ring Names

Corey Graves

(

September 1, 2011

-

Present

)

Matt Polinsky

(

August 11, 2011

-

September 1, 2011

)

Sterling James Keenan

(

March 22, 2000

-

May 20, 2011

)

Height

6 ft 1 in (185 cm)

Weight

Born

February 24, 1984 (age 39)

Birth Place

Pittsburgh, Pennsylvania

Billed From

Nicknames

The Savior of Misbehavior
Career History
Roles

Commentator

(

December 11, 2014

-

Present

)

Host

(

June 1, 2015

-

Present

)

Wrestler

(

March 22, 2000

-

December 11, 2014

)

Companies / Promotions

Promotion
from
to

Promotion

WWE

Brand

Raw

April 12, 2021

Present

Promotion

WWE

Brand

SmackDown

September 9, 2022

October 6, 2022

Promotion

WWE

Brand

SmackDown

September 5, 2017

April 15, 2021

Promotion

WWE

Brand

Raw

July 25, 2016

September 25, 2019

Promotion

WWE

Brand

205 Live

November 29, 2016

April 3, 2018

Promotion

WWE

Brand

NXT

July 4, 2012

February 1, 2017

Promotion

FCW

August 11, 2011

August 1, 2012

Promotion

INDY

March 22, 2000

May 20, 2011

Face / Heel Turns

| Alignment | from | to |
| --- | --- | --- |
| Heel | October 17, 2013 | December 11, 2014 |
| Face | February 28, 2013 | October 16, 2013 |
| Heel | March 22, 2000 | February 27, 2013 |

Images

Feb 2022

Apr 2019

Sep 2017

Jul 2016

Dec 2014

Nov 2012

Aug 2011

Mar 2000
Finishers

Lucky 13

-

Inverted Figure-four Leglock

(

September 1, 2011

-

December 11, 2014

)

MK Ultra

-

Back-to-belly Piledriver

(

March 22, 2000

-

August 31, 2011

)

Theme Songs

Theme Song

"Christcontrol" by Cancer Killing Gemini

-

Single

(

July 4, 2012

-

December 11, 2014

)

Theme Song

"Mainlining Murder" by Lars Frederiksen and the Bastards

-

Single

(

March 22, 2000

-

May 20, 2011

)
Titles & Accomplishments
Titles Won

World Wrestling Entertainment

1 WWE 24/7 Championship
1 NXT Tag Team Championship (with Adrian Neville)

1 Pro Wrestling

1 1PW Heavyweight Championship

Absolute Intense Wrestling

1 AIW Absolute Championship

Ballpark Brawl

1 Natural Heavyweight Championship

Far North Wrestling

1 FNW Heavyweight Championship

Florida Championship Wrestling

1 FCW Florida Tag Team Championship - with Jake Carter

Funkin' Conservatory

1 FC Tag Team Championship - with Chris Cage

International Wrestling Cartel

1 IWC Heavyweight Championship
1 IWC Super Indy Championship

NWA East

1 NWA East Heavyweight Championship
1 NWA East Tag Team Championships (with Mad Mike)
1 NWA North American Tag Team Championships (with Brandon K)

Pro Wrestling Zero1

2 Zero-One United States Heavyweight Championship

Renegade Wrestling Alliance

1 RWA Heavyweight Championship

Union of Independent Professional Wrestlers

1 UIPW Keystone Cruiserweight Championship

Wolverine Pro Wrestling
Relations
Tag Teams & Stables

Adrian Neville & Corey Graves

-

PAC / Neville (

May 23, 2013

-

September 27, 2013

)

Corey Graves & Jake Carter

-

Jake Carter (

March 15, 2012

-

July 5, 2012

)

The Star Foundation

-

Bobby Fish,

John McChesney

(

April 6, 2006

-

December 2, 2006

)

Wet Dreams

-

CJ Sensation

(

September 7, 2002

-

November 30, 2002

)

Family
Corey Graves Game Appearances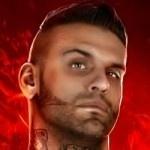 wwe2k15