On this page, you find the full wrestling profile of Gorilla Monsoon, with his Career History, real name, age, height and weight, the Promotions he worked for, all the Face/Heel turns, the Championship Titles he won, his Finishers, Theme Songs, Tag Teams and Stables, his appearance changes through the years, and more.
Robert James Marella was born in Rochester, New York on June 4, 1937.
He died on October 6, 1999 at the age of 62.
Gorilla Monsoon was inducted in the WWE Hall of Fame in 1994.
Profile Info
Gender

Male

Real Name

Robert James Marella

Ring Names

Gorilla Monsoon

Gino Marella

Height

6 ft 5 in (196 cm)

Weight

Born

June 4, 1937

Died

October 6, 1999 (aged 62)

Birth Place

Rochester, New York

Billed From
Career History
Roles

President

(

July 12, 1995

-

August 3, 1997

)

Commentator

(

November 25, 1982

-

May 12, 1996

)

Wrestler

(

September 17, 1958

-

September 17, 1983

)

Companies / Promotions

Promotion
from
to

Promotion

WWF

January 14, 1967

March 28, 1999

Promotion

WWWF

July 30, 1963

August 23, 1965

Promotion

NWA

July 28, 1960

July 20, 1963

Images

Nov 1982

Jul 1963
Finishers

Airplane spin

Manchurian Splash

-

Running splash
Titles & Accomplishments
Hall of Fame

WWE Hall of Fame

-

Year

1994

,

Individual

Titles Won

World Wide Wrestling Federation

2 WWWF United States Tag Team Championship - with Killer Kowalski (1), Bill Watts (1)

World Championship Wrestling (Australia)

1 IWA World Heavyweight Championship

World Wrestling Association (Los Angeles)

2 WWA World Tag Team Championship - with Luke Graham (1), El Mongol (1)

World Wrestling Council

2 WWC North American Heavyweight Championship

Other Accomplishments

WWF Hall of Fame induction (class of 1994)
Professional Wrestling Hall of Fame and Museum induction (class of 2010)
George Tragos/Lou Thesz Professional Wrestling Hall of Fame induction (class of 2011)
Cauliflower Alley Club's Other honoree Winner (1994)
Relations
Gorilla Monsoon Game Appearances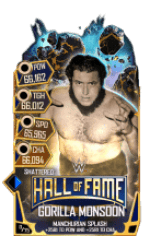 supercard