On this page, you find the full wrestling profile of Jade Cargill, with her Career History, real name, age, height and weight, the Promotions she worked for, all the Face/Heel turns, the Championship Titles she won, her Finishers, Theme Songs, Tag Teams and Stables, her appearance changes through the years, and more.
Jade Cargill was born in Vero Beach, Florida on June 3, 1992, and she is currently 30 years old.
She is currently a Wrestler, working for AEW, under the ring name of Jade Cargill.
Profile Info
Gender

Female

Real Name

Jade Cargill

Ring Names

Jade Cargill

(

November 11, 2020

-

Present

)

Height

5 ft 10 in (178 cm)

Weight

Born

June 3, 1992 (age 30)

Birth Place

Vero Beach, Florida

Billed From
Career History
Roles

Wrestler

(

March 3, 2021

-

Present

)

Manager

(

November 11, 2020

-

March 2, 2021

)

Companies / Promotions

Promotion
from
to

Promotion

AEW

November 11, 2020

Present

Face / Heel Turns

| Alignment | from | to |
| --- | --- | --- |
| Heel | November 11, 2020 | Present |

Images

Feb 2022

Mar 2021

Nov 2020
Finishers

Jaded

-

Double Chickenwing into Sitdown Facebuster

(

March 3, 2021

-

Present

)

Theme Songs

Theme Song

"Epic" by Nick Goldston & Christone Ingram

-

Single

(

March 3, 2021

-

Present

)
Titles & Accomplishments
Titles Won

All Elite Wrestling

Other Accomplishments

AEW TBS Championship Tournament Winner (2022)
AEW Dynamite Award - Breakout Star (2021 - Female)
PWI Rookie of the Year (2021)
WON Rookie of the Year (2021)
Relations
Jade Cargill Game Appearances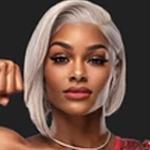 aew-fight-forever