On this page, you find the full wrestling profile of New Jack, with his Career History, real name, age, height and weight, the Promotions he worked for, all the Face/Heel turns, the Championship Titles he won, his Finishers, Theme Songs, Tag Teams and Stables, his appearance changes through the years, and more.
Jerome Young was born in Atlanta, Georgia on January 3, 1963.
He died on May 14, 2021 at the age of 58.
Profile Info
Gender

Male

Real Name

Jerome Young

Ring Names

New Jack

(

June 19, 1993

-

September 20, 2019

)

Height

6 ft 0 in (183 cm)

Weight

Born

January 3, 1963

Died

May 14, 2021 (aged 58)

Birth Place

Atlanta, Georgia

Billed From
Career History
Roles

Wrestler

(

June 19, 1993

-

September 20, 2019

)

Companies / Promotions

Promotion
from
to

Promotion

NWA

April 2, 2003

April 30, 2005

Promotion

TNA NWA

April 2, 2003

July 16, 2003

Promotion

ECW

July 1, 1995

December 3, 2000

Promotion

SMW

March 10, 1994

June 10, 1995

Promotion

NWA

November 17, 1994

November 19, 1994

Face / Heel Turns

| Alignment | from | to |
| --- | --- | --- |
| Heel | June 19, 1993 | September 20, 2019 |

Images

Jul 1995
Finishers

187 Chair Dive

Gangsta Splash

Guitar Shot

Death Valley Driver

Theme Songs

Theme Song

"Natural Born Killaz" by Dr. Dre & Ice Cube

-

Single
Relations
New Jack Game Appearances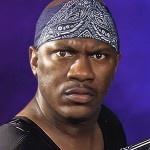 the-wrestling-code