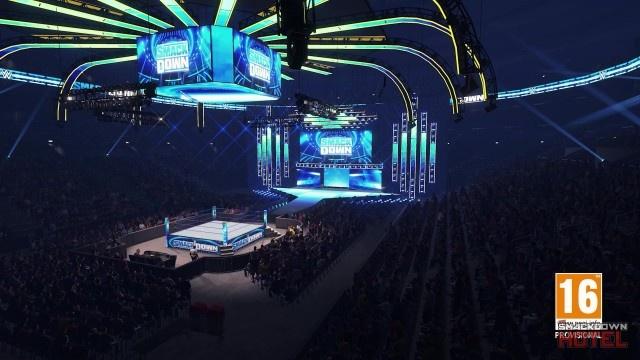 On this page, you can find the full list of WWE 2K22 Arenas included in the game.
It has been confirmed that WWE 2K22 will feature over 55 Playable Arenas, including a variety of current WWE Shows Arenas, Pay Per View Arenas, as well as Classic Arenas - some of which must be unlocked in 2K Showcase mode.
WWE 2K22 Arenas: Current Weekly Shows
The Raw 2020 and SmackDown 2020 arenas appear in two variants: the pre-pandemic versions of the arenas that debuted in late 2019, as well as the Thunderdome arena, with the ability to have virtual fans via the "Video Board Crowd" option.
The NXT 2.0 arena was added to WWE 2K22 via Patch Update 1.09.
WWE 2K22 Arenas: Current Pay Per Views
The WrestleMania 36 Arena is not in WWE 2K22. So WrestleMania 36, which was held at the Performance Center during the pandemic, could go down as the only Wrestlemania arena to never appear in a WWE Game.
However, there is a Performance Center arena in the game, which is the one for "The Horror Show at Extreme Rules".
WWE 2K22 Classic Arenas
WWE 2K22 MyRise Arenas
There are 9 unique MyRise Arenas to unlock in WWE 2K22, including:
King Of The Ring
Queen of the Ring
Mae Young Classic
WrestleMania - MyRise
Mexico Plaza
Japan Hall
Evolution
LAW
BCW
WWE 2K22 Create An Arena Stages
As always, WWE 2K22 includes Create an Arena, with a wide array of 49 Preset Stage Designs selectable as starting templates. The only new addition this year is the Thunderdome Arena. You can see the full list below:
Armageddon 2002
Armageddon 2003
Backlash 2001
Backlash 2003
Bad Blood 2004
Capitol Punishment 2011
ECW
Extreme Rules 2011
The Great American Bash 2008
Hell in a Cell 2011
In Your House 14
Judgement Day 2004
Judgement Day 2005
Money in the Bank 2013
Night of Champions 2013
No Mercy 2005
No Way Out 2001
NXT 2014
NXT Takeover: Brooklyn
Over the Edge 1998
Over the Limit 2011
Payback 2014
RAW (Current)
RAW 2002-2005
RAW 2006-2008
RAW 2013-2014
RAW IS WAR 1998
Royal Rumble 2001
Royal Rumble 2004
Royal Rumble 2011
SmackDown! 2000 (Attitude Era)
SmackDown! 2002-2006 (Fist)
Summerslam 2002
Summerslam 2008
Summerslam 2011
Survivor Series 1998
Survivor Series 2000
Survivor Series 2004
Survivor Series 2013
Vengeance 2001
WCW Bash at the Beach 1994
WCW Clash of the Champions XXV
WrestleMania 12
WrestleMania 17
WrestleMania 19
WrestleMania 29
WrestleMania 31
"The Original" Stage Design
The Thunderdome

NEW