On this page, you find the full wrestling profile of Darby Allin, with his Career History, real name, age, height and weight, the Promotions he worked for, all the Face/Heel turns, the Championship Titles he won, his Finishers, Theme Songs, Tag Teams and Stables, his appearance changes through the years, and more.
Samuel Ratsch was born in Seattle, Washington on January 7, 1993, and he is currently 30 years old.
He is currently a Wrestler, working for AEW, under the ring name of Darby Allin.
Profile Info
Gender

Male

Real Name

Samuel Ratsch

Ring Names

Darby Allin

(

April 24, 2016

-

Present

)

Darby Graves

(

February 8, 2015

-

April 23, 2016

)

Height

5 ft 8 in (173 cm)

Weight

Born

January 7, 1993 (age 30)

Birth Place

Seattle, Washington

Billed From

Nicknames

Daredevil
Career History
Roles

Wrestler

(

February 8, 2015

-

Present

)

Companies / Promotions

Promotion
from
to

Promotion

AEW

April 12, 2019

Present

Promotion

PWG

September 15, 2018

September 22, 2019

Promotion

EVOLVE

April 2, 2016

April 4, 2019

Face / Heel Turns

| Alignment | from | to |
| --- | --- | --- |
| Face | April 12, 2019 | Present |

Images

Aug 2021

Apr 2016
Finishers

Coffin Drop

-

Reverse Facing Diving Senton

(

April 24, 2016

-

Present

)

Last Supper

-

Modified Bridging Figure-four leglock into a Pin

(

April 24, 2016

-

Present

)

Theme Songs

Theme Song

"I Fell" by Wicca Phase Springs Eternal

-

Single

(

April 12, 2019

-

Present

)

Theme Song

"Running out of Places" by Grindline

-

Single

(

April 2, 2016

-

April 4, 2019

)
Titles & Accomplishments
Titles Won

All Elite Wrestling

Northeast Wrestling

1 NEW Heavyweight Championship

Other Accomplishments

AEW Dynamite Award - Breakout Star (2020 - Male)
Style Battle 7 Winner (2017)
14° in PWI 500 (2021)
WON Non-Heavyweight MVP (2021)
Relations
Tag Teams & Stables

Sting & Darby Allin

-

Sting (

December 2, 2020

-

Present

)

Uncle John's Friends

-

AR Fox, Sami Callihan (

January 8, 2017

-

February 11, 2017

)

Family
Darby Allin Game Appearances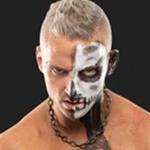 aew-fight-forever