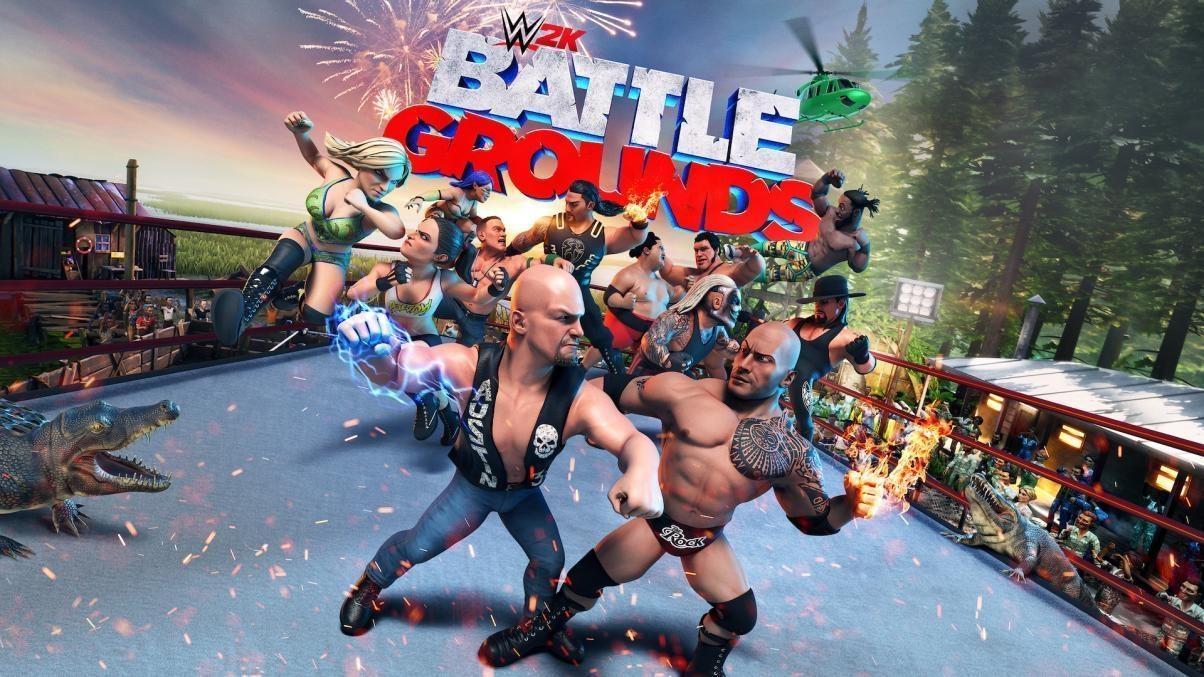 In this page you find a breakdown of all the WWE 2K Battlegrounds Game Features, including Game Modes, Gameplay and more. Developed by Saber Interactive, WWE 2K Battlegrounds releases on September 18, 2020 for PlayStation 4, Xbox One, Nintendo Switch, PC Windows, and Google Stadia.
WWE 2K Battlegrounds Overview

The world of WWE is your battleground with all-new, over the top, in-your-face, arcade action as your favorite WWE Superstars and Legends battle in outlandish interactive environments around the world.
Battle it out with or against your friends in your favorite local and online Match Types with an arsenal of exaggerated maneuvers, special abilities, and devastating power-ups, including Steel Cage, Royal Rumble, Fatal 4-Way and more - all while Mauro Ranallo and Jerry "The King" Lawler call all the multiplayer mayhem! Are you ready to enter the battleground?
Brawl Without Limits
Featuring a Roster of more than 70 WWE Superstars and Legends (with more unlockable Superstars to come via free updates in the future), take your favorites into battle with unrestrained, unhinged, and in-your-face pandemonium!
Pull off over-the-top moves and use your special abilities to destroy your opponent while battling in interactive environments during multiplayer action!
Battle with Friends - Online or on the Couch
Compete in Online Tournaments or stake your claim as King of the Battleground and survive the online melee against players from around the world!
Plus, brawl in local multiplayer and dominate your friends from your living room!
Loads of Match Types
Wage war in a wide variety of your favorite Match Types with fun, new twists, including Steel Cage, Royal Rumble, Fatal Four Way, and the all-new Battlegrounds Challenge!
It's Your Battleground
Make WWE 2K Battlegrounds your own with tons of customizable parts as you create, customize, and edit your own original Created Characters and Custom Battlegrounds Arenas!
Battle It Out Across the Globe
Play through an all-new story mode told through original comic strips, alongside Paul Heyman and Stone Cold Steve Austin and help lead the charge to find the next WWE Superstars!
Battle as unique and colorful new characters against established WWE Superstars to test your mettle and show your skills while unlocking new characters and Battlegrounds along the way.
Game Modes - WWE 2K Battlegrounds

WWE 2K Battlegrounds features the following Game Modes to play through:
Exhibition Matches (Single Player & Multiplayer)
In Exhibition matches, you can play as and against WWE Superstars. You can play Exhibition matches as men or as women, but women cannot play against men.
Exhibition matches can be played single player against the AI, up to 4 players local at home or online.
There is a wide variety of Match Types within Exhibition mode including 1v1, Tag Team, Triple Threat, Fatal Four Way, Steel Cage Match, Royal Rumble and more.
Campaign Mode (Single Player)
A single-player mode where the user competes against real WWE Superstars. The story is told through comics as you add to your stable of superstars to beat the next challenge. Play as one of the 7 newly created Superstars like Bolo Reynolds and Jessica Johnson.
The story is divided into several regions; new regions are unlocked progressively when the user completes the previous ones. Each region features its own arena and playable superstar. The user unlocks an assortment of game content (superstars, power-ups, vanity items, etc.) while playing campaign matches and achieving campaign goals.
Note: In the campaign mode you cannot play as WWE Superstars, just against them.
King of the Battleground (Multiplayer - Online only)
Take on all comers in the King of the Battleground, an Online last man standing mode where players compete in a free for all match where everyone is trying to eliminate their opponents and stay in the arena.
The objective is to throw opponents out of the arena. The longer the user stays in the arena, the higher the score they earn.
Four players start in the ring while four more are waiting on the sidelines and will enter the arena when an opponent has been thrown out. Players dynamically matchmake into a live game. This mode keeps on going until all opponents have been thrown out of the arena.
Tournaments (Multiplayer - Online only)
Online Tournaments with different win conditions will be available at launch.
These will be online time-restricted events featuring a multi-round tournament with a custom match and rule-set. Each time the user wins a match, they get rewards.
Battleground Challenge (Single Player)
Create your own Superstar and begin your own career. You can customize your Superstar however you want with items you unlock or can purchase in the store, including combat animations.
Creation Modes
Superstar Creator: The user can create their own Superstar with a number of customization options including face, skin color, height, weight, clothing options and more. Change class style, body type, face, hair, eyes among other things.
Battleground Creator: The user can create their own Arena to play matches in. The user can customize the arena with custom turnbuckles, ropes, skirts, and more.
Gameplay Features - WWE 2K Battlegrounds
Gameplay includes common moves such as Running Hits, Aerial Techniques, Irish Whip, Pin, Submission, Counters / Reversals, Blocks, and Parry. See the full Controls Scheme.
Classes: Each Superstar utilizes one of 5 Class Styles: Powerhouse, Technician, High-Flyer, Brawler and All-Rounder. Each class style has its own combat moves and throws.
Power-Ups: In addition, all Superstars have access to arcade-style Power-ups. The player can choose which 3 powerups to bring into battle. They can be used during a match when the player has accumulated enough energy. Effects include health regeneration or doing enough damage with one punch to break the arena.
Skill Trees: This is a system that allows the user to unlock different skills to improve performance and are composed of three branches: attack, defense, and charisma.
Battlegrounds: Battle your way through 8 destructible Battleground Arenas. The action continues even when the ring is broken!
Interactive Objects: The arenas contain different interactive elements that superstars can use to their advantage. Each one of them has a different mechanic. These are objects that can be found outside of the arena but within the gameplay area of the battleground. Soar from military helicopters, smash opponents with cars in an auto shop and toss them into the jaws of a hungry alligator in the swamp.
Weapons: Superstars can use different weapons such as Steel Chair, Guitar, Kendo Stick, Motorcycle and a Toy Hammer.
Crowd Bar: The crowd calls out for certain combat moves during a match and if the player performs them, they will earn extra points to get their crowd meter up. This can help when performing a pin or submission on an opponent because the crowd is behind the player more.
Daily Challenges: The daily challenge system feeds challenge's to the user to encourage them to explore the game. Such as "Play more games!" and "Apply a vanity item to your created superstar"
Alt. Attires & Vanity items: Custom WWE Superstars can wear any vanity item. Real WWE Superstars only can wear specific outfits that they have worn in real life. Each Superstar has 2 alternative outfits/costumes which can be purchased.
Currency

There are two types of currency in the game: Battle Bucks (earned in-game by playing) and Golden Bucks (purchased in the Store with real money).
All game content can be unlocked with earned Battle Bucks such as WWE Superstars, vanity outfits, clothes, and custom arena items.
To unlock content faster, Golden Bucks are available for purchase on the first party game stores.
Purchase is optional and not required to unlock all available content
---
For all the information on WWE 2K Battlegrounds check out the WWE 2K Battlegrounds Main Section, and the full WWE 2K Battlegrounds Roster Page.