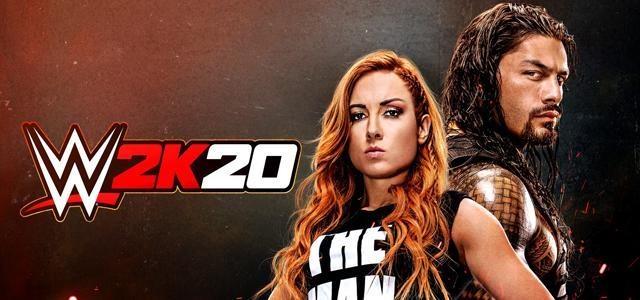 Everything you need to know about WWE 2K20's Game Features!
In this page you find a breakdown of all the WWE 2K20 Game Features. WWE 2K20 is scheduled for worldwide release on October 22, 2019 for PlayStation, Xbox One and Windows PC.
STEP INSIDE THE RING WITH WWE 2K20
2K invites players to Step Inside the ring with WWE 2K20. Your favorite WWE Superstars, Legends, Hall of Famers and NXT's best will join the festivities and celebrate the rebirth of the WWE 2K franchise! WWE 2K20 will include several franchise firsts, streamlined gameplay and a variety of popular modes.


2K SHOWCASE MODE: THE WOMEN'S EVOLUTION
2K Showcase is the single-player story mode of WWE 2K20, where you get to play through a series of historic WWE events and moments.
In WWE 2K20 Showcase Mode, you can relive the groundbreaking journey of the Four Horsewomen (Charlotte Flair, Sasha Banks, Bayley and WWE 2K20 Cover Star Becky Lynch) and the Women's Evolution, featuring in-depth documentary-style vignettes, historical footage, cutscenes and objective-based gameplay!
As you play through unforgettable moments and 15 matches from the meteoric rise of the Women's Division, you'll unlock multiple Characters, Attires, Arenas, and more.


DIVERSIFIED MyCAREER EXPERIENCE
For the first time, in WWE 2K20 MyCareer Mode you will be able to create both male and female MyPlayers, and then compete as them in MyCareer, as well as MyPlayer Towers and more.
The MyCareer campaign includes an intertwining storyline that features both of your male and female created MyPlayers, as you journey through the twists, turns and storylines on the path to WWE greatness - featuring cutscenes and voiceovers from your favorite Superstars.
In WWE 2K20 you will also be able to export your MyPLAYER to the general Creation Suite.


WWE UNIVERSE MODE
WWE Universe Mode remains a staple of the series, where you can control every aspect of WWE Shows, including Rosters, Calendar, Storylines and more.
In WWE 2K20 several improvements have been made to Universe Mode, including a higher number of possible matches, championships and rivalries, new cutscenes, new promo lines, and more.


ONLINE LOBBIES RETURN
The highly requested online Lobby System is back in WWE 2K20 Online. Lobbies will streamline the process of pairing up players and getting them into a match as quickly as possible.
If you have an exact online multiplayer match in mind, creating a lobby is the way to go. Alternatively, you can browse the list of the lobbies currently available and join whichever you want.
New WWE 2K20 Online Features also include improvements to MyPLAYER, Road to Glory, and MyPLAYER Towers.


OTHER GAME MODES
The gauntlet-style 2K Towers Mode, introduced last year, also returns in WWE 2K20. This year it comes with exciting new challenges, including a story-driven Tower centered around the career of Roman Reigns.
Mixed Tag Team Matches officially make a return to the series as part of the available Match Types in WWE 2K20, being included for the first time in the WWE 2K franchise. The Mixed Match Challenge Tournament is also featured in WWE 2K20. You will be able to make tag teams of male and female WWE Superstars and have them square off in the ring against each other.
Weapons have now been added to Hell In A Cell, and the Weapon Wheel is now available in every match and it's fully customizable, with the additon of several weapons variations.
STREAMLINED CONTROLS
The WWE 2K20 Controls have been streamlined to allow new players to jump into the game more easily, while experienced players will still enjoy a challenge. The new Control Scheme in WWE 2K20 reduces the likelihood that a player will perform the wrong action.


MASSIVE PLAYABLE ROSTER
As always, the WWE 2K20 Roster will feature a massive number of playable Superstars, with the greatest WWE and NXT Superstars, Legends and Hall of Famers.


WWE 2K20 ORIGINALS DLC
WWE 2K20 introduces WWE 2K Originals, a new service model set to deliver a wealth of DLC Content after the game's initial launch.
Each of the WWE 2K20 Originals will present a new playable world, with its own unique theme and content. Each include a new Showcase Episode, new Arenas, Superstars, Story Towers, unlockable character parts and more.
For all details about the WWE 2K20 Downloadable Content, check out the complete WWE 2K20 DLC Guide.


SPECIAL EDITIONS
Players who purchase the WWE 2K20 Deluxe Edition or SmackDown 20th Anniversary Collector's Edition will receive in-game bonuses, including playable Superstars Chyna, Hulk Hogan, Mankind and The Rock.
---
For more on WWE 2K20 check out the Main Section, and the WWE 2K20 Roster Page!