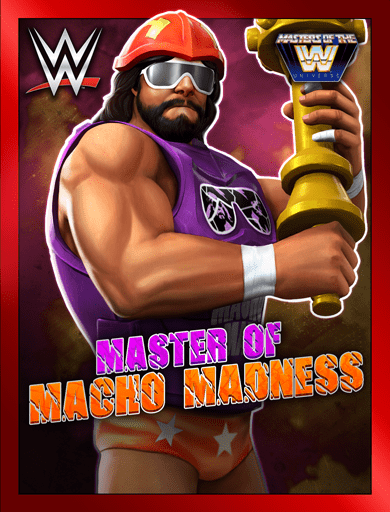 Gender

Male

Nickname / Version

Master of Macho Madness

Alternative Versions

Randy SavageRandy Savage '15Randy Savage '87 Randy Savage '89Randy Savage '94Randy Savage '97

Era

Modern Era

Superstar Class

Powerhouse

Ability Style

Focused
Based off of his Mattel's Masters of the WWE Universe figure.
Freak out, freak out! As Macho Madness spread to all corners of WWEternia, there is only one man who has the power to control it - "Macho Man" Randy Savage. OOOH YEAH!
SPECIALS: Heroic Macho Piledriver, Head-Pull Hangman, Running Bionic Elbow, Heroic Diving Double Axe Handle, Lariat Takedown
FINISHERS: Heroic Diving Elbow, Chokehold
TAG LINKS: Modern Era, Masters of the WWE Universe, WrestleMania VI