On this page, you find the full wrestling profile of Christy Hemme, with her Career History, real name, age, height and weight, the Promotions she worked for, all the Face/Heel turns, the Championship Titles she won, her Finishers, Theme Songs, Tag Teams and Stables, her appearance changes through the years, and more.
Christina Lee Hemme was born in Los Angeles, California on October 28, 1980, and she is currently 42 years old.
She is currently a Producer, working for TNA.
Profile Info
Gender

Female

Real Name

Christina Lee Hemme

Ring Names

Christy Hemme

(

January 10, 2005

-

Present

)

Christy

(

October 19, 2004

-

November 15, 2004

)

Height

5 ft 5 in (165 cm)

Weight

Born

October 28, 1980 (age 42)

Birth Place

Los Angeles, California

Billed From
Career History
Roles

Producer

(

March 8, 2022

-

Present

)

Ring Announcer

(

April 28, 2011

-

April 1, 2016

)

Interviewer

(

December 10, 2009

-

April 1, 2016

)

Wrestler

(

July 15, 2004

-

December 16, 2009

)

Manager

(

March 11, 2007

-

October 16, 2008

)

Companies / Promotions

Promotion
from
to

Promotion

TNA

March 8, 2022

Present

Promotion

TNA

April 23, 2006

April 1, 2016

Promotion

WWE

Brand

SmackDown

August 25, 2005

December 5, 2005

Promotion

WWE

Brand

Raw

October 19, 2004

August 24, 2005

Face / Heel Turns

| Alignment | from | to |
| --- | --- | --- |
| Face | October 17, 2008 | April 1, 2016 |
| Heel | January 14, 2007 | October 16, 2008 |
| Face | October 19, 2004 | January 13, 2007 |

Images

Apr 2006

Oct 2004
Finishers

FFG - Flying Firecrotch Guillotine

-

Split-legged Diving Leg Drop

(

April 23, 2006

-

December 16, 2009

)

Reverse Twist of Fate

-

Inverted Facelock Neckbreaker Slam

(

October 19, 2004

-

December 5, 2005

)

Theme Songs

Theme Song

"Red Heads Rock" by Dale Oliver

-

Single

(

April 23, 2006

-

December 16, 2009

)

Theme Song

"Walk Idiot Walk" by The Hives

-

Single

(

October 19, 2004

-

December 5, 2005

)
Titles & Accomplishments
Other Accomplishments

WWE Diva Search Winner (2004)
TNA Knockout of the Year (2006)
Playboy Cover Girl (April 2005)
Relations
Christy Hemme Game Appearances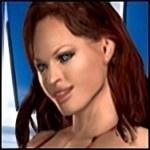 svr2006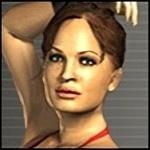 day-of-reckoning-2