On this page, you find the full wrestling profile of Kamala, with his Career History, real name, age, height and weight, the Promotions he worked for, all the Face/Heel turns, the Championship Titles he won, his Finishers, Theme Songs, Tag Teams and Stables, his appearance changes through the years, and more.
James Arthur Harris was born in Senatobia, Mississippi on May 28, 1950.
He died on August 9, 2020 at the age of 70.
Profile Info
Gender

Male

Real Name

James Arthur Harris

Ring Names

Kamala

(

September 19, 1982

-

August 15, 2010

)

Kimala

(

July 31, 1982

-

September 18, 1982

)

Jim Harris

(

May 27, 1981

-

July 30, 1982

)

Ugly Bear Harris

(

March 14, 1979

-

May 26, 1981

)

Bad News Harris

(

April 25, 1980

-

June 30, 1980

)

Sugar Bear Harris

(

January 1, 1978

-

March 5, 1980

)

Born

May 28, 1950

Died

August 9, 2020 (aged 70)

Nationality

United States

Birth Place

Senatobia, Mississippi

Billed From

Uganda, Jungles of Africa

Height

6 ft 7 in (201 cm)

Weight

Nicknames

The Ugandan Giant; The Ugandan Headhunter
Career History
Roles

Part Time Wrestler

(

May 17, 2002

-

August 15, 2010

)

Wrestler

(

January 1, 1978

-

January 24, 1996

)

Companies / Promotions

Promotion
from
to

Promotion

INDY

May 17, 2002

August 15, 2010

Promotion

WCW

June 20, 1995

September 17, 1995

Promotion

WWF

June 9, 1992

July 24, 1993

Promotion

AJPW

May 17, 1991

September 7, 1991

Promotion

CMLL

November 23, 1990

March 22, 1991

Promotion

AJPW

November 1, 1985

February 17, 1986

Promotion

WWF

August 26, 1986

September 6, 1987

Promotion

NWA

August 15, 1982

May 29, 1986

Promotion

AWA

December 12, 1984

March 23, 1986

Promotion

WWF

July 20, 1984

November 22, 1984

Promotion

NWA

June 30, 1979

June 30, 1980

Face / Heel Turns

| Alignment | from | to |
| --- | --- | --- |
| Heel | July 25, 1993 | August 15, 2010 |
| Face | January 24, 1993 | July 24, 1993 |
| Heel | January 1, 1978 | January 23, 1993 |

Images

Jan 1978
Finishers

Air Africa/Kamala Splash

-

Diving Splash

(

January 1, 1978

-

August 15, 2010

)

Theme Songs

Theme Song

"Native Terror" by RIDWAS

-

Single

(

May 17, 2002

-

August 15, 2010

)

Theme Song

"Ugandan Giant"

-

Single

(

July 20, 1984

-

July 24, 1993

)
Titles & Accomplishments
Titles Won

Continental Wrestling Association

1 AWA Southern Heavyweight Championship

Great Lakes Wrestling Association

1 GLWA Heavyweight Championship

NWA Mississippi

1 NWA Mississippi Heavyweight Championship

NWA Tri-State

1 NWA United States Tag Team Championship (Tri-State version) (with Oki Shikina)

Southeastern Championship Wrestling

1 NWA Southeastern Heavyweight Championship (Northern Division)

Southeastern Xtreme Wrestling

1 SXW Hardcore Championship

United States Wrestling Association

4 USWA Unified World Heavyweight Championship

Other Accomplishments

Texas Wrestling Hall of Fame induction (class of 2012)
World Xtreme Wrestling Hall of Fame induction (class of 2013)
Relations
Tag Teams & Stables

Dungeon of Doom

-

Brutus Beefcake, Earthquake / John Tenta, Haku / Meng, Kevin Sullivan (

June 20, 1995

-

September 17, 1995

)

Kamala & Sika

-

Sika (

March 12, 1987

-

August 30, 1987

)

Devastation Inc.

-

Skandor Akbar, The Missing Link

(

January 13, 1984

-

March 16, 1984

)
Kamala Game Appearances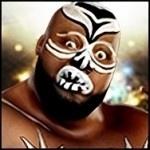 lowm